North Wilkesboro Speedway
Introduction
93 races. 48 years. 38 different winners. 1 legendary race track. In 1949, the North Wilkesboro Speedway held its first race. The Wilkes 200 featured a 22 car field and was the last stop of NASCAR's new Strictly Stock series. With Jeff Gordon's retirement in 2015, no active NASCAR driver has ever raced in North Wilkesboro. Gordon was the last to win there, and brought the days at the racetrack to a close. However, the living history tied to the racetrack, and the moments that shaped the careers of drivers, add to the legacy and contributions this track's history has added to the sport. Revered as one of the toughest short tracks in the sport, the raceway was known for its test of technical skill, rather than horsepower and speed. That was something a good driver respected. And the drivers and their teams that won over the years certainly respect everything that the track stands for.
Images
Source: Sophie Jane Evans. DailyMail.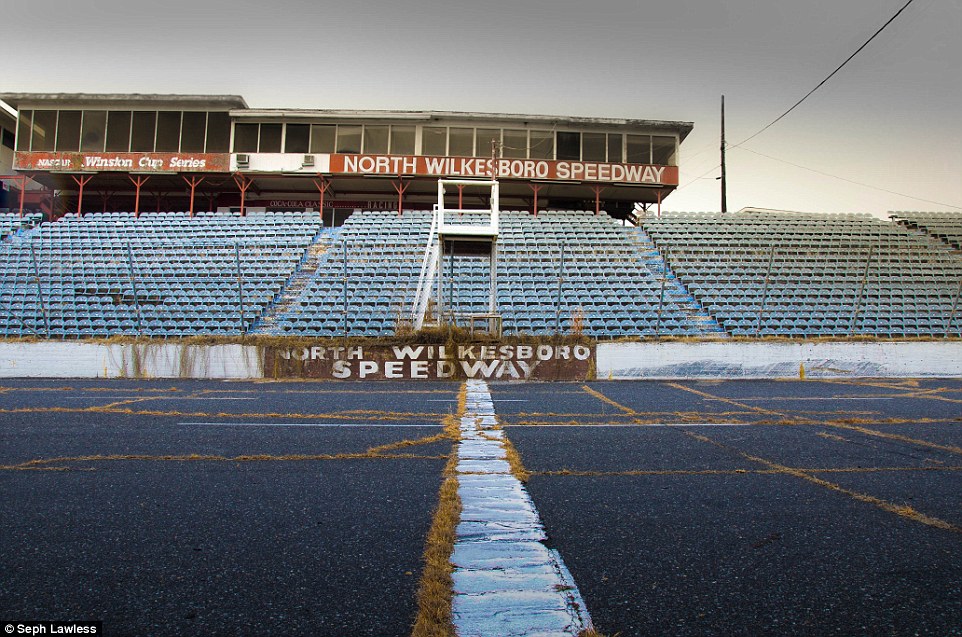 Source: Sophie Jane Evans. DailyMail.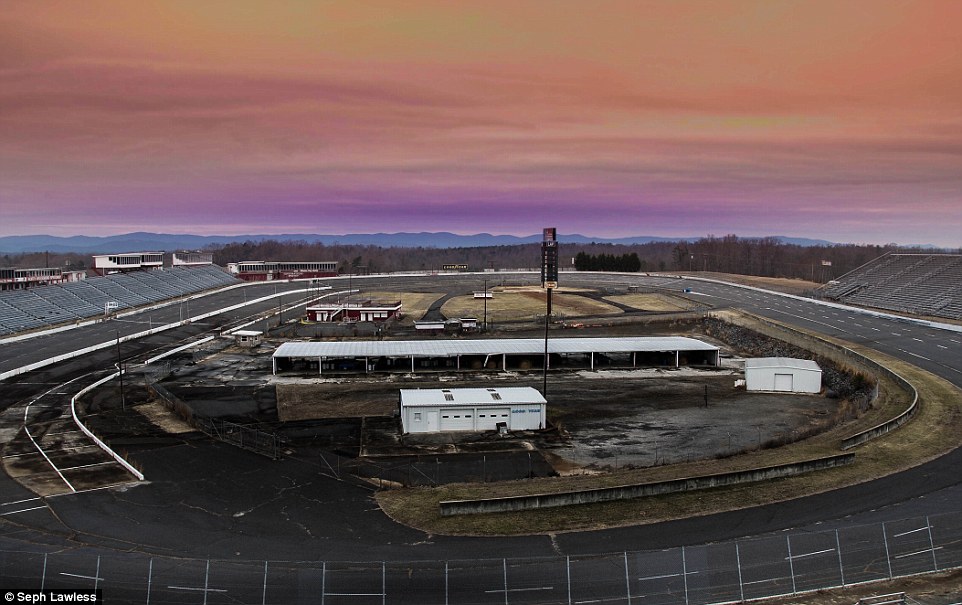 Backstory and Context
NASCAR certainly made its mark in Wilkesboro, but the sport didn't come there randomly. Hopeful business goes where there are people that will pay to take part in whatever they are selling and in this case, "moonshine" lived in Wilkes County. Wilkes County was once the self-proclaimed "moonshine capital of the world." To be successful in the lucrative moonshine business, an operation began with good moonshine. But, moonshine was nothing without a good car to haul it in. For many years in the 1930's and 40's, the most successful moonshiners had found the perfect combination of speed and space and were faster than the law and had enough product in each car to turn a massive profit.
Good mechanics, fast cars, and skilled drivers. This formula paved the way for a sport that would find its identity in Wilkes County, and who better to begin a legacy than a moonshiner himself. Junior Johnson is a NASCAR legend. A member of the NASCAR hall of fame, Junior Johnson was also a moonshine legend. When he took over his parents' still at the age of 14, he knew the only way to survive was to drive faster and better than the authorities. As he got older, building faster cars, and creating better maneuvers to evade his capture was the way to survive.
When NASCAR decided to give Wilkesboro a try, Junior Johnson used his passion for moonshine to fuel his passion for racing. An instant phenomenon, Johnson was one of the most skilled drivers to ever race in the sport. Moonshine did get him though, as it the authorities began to be more and more successful in their hunt for stills. Shortly after his career began, he was caught and served an 11-month sentence for his illegal activity--only to come right back to NASCAR, where he would go on to win 50 races.
And then came Bruton Smith. Smith's dream was to build and own racetracks, and he let nothing get in the way of that. After purchasing Charlotte Motor Speedway in 1959, he continued to buy and run race tracks until he had millions of dollars to work with. Finally, he broke ground and began construction on Texas Motor Speedway. Upon its completion, Bruton Smith was ready to hold races at his beloved track. However, NASCAR sets the number of race dates per season at 32, and Texas didn't have a date. So Smith, with all of his money and power, marched right into Wilkes County and bought half the race track, and quickly drove the other half right into his hands. The end was in sight.
When it closed, on September 30th, 1996, everyone just left. No more NASCAR. No more fans. No more racing. No more...anything, except for a little bit of moonshine. Today, the track sits completely abandoned. Tens of thousands of fans once sat, stood, and cheered. Now it's empty, decomposing and quiet. Many failed attempts to bring life to Wilkesboro again have come and gone. Moonshine required fast cars to move it. The cars paved the way for a track to race them. The track gave birth to NASCAR. And all of it, moonshine, fast cars, racetracks and NASCAR, created Junior Johnson, a legend. And then the law and Bruton Smith came and took it all away.
Sources
Bruce, Kenny. "Thunder in the Hills: North Wilkesboro, 20 Years Later." North Wilkesboro: A Study of the Track, 20 Years Later. September 29, 2016. Accessed October 19, 2016. http://www.nascar.com/en_us/news-media/articles/2016/9/29/remembering-north-wilkesboro-20-years-later.html. Hewitt, Kimberly, Noel Yancey, and Bland Simpson. "Moonshine." NCpedia Home Page. 2006. Accessed October 19, 2016. http://ncpedia.org/moonshine. Jane Evans, Sophie. "The Last Lap: Inside the Abandoned NASCAR Track That Has Crumbled into a Eerie Ruin after Sitting Empty for Four Years." Mail Online. September 24, 2015. Accessed October 19, 2016. http://www.dailymail.co.uk/news/article-3006376/It-s-apocalyptic-Photojournalist-captures-striking-photos-abandoned-NASCAR-track-sat-four-years.html. "Legacy - Midnight Moon Moonshine // America's Favorite Moonshine." Junior Johnson's Midnight Moon // Handcrafted Legal Moonshine. Accessed October 19, 2016. http://www.juniorsmidnightmoon.com/legacy/. Markovich, Jeremy. "What Happens When NASCAR and Moonshine Leave a City Behind?" SBNation.com. September 04, 2015. Accessed October 19, 2016. http://www.sbnation.com/longform/2015/3/4/8126311/north-wilkesboro-speedway-after-nascar. Weaver, Matt. "Remembering North Wilkesboro Speedway 20 Years after Its Last NASCAR Cup Race." Autoweek. September 21, 2016. Accessed October 19, 2016. http://autoweek.com/article/nascar/remembering-north-wilkesboro-speedway-20-years-after-its-last-nascar-cup-race.
Additional Information