Blowing Rock Negro Community Church
Introduction
Located in Blowing Rock on Possum Hollow Road, there is a church known as the First Independent Baptist, which is still standing today. Up until 1980, the structure was home to the Blowing Rock Negro Community Church. Built in 1949, it was Blowing Rock's first and only African American church.
Images
First Independent Baptist Church, which replaced the Negro Community Church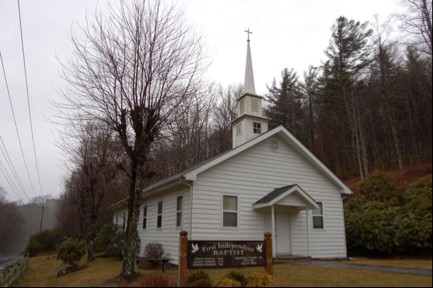 Blowing Rock Negro Community Church Historic Plaque/Marker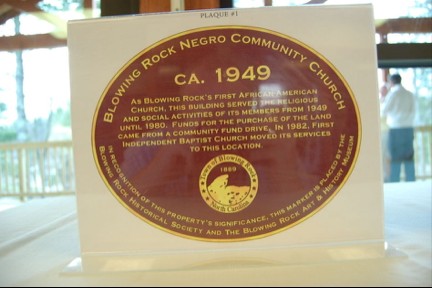 Backstory and Context
A community fund drive supported the opening of the church. Blowing Rock accommodated numerous African Americans during the summers due to their employment by private companies (Eason). It became a home for the Black community and allowed them to demonstrate their faith.
The South was still segregated, but the church made way for integration and the appointment of Black leaders. "The church was in large part a product of white paternalism during the era of segregation" (Pezzoni 225). There were also nonreligious components of the church, including a Negro Community Center for social and recreational activities.
The goal associated with joining the community center with a religious facility was to do away with the social activities local Blacks participated in, which offended white sponsors (Pezzoni 226). The community center included a barbershop, a beauty parlor, and kitchen amenities because these were considered appropriate. A committee of white townspeople are the ones who decided to open this church as a "more wholesome alternative to the bar known as Tin Top, a popular diversion for the some of the town's African American population" (VanWinkle). This was both a boarding house for Blacks, a nightclub, and the only restaurant that served them.
Before the church came about, activities were presented for whites and Blacks to attend, in which white residents and visitors came to "hear the Negros sing," (Pezzoni 225) which may have left this group feeling tokenized. There were also services meant particularly for Blacks, but on a small scale, and offered as a form of white paternalism. This system did not prove to be sustainable for whites or African Americans. What developed instead was a communal place of worship that supported Blowing Rock's resident and visiting African American community. The church earned a marker in 2016 to indicate its importance.
Sources
Eason, Jeff. "Blowing Rock's Big Birthday." Blowing Rocket. Watauga Democrat, 15 Mar. 2016. Web. Pezzoni, J. Daniel, and Tony N. VanWinkle. The Architectural History of Watauga County, North Carolina. Durham, NC: BW & A, 2009. Print. VanWinkle, Tony. "The National Register of Historic Places, Supplement 1974." Journal of Historical Geography 1.3 (1975): 43-44. Sept. 2003. National Park Service. Web.
Additional Information