William Brice Stadium
Introduction
Holding a capacity of 82,250, the William Brice Stadium is currently the 20th largest stadium in NCAA football. The stadium was originally built in 1934 and serves as the home stadium for the South Carolina Gamecocks. When it opened it only seated 17,600. Expansions took place during the coming decades bringing the capacity to its current size. It received its current name in 1972.
Images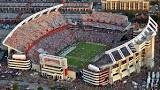 Backstory and Context
The gamecocks won their first game in 1934 beating Erskine 25-0. Over the years the Gamecocks have never won a national championship and have only had one Heisman Trophy winner, George Rodgers, who won it in 1980. The stadium's address is named after him in his honor.
The stadium sits next to the state's largest fairgrounds. The stadium's crowds have been voted the best atmosphere by SECsports.com. The largest crowd ever recorded at the stadium—83,987—was on November 22, 2003 at a game against Clemson, the school's inner state rival.
Some other notable events at the stadium was a visit by Pope John Paul II in 1987, who spoke to a crowd of over 60,000. In 1996, Farm Aide played performances to raise funds for needy farmers at the time. In 2007 Barak Obama attracted 29,000 attendees for a Democratic fund raiser.
Sources
"Williams-Brice Stadium." Wikipedia. Accessed March 30, 2015. https://en.wikipedia.org/wiki/Williams-Brice_Stadium. "Williams-Brice Stadium." University of South Carolina. Accessed March 30, 2015. http://www.gamecocksonline.com/facilities/scar-facilities-wb-stadium.html.
Additional Information