United Carbon Building (now Boulevard Tower)
Introduction
This twelve-story office building stands along Kanawha Boulevard in Charleston, West Virginia. Building design combines typical 1930s styles with designs that were emerging from the late 1930s and '40s. Construction of United Carbon Building began in 1939 and was finished the next year. The building is also referred to as Boulevard Tower as it rises 157 feet from the sidewalk to the twelfth floor.
Images
Boulevard Tower as it appears today.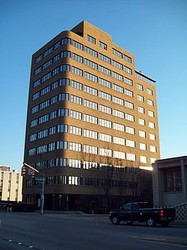 Ca. 1940 postcard featuring the newly-constructed United Carbon Building along Kanawha Blvd..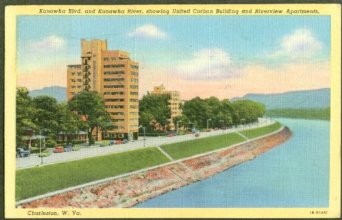 Backstory and Context
Construction of the United Carbon Building was commissioned by Oscar Nelson, president of United Carbon Corp. Oscar Nelson was a Swedish immigrant who struggled when he first came to the United States. He eventually found work as a laborer with the Peerless Carbon Company in Pennsylvania, and by 1900 Nelson was transferred to a plant in Grantsville, West Virginia. After years of working with the company, Nelson received management status and relocated to Weston, WV. He then rose to the rank of superintendent, and would eventually resign in order to form his own company.1
In 1916, Nelson and his associates from Weston formed the new company that specialized in carbon Black production. By 1925, the company had combined with several others to form the United Carbon Company. Nelson was made president of the company the same year, which is why the United Carbon Building is also known as the "Nelson Building."2 By the 1930s, the company was the leader of producing carbon Black and decided to move its headquarters to Charleston, West Virginia. Nelson commissioned architect Walter F. Martens to design the structure in 1939 and construction was completed in 1940. The building was added to the National Register of Historic Places in 1994.2 
Sources
1 "National Register of Historic Places Inventory Nomination Form" (PDF). United Carbon Building. State of West Virginia, West Virginia Division of Culture and History, Historic Preservation. May 02,2016 2 Agsten, Carl, Jr. "Share United Carbon Building." E-WV. November 05, 2010. Accessed May 02, 2016. http://www.wvencyclopedia.org/articles/832.
Additional Information