Mystery Castle
Introduction
Mystery Castle is one of Phoenix's most unique attractions, an 8,000 square foot "castle" located in the foothills of South Mountain, The 3-story, 18 room structure boasts 13 fireplaces, several patios, and hundreds of artifacts, antiques, and and of course, the opportunity to purchase souvenirs. Visitors can learn the backstory of the castle and view its parapets, turrets, peculiar winding staircases, and dozens of unique and sometimes quirky features. Mystery Castle was constructed almost entirely from recycled materials from 1930 to 1945 by Boyce Luther Gulley, fulfilling his promise to his daughter, Mary Lou. In May, 1990 it was listed on the Phoenix Historic Property Register, and in 1999 was the subject of an Emmy Award-winning documentary. Visitors to the area can tour the grounds of the castle while they enjoy the beautiful surrounding desert landscape and the area's great views of metro Phoenix. There are also number of hiking trails nearby, including Holbert Trail in South Mountain Park.
Images
Portrait of Boyce Gulley found inside castle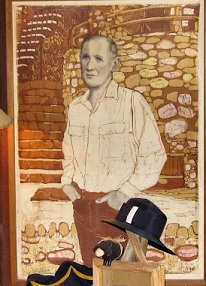 1948 LIFE photo of Mary Lou on winding staircase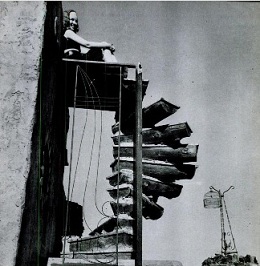 Same staircase today, different angle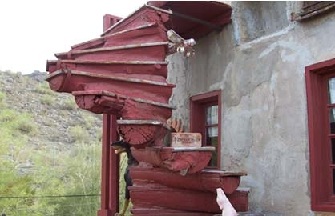 Mary Lou's bedroom as it looks today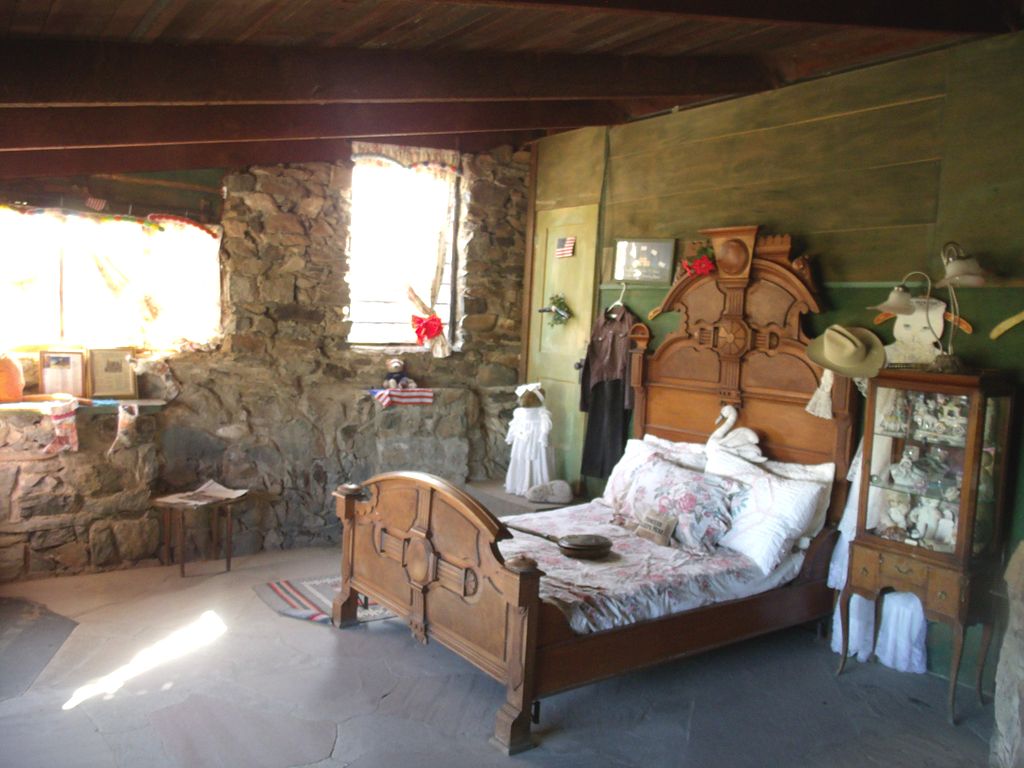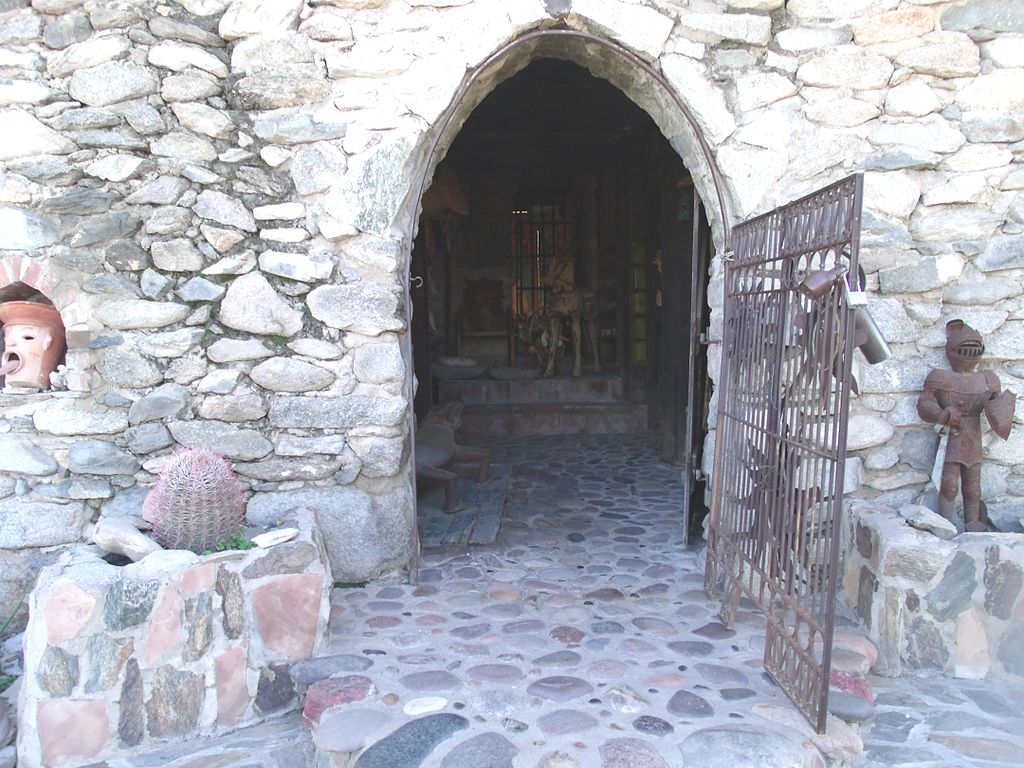 Backstory and Context
Boyce left his wife, Frances, and his toddler-daughter after being diagnosed with tuberculosis in 1929. He moved from Seattle, Washington to Phoenix, Arizona, believing the warm, dry climate might cure him. According to Mary Lou, Boyce told them he was leaving to pursue his dream of being an artist. Although he sent occasional letters to his family, they didn't know about his illness until years later.
When Boyce arrived in Phoenix, he filed a claim on two 20-acre parcels, and started building Mary Lou's castle in early 1930. He continued working on it until his death from cancer in 1945.
Boyce Luther Gulley was an artist and a revolutionary recycler, as evidenced by Mystery Castle's design and construction. He salvaged items from the nearby local dump, including discarded metals, glass, auto parts, and assorted "junk." Old telephone poles became ceiling rafters, and various items Boyce discovered in the Southwest and Mexico are incorporated into his design. He used adobe and thousands of rocks, and the castle is held together by mortar, cement, caliche, and goat's milk.
Blackboards from an old Phoenix schoolhouse became the slate floor in the main living room, and wooden cart wheels became windows. Depression-era glass dishes form doorway transoms, and an old wooden wagon wheel is built into a wall. Boyce even used parts from his 1929 Stutz Bearcat to build Mystery Castle - the windshield became a stove vent in the kitchen, and the wheels, rims, and headlights became windows. One of the fireplaces is wagon wheel hub, and you can walk around the spokes. And actual petroglyphs are embedded in the walls.
Boyce conserved everything he could, including space, and many of the castle's features serve multiple purposes. For example, most of its roofs are also patios for the next level, and many of the pillars also double as furniture. Many cubby holes, nooks, and crannies are actually odd storage spaces.
Mary Lou lived in Mystery Castle for 65 years, giving tours until her death on November 3, 2010. The property is now maintained by the Mystery Castle Foundation, a 501c3 non-profit organization. The Mystery Castle has been designated as a "Phoenix Point of Pride."
LOCATION
The Mystery Castle is located in the Foothills of South Mountain Park (two miles south of Baseline Road) at 800 E. Mineral Road in Phoenix, Arizona 85040.
To visit, take 7th Street South to Mineral Road, then head east and follow the road to the Mystery Castle entrance.

Note: The Castle is not wheelchair accessible. Visitors must be able to walk up a number of stairs.

Sources
1. "My Mystery Castle.com," The Mystery Castle Foundation website, accessed September 4, 2016. http://www.mymysterycastle.com 2. "Mystery Castle: An Official Phoenix Point of Pride," Discover Phoenix Arizona website, accessed September 4, 2016. http://www.discoverphoenixarizona.com/mystery-castle.html 3. "Tours," The Mystery Castle Foundation website, accessed September 4, 2016. http://www.mymysterycastle.com/location-and-tours/ 4. "LIFE Visits a Mystery Castle: A young girl rules over the strange secrets of a fairy-tale dream house built on the Arizona desert," LIFE Magazine, January 26, 1948, 117. https://books.google.com/books?id=p0gEAAAAMBAJ&lpg=PP1&pg=PA117&hl=en#v=onepage&q&f=false 5. Grant Olsen, "Unlocking the strange secrets of Arizona's 'Mystery Castle,'" KSL.com, January 24, 2013, accessed September 4, 2016. http://www.ksl.com/?sid=23770220 6. Mary Lou Gully, MY MYSTERY CASTLE (Culver City, Calif. : Murray & Gee, 1952), Worldcat site identifies repositories, accessed October 9, 2016. http://www.worldcat.org/title/my-mystery-castle/oclc/10581850 7. "Facebook Page," The Mystery Castle, accessed September 4, 2016. https://www.facebook.com/themysterycastle 8. "Mystery Castle Phoenix Arizona," YouTube Video, 2012, 3:17 mins., accessed September 4, 2016. http://www.youtube.com/watch?v=PKCw_8UyrI8
Additional Information