Jokake Inn/The Phoenician
Introduction
Early in the 1900s, a small frame house stood at the base of Camelback Mountain. Through the eyes of a passing artist, it was envisioned as an elegant abode. The painter, Jessie Benton Evans, purchased the property, including 40 acres of surrounding desert, and began renovating the house to suit her taste. Ms. Evans gave 12 acres to her son and daughter-in-law, who built a unique adobe house on the land in 1926, expanding it over the years to accommodate visitors for tea, and eventually, overnight guests. The house was given its name by a young Hopi Indian boy who saw the structure and called it "Jokake," which means "mud house." Today, Jokake Inn stands just inside the grounds of The Phoenician as a symbol of the hospitality of the old Southwest. Note: In the 1970s I took horseback riding lessons at The Jokake Inn. I remember riding past the Inn's casitas, long gone, located at the base of Camelback Mountain. (Pamela Rector, creator of this Clio entry).
Images
Jokake Inn, 1936. Pomona Public Library.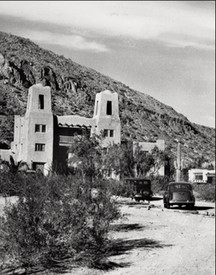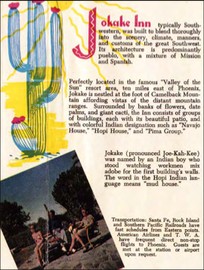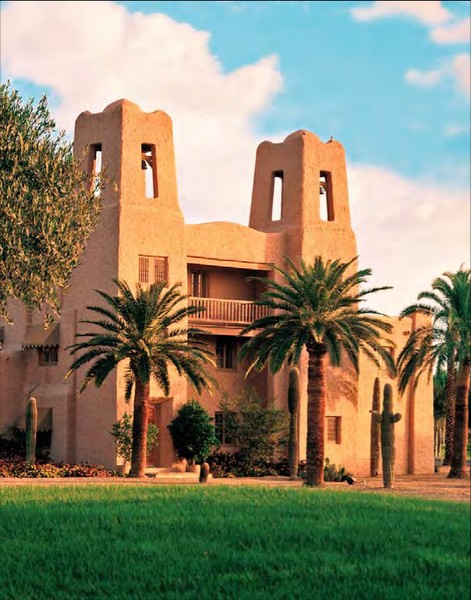 Aerial view of The Phoenician.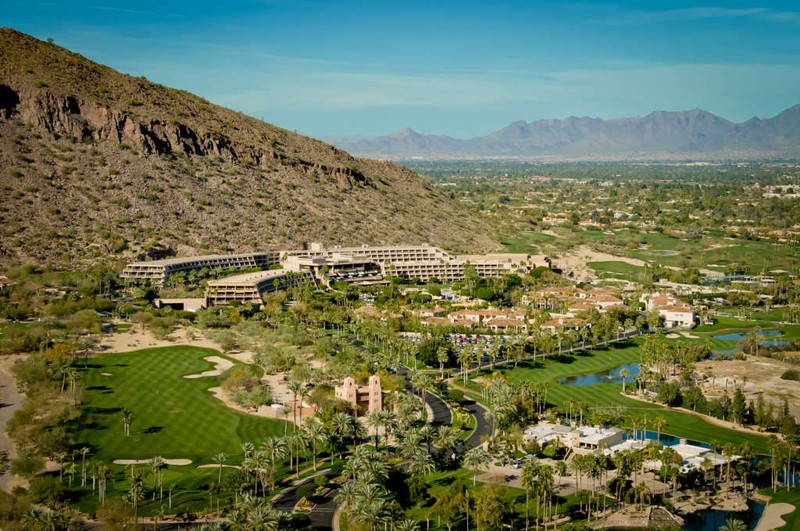 Entrance to The Phoenician.
Backstory and Context
Jokake Inn
Long before The Canyon Suites at The Phoenician, a beautiful Southwest retreat, nestled at the base of Camelback Mountain, made history here. In the late 1920s two friends built the Jokake Inn, a pueblo-style retreat that seemed to rise naturally from the desert sands. Simple and beautiful, the Jokake Inn operated on The American Plan, open November through April. For decades, this quaint resort welcomed vacationing Easterners, titled foreigners, industrial titans and local friends alike. Its signature entrance towers still stand on The Phoenician grounds today, harkening to an uncomplicated time of gracious hospitality.

The Jokake Inn was opened as a tearoom by Sylvia Evans and her friend Lucy Cuthbert in 1926, and expanded to accommodate overnight guests in 1928. Designed by architect Robert T. Evans (designs also include The Casa Blanca Inn, The Eisendrath House, among others), husband of Jokake's founder Sylvia Evans, it was constructed using adobe bricks. Decorated with Southwestern arts and crafts, it was a haven for celebrities and rich winter visitors. The distinctive bell towers gave the resort a Southwestern ambiance that Sylvia and her friend Lucy Cuthbert carried throughout the interior spaces. Sylvia continued to operate the resort after her divorce from Evans in the 1940s until the property was sold to Charles Alberding of Alonsett Hotels in 1952. It closed as a resort in the late 1970s.

The Phoenician
In 1985, Charles Keating had a vision to build a multi-million dollar, Five Diamond resort that would display the elegance and sophistication of Europe, standing out as a sparkling gem in the Sonoran Desert. Keating purchased the land at the base of Camelback Mountain, as it was the most recognizable location in the Valley, providing dramatic views of the city skyline. To build his special palace, no expense was spared and no detail was overlooked.

It was not Keating's intent to make The Phoenician indigenous to its environment. Instead, his goal was to create a luxury property, incorporating only the finest materials to make The Phoenician a true work of art. For example, white marble was imported from Carrera, Italy, for the lobby; the ceiling was etched in 24-karat gold, and 11 rare Steinway pianos, which grace the hallways, the presidential suites and The Thirsty Camel Lounge, were purchased. In addition, workers from the Island Kingdom of Tonga were hired to create the lush tropical landscape that complements the resort's Sonoran backdrop. Regardless of Keating's original intent to be anything but "indigenous," The Phoenician naturally is, due to its landmark 250-acre location, name and mythical bird logo that mirrors the city of Phoenix.

For their authentic desert surroundings and lush scenery, both Jokake Inn and The Phoenician have hosted numerous film and television productions. Perhaps one of the best known is the movie "Raising Arizona," starring Nicholas Cage, which featured Jokake Inn. The Phoenician has also been the subject of such programs as "Lifestyles of the Rich & Famous" and "Luxury Getaways" on the Travel Channel


Sources
1. "Scottsdale Remembers-Recollections of Our Past," Scottsdale Public Library on the Arizona Memory Project, Photo of the original Jokake Inn main building, ca.1926, accessed September 23, 2016. http://azmemory.azlibrary.gov/cdm/ref/collection/splrem/id/70 2. "Jokake Inn," postcard, 1948, CardCow vintage postcards, accessed September 23, 2016. https://www.cardcow.com/211870/jokake-inn-phoenix-arizona/ 3. "Jokake Inn," movie "Raising Arizona" film locations, 1987, accessed September 23, 2016. http://www.movie-locations.com/movies/r/Raising_Arizona.html#.V-W_TutHarU 4. "Jokake Inn," Wikimapia site, contemporary aerial photo, accessed September 23, 2016. http://wikimapia.org/19120614/Jokake-Inn 5. "Jokake Inn Main Building," 2nd Arizona Memory Project photo, accessed October 9, 2016. http://azmemory.azlibrary.gov/cdm/ref/collection/splimage/id/34 6. "Jokake School for Girls," Wikipedia site, accessed September 23, 2016. https://en.m.wikipedia.org/wiki/Jokake_School_for_Girls 7. "Jokake Inn History," on The Phoenician website, accessed September 23, 2016. http://www.thephoenician.com/history/ 8. "Jokake Inn: Jokake Inn, Arizona, 10 miles from Phoenix," book, ca. 1940s, link shows locations of institutional copies, accessed October 9, 2016. http://www.worldcat.org/title/jokake-inn-jokake-arizona-ten-miles-from-phoenix/oclc/48982470&referer=brief_results 9. Sylvia Evans Byrnes, JOKAKE INN: ONE OF THE EARLIEST DESERT RESORTS, out of print book, link shows locations of institutional copies, accessed September 23, 2016. http://www.worldcat.org/title/jokake-inn-one-of-the-earliest-desert-resorts/oclc/10875339&referer=brief_results 10. Gary Fillmore, Shadows on the Mesa-Artists of the Painted Desert and Beyond re Jesse Benton Evans, Schiffer Publishing, Ltd., 2012, accessed October 9, 2016. http://www.bluecoyotegallery.com/JessieBentonEvans-Elder.htm 11. "Memoir and Biography of Jessie Benton Evans, 1866-1954, Historic Arizona Landscape Painter," Essay by her great granddaughter, artist Jessie Benton Evans, accessed October 9, 2016. http://www.jessieevans-dongrayart.com/essays/essay085.html 12. "Jesse Benton Steese Evans," auction house entry: Taos and Santa Fe Painters, October 9, 2016. http://jessiebentonevanspaintings.com/ 13. "1000+ Images about Jokake Inn on Pinterest," Pinterest website, accessed September 23, 2016. https://www.pinterest.com/thephoenician/historic-jokake-inn/ 14. "Historic Jokake Inn - Now World Famous Phoenician Resort," INSIDER SCOTTSDALE.com, accessed September 23, 2016. http://www.insider-scottsdale.com/jokake_inn.htm 15. "You've Arrived: A History of The Phoenician," pdf on The Phoenician website, accessed October 9, 2016. http://www.thephoenician.com/file/phxn-history_2009_lowres.pdf 16. "The Phoenician," Official Website, accessed October 9, 2016. http://www.thephoenician.com/
Additional Information