August Wilson African American Cultural Center
Introduction
The August Wilson African American Cultural Center on Liberty Avenue is dedicated to housing and celebrating the creative work of western Pennsylvania's African American community. Plans to open such a center began as early as 1996 but were not realized until 2009. The center is named for August Wilson, a playwright from Pittsburgh who won two Pulitzer Prizes and two Tony Awards. Honoring his legacy, the August Wilson Center has become a premier site for the commemoration of African American arts and culture in the region. The center presents performances, visual arts programs, rotating exhibits, and special events, and features galleries, classrooms, a 500-seat theater, gift shop, and a café. It is open from 11 AM to 6 PM Wednesday and Thursday, 11 AM to 8 PM Friday and Saturday, and 11 AM to 5 PM on Sunday.
Images
The August Wilson Center, Exterior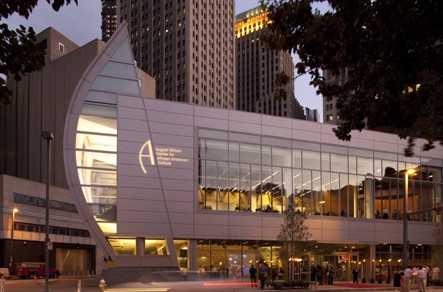 Musicians preform within the center.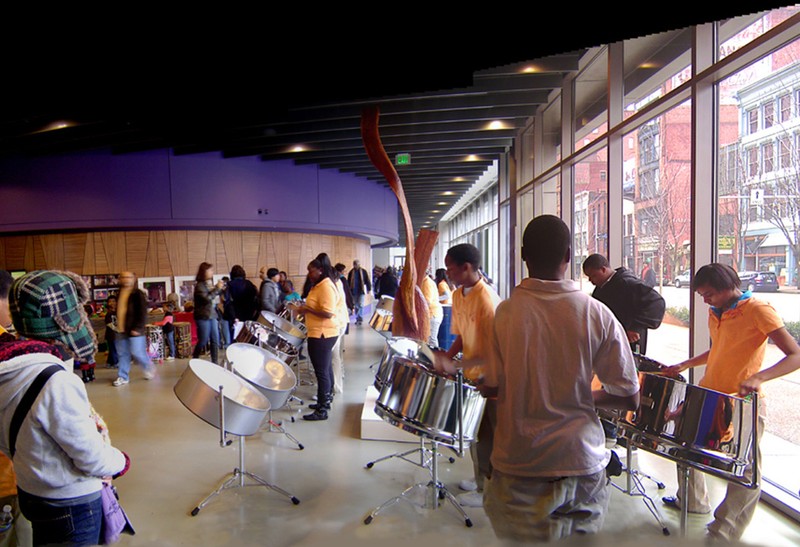 Dancers preform on the center's stage.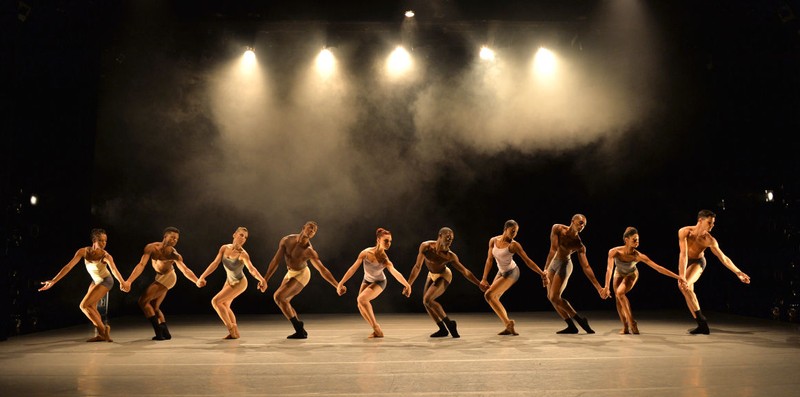 Backstory and Context
The African American Cultural Center's namesake August Wilson is one of the most well-known artists to come out of Pittsburgh. Born Frederick August Kittel, Jr. in the Hill District on April 27, 1945, the playwright honored his mother's role in raising him by assuming her maiden name after his father's death in 1965. Wilson was an undeniable product of Pittsburgh's complex and often fraught racial history. When they moved from the Hill District (the primary destination for Black families during the Great Migration) to the predominantly white Hazelwood, Wilson's family faced racial hostility and were ultimately driven from the neighborhood. In the tenth grade a teacher at Gladstone High School accused Wilson of plagiarizing a paper on Napoleon Bonaparte, prompting him to drop out. While he worked various odd jobs Wilson sought to continue his education on his own, utilizing the Carnegie Library so extensively that it would later grant him an honorary high school diploma. He was also heavily influenced by the vibrant Black cultural scene of the Hill District at the time, an artistic movement that fed into the Black Arts Movement that inspired so much of Wilson's work as a playwright. His most famous work, a ten-play series known as the Pittsburgh (or Century) Cycle that explores Black stories over the twentieth century, is largely a product of these experiences.
The dynamic African American cultural entrepot of Pittsburgh that produced August Wilson also prompted efforts to open a museum celebrating the city's Black artists. For decades, Pittsburgh witnessed a number of failed plans to open a museum for the display and preservation of African American culture and art. The Selma Burke Art Center operated in East Liberty until its closure in 1981. Emma Slaughter and Melvin Campbell co-founded the Homewood Art Museum and purchased land on Frankstown Avenue in Homewood shortly thereafter but were unable to raise the funds to build on the site. The plans for the museum that became the August Wilson Center began as early as 1996 and were pitched by Pittsburgh's NAACP President Tim Stevens in a document titled "Plans for Progress" meant to convince NAACP's national organization to hold its annual conference in the city (which it did in 1997). The document called on then Mayor Tom Murphy to provide funding for a museum African American arts and culture in Pittsburgh, which Murphy subsequently did. From 1998 to 2002, funds were raised from the Urban Redevelopment Authority, Pittsburgh Foundation, State of Pennsylvania, Heinz Endowments, and various other sources. In 2006, August Wilson was chosen as the namesake of the center following his death the previous year. A short time later, the design of the center began to proceed under architect Allison G. Williams and San Francisco firm Perkins+Will. The 65,000 square foot center opened for patrons on September 17 and 19 of 2009.
Unfortunately, the museum began suffering financially in 2012 and in January 2014 a federal court ruled that its debts could be resolved by its liquidation. A sheriff's sale in November of that year resulted in its mortgage holder Dollar Bank purchasing the site for $1,912.50. Originally, Dollar Bank planned to sell the site to a developer so that a hotel could be constructed on top of the center. When Mayor Bill Peduto, Allegheny County Executive Rich Fitzgerald, and the Urban Redevelopment Authority fought the move, however, Dollar Bank agreed to sell to a nonprofit consortium that included the Pittsburgh Foundation, the Heinz Endowments, the Richard King Mellon Foundation, and the Thomas Tull Family Foundation. The sale necessitate a name change for the center, which initially became the August Wilson Cultural Center before switching to the August Wilson African American Cultural Center after an online petition protesting the removal of "African American" from the name. Since its sale the center has shown promising signs of financial recovery. It finished 2018 with a budget surplus and increased its operating budget sevenfold from 2015 to 2020.
The center's salvation in 2014 preserved a unique and essential contributor to Pittsburgh and western Pennsylvania's cultural community. Since its opening, the museum has worked to fulfill "its mission of preserving, presenting, interpreting, celebrating and shaping the art, culture and history of African Americans utilizing the rich history, legacy and culture of African Americans from Western Pennsylvania as a foundation." It has housed a variety of art forms, from traditional visual artwork to the performing arts. Among its recently featured artists have been Romare Bearden, Vanessa German, Peju Alatise, Tarish Pipkins, Latoya Ruby Frazier, and Hebru Brantley. It also offers programs throughout the year dedicated to the celebration of theater, dance, music, and film and hosts various festivals including the Black Bottom Film Festival, the TRUTHSayers speaker series, and the Pittsburgh International Jazz Festival. Through such programs and exhibits, the center servs as a fundamental pillar of the artistic and cultural community in Pittsburgh and western Pennsylvania and of African American experiences in the region.
For these reasons the August Wilson African American Cultural Center represents an invaluable resource for its community. The African American communities of Pittsburgh and western Pennsylvania have histories that are both long and vital to the city and region at large. The August Wilson Center celebrates those histories and offers its patrons an incomparable opportunity to appreciate the cultural and artistic experiences and contributions of creators like its namesake playwright. Without such experiences and contributions Pittsburgh and western Pennsylvania would be less vibrant and dynamic places to live and without the August Wilson African American Cultural Center the area's residents would be unable to fully appreciate that fact.
Sources
Bloom, Elizabeth. "The Rise and Fall of the August Wilson Center." Pittsburgh Post-Gazette February 8th 2014.
Bogumi, Mary L.. Understanding August Wilson. Columbia. University of South Carolina Press, 1999.
Ferola, Anne, Jennifer Ginsberg, & Martice Sutton. "Saving the August Wilson Center." Nonprofit Quarterly. January 20, 2016. Accessed October 7, 2016. https://nonprofitquarterly.org/2016/01/20/saving-the-august-wilson-center/
Lindstrom, Natasha. "August Wilson Center Gains Momentum." Pittsburgh Tribune Review. June 19, 2016. Accessed October 7, 2016. http://triblive.com/news/allegheny/10459798-74/center-wilson-august
Wilson, August. Bryer, Jackson R.. Conversations with August Wilson. Jackson. University Press of Mississippi, 2006.
Additional Information