Mellon Square
Introduction
Mellon Square became the first modern garden plaza to be built atop a parking garage when it opened in 1955. The park remained a vital spot for downtown's workforce and an increasing number of residents, but began to show signs of deterioration around the turn of the 20th century. The Pittsburgh Parks Conservancy, with $10 million in funding from area foundations, restored Mellon Square between 2009 and 2014. The fundraising effort includes an endowment that will provide permanent funding for future maintenance.
Images
Overhead shot of Mellon Square Park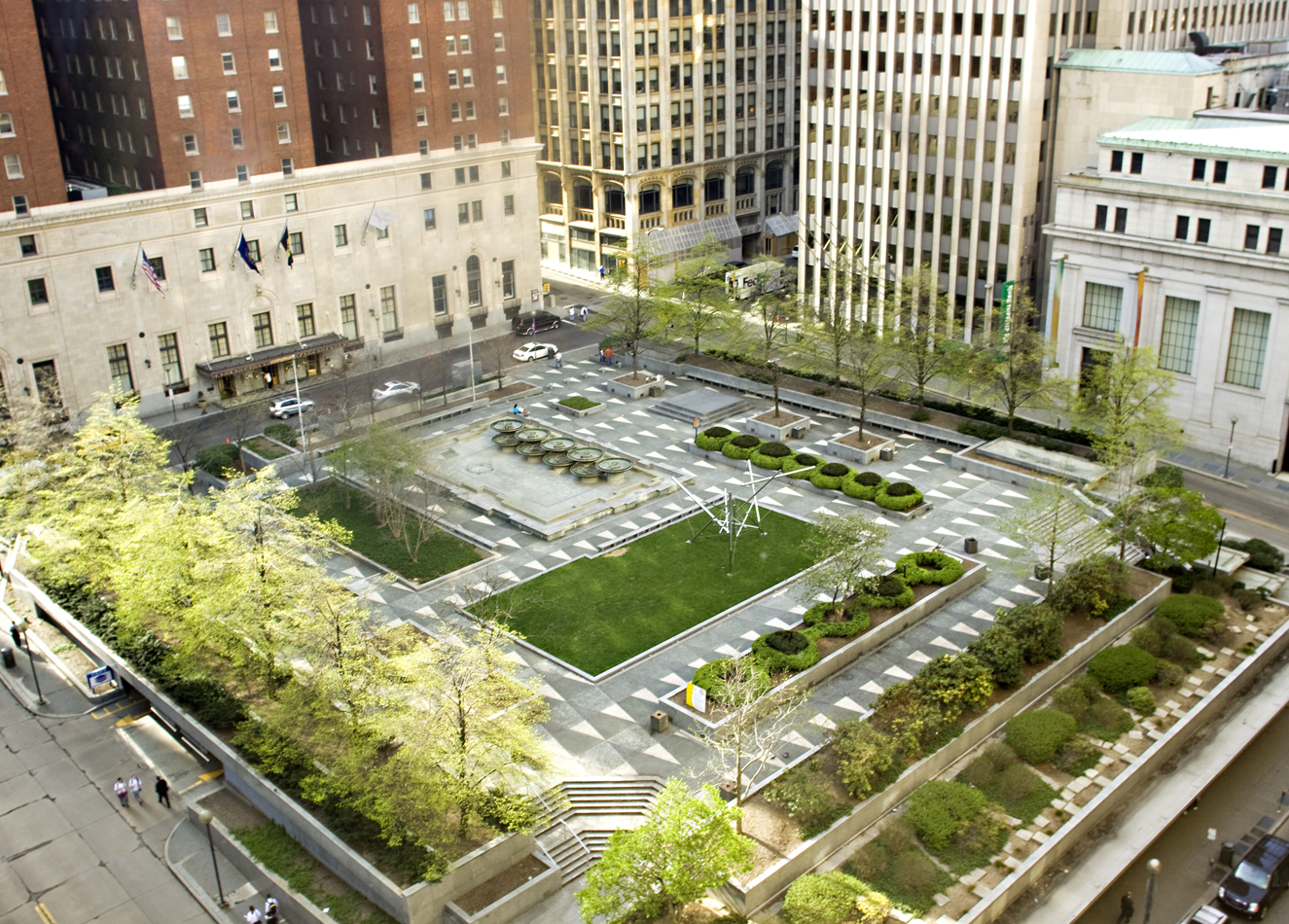 Groundbreaking ceremony, 1953.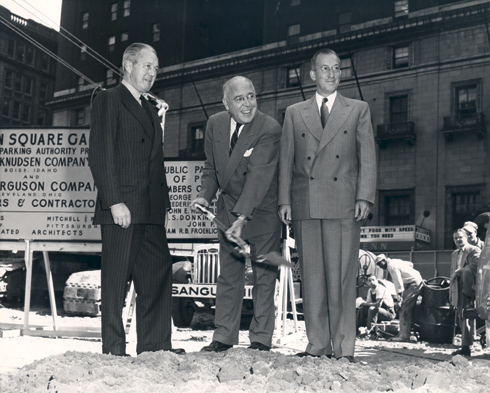 Mellon Square's famous fountain at night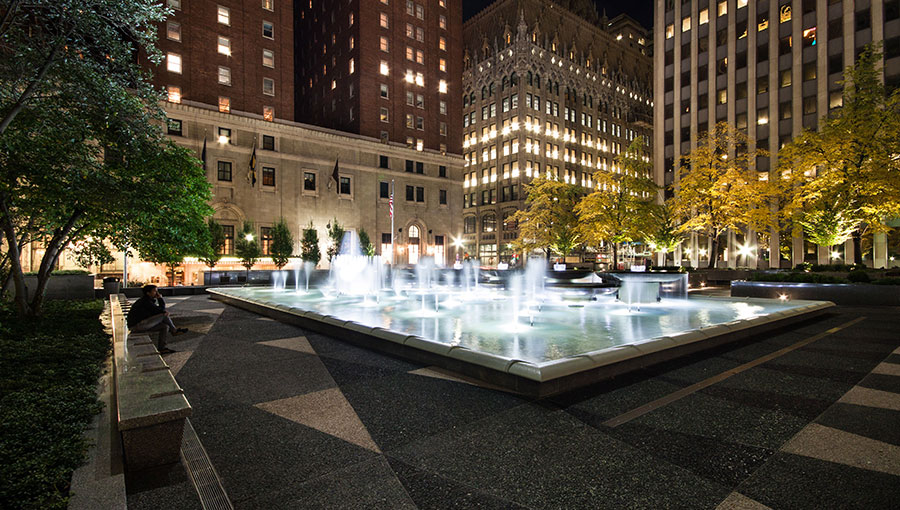 Backstory and Context
In the late 1940s, urban planning studies identified the block now containing Mellon Square as one of five locations where the city would construct a parking garage. Not satisfied with just another downtown parking garage, Richard King Mellon envisioned an entirely new project he believed would become a centerpiece of downtown Pittsburgh.
In planning two new buildings for Alcoa and U.S. Steel, Mellon envisioned much-needed open space to anchor a major urban commercial, historic, and retail/entertainment district. With the right plans, Mellon saw this space spurring economic development and helping motivate vital businesses to remain in Pittsburgh while also reducing traffic congestion.
The Square was designed by the distinguished landscape architecture firm Simonds & Simonds and architects Mitchell & Ritchey. Groundbreaking occurred in 1953 and the Square was dedicated on October 18, 1955. Thousands attended the dedication ceremony and hundreds of thousands of residents and guests annually come to Mellon Square to attend special events or simply enjoy this oasis of beauty and serenity above the din of the city streets.

More than 50 years after its dedication, Mellon Square was named one of America's Ten Great Public Spaces by the American Planning Association. The Square is also listed on the National Register of Historic Places. At the same time, this iconic landmark's luster was showing significant wear and tear because of a lack of resources for maintenance. Corrosion, broken systems, failed drainage infrastructure, and absent or dying trees and shrubs all contributed to Mellon Square's deterioration over time.

In 2009, the Pittsburgh Parks Conservancy, with a team led by Patricia O'Donnell of Heritage Landscapes, crafted a plan based on historic research and restoration planning to begin a restoration project to return Mellon Square to its intended design. This multi-year plan looked to significantly increase Mellon Square's economic impact to the surrounding area, and restore its vibrancy as a public space.
In 2011, the Pittsburgh Parks Conservancy hosted groundbreaking ceremonies that launched the $10 million restoration of Mellon Square. Included were a new terrace above Smithfield Street that increases usable space by 15%; thousands of new plantings and specially constructed soils to capture rainwater and minimize runoff; and new high-efficiency pumps for the fountains that drastically reduce the park's consumption of water and electricity. But perhaps most important is the vision to create a long-term maintenance fund, guaranteeing that Mellon Square will never again suffer from a lack of ongoing care.
Sources
City of Pittsburgh Parks, History of Mellon Square: http://www.pittsburghparks.org/mellonsquare Silverstein, Yoshi. "Pittsburgh's Mellon Square is Restored to its Modern Glory." The Dirt: Uniting the Built and Natural Environments. June 26, 2014. Accessed October 7, 2016. https://dirt.asla.org/2014/06/26/pittsburghs-mellon-square-restored-to-its-modern-glory/
Additional Information