Station Square, Pittsburgh
Introduction
Pittsburgh's Station Square is a lively dining and entertainment district known for its restaurants and specialty shops. The historic building is home to treasured local restaurants such as The Gandy Dancer while the adjacent Freight House Shops are home to two dozen retail shops within former rail yard sheds and other restored railroad buildings that were once part of the Pittsburgh and Lake Eire Railroad. Bessemer Court, the entertainment and nightlife hub of Station Square, was designed as a commemoration to the city's steel industry. Located here is the Hard Rock Café and other attractions, the fountains at Bessemer Court, and the docks for the Gateway Clipper, a riverboat that offers tours of the Pittsburgh waterfront.
Images
Located at next to the former rail yard, Station Square offers fountains and scenic walkways that take guests by historic markers and a variety of entertainment and retail options.
The waterfront area was once dominated by the historic train station and rail yards.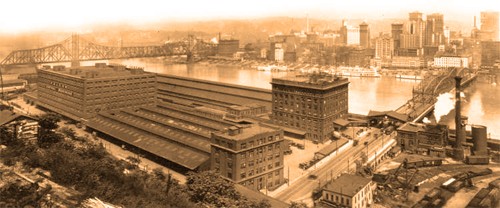 A daytime shot of Station Square with the Hard Rock Café in the background and a blast furnace in the foreground.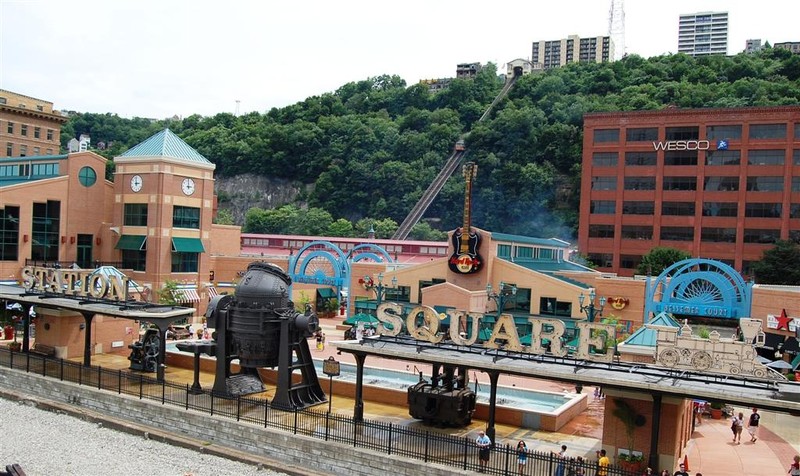 The America and Steel Growing Together stamp celebrates the centennial for the patent of the Bessemer Process, the mass production of steel converted from molten pig iron. A converter now stands as a historical landmark in Station Square.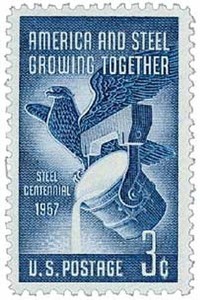 Backstory and Context
Station Square was originally a part of the Pittsburgh and Lake Eire Railroad that was charted in 1873. In 1877, a line connecting Pittsburgh to Youngstown was constructed, and in 1899, the railroad opened up to commercial passengers. However, by 1970, railroad transportation had significantly diminished due to the advancement of automobiles and the railroad complex stood obsolete until 1976 when "the Pittsburgh History and Landmarks Foundation developed the site as a mixed-use historic adaptive reuse development that gave the foundation the opportunity to put its urban planning principles into practice."1
The 40-acre complex, including the terminal, freight station, warehouse, express house, and other buildings were renovated and a hotel, parking, and the Gateway Clipper/dock was added. The Pittsburgh History and Landmarks Foundation sold the complex to Forest City Enterprises in 1994 and Station Square as is today truly began. In 2002, Forest City expanded the hotel and constructed Bessemer Court.
Sources
1. http://www.stationsquare.com/info/history "History of Station Square." Segway in Paradise. 2016. Accessed October 6, 2016. http://segwayinparadise.com/station-square-history "Station Square." Carnegie Mellon University's Brownfields Center. 2007. Accessed October 6, 2016. https://www.cmu.edu/steinbrenner/brownfields/Case%20Studies/pdf/station%20square1.pdf
Additional Information