Karpeles Manuscript Library Museum
Introduction
The Karpeles Manuscript Library Museum is one of ten other Karpeles institutions around the country. The Karpeles system houses one million manuscripts and other documents—the largest private collection of its kind in the world. The museum in Jacksonville is located in the former Christian Science building, which was constructed in 1921. The Karpeles museums were founded by David and Marsha Karpeles in the early 1980s to provide people, particularly underserved children, with free access to important historical documents and educational programming in literacy, history and art. The building is a contributing property of the Springfield Historic District.
Images
Karpeles Manuscript Library Museum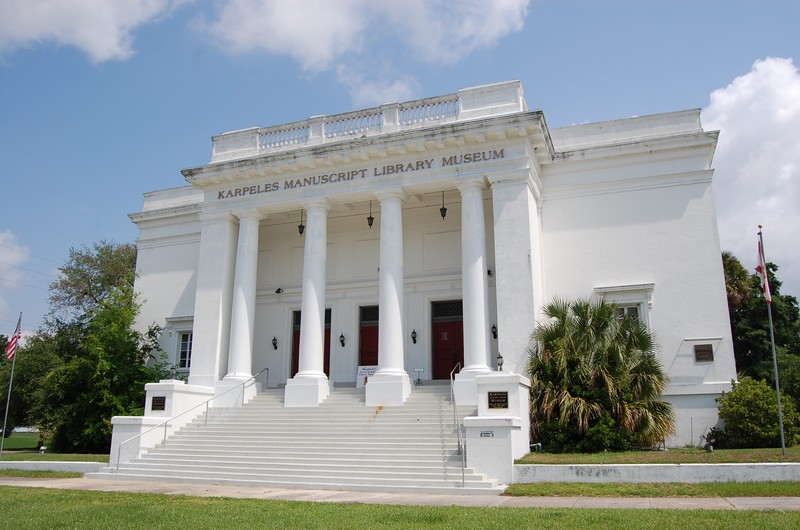 Backstory and Context
Items in the collection are rotated around the Karpeles museums. Famous authors, scientists, politicians, composers and other distinguished people of history are represented. This includes letters and manuscripts of Sigmund Freud.

David Karpeles was a math teacher but became wealthy after he invested in real estate. His interest in old documents started in the early 1970s when he saw an exhibit at the Huntington Museum in Los Angeles which featured the pass signed by Abraham Lincoln giving his bodyguard the night off, the same night Lincoln went to Ford's Theater where he was assassinated.
Sources
"About the Karpeles." Karpeles Manuscript Library Museum. Accessed October 7, 2016. http://www.rain.org/~karpeles/jaxinfo.html "Karpeles Manuscript Library Museum (Jacksonville)." Wikipedia. Accessed October 7, 2016. https://en.wikipedia.org/wiki/Karpeles_Manuscript_Library_Museum_(Jacksonville). "Karpeles Manuscript Library." Viva Florida. Accessed October 7, 2016. http://vivaflorida.org/Explore/Museums/Karpeles-Manuscript-Library.
Additional Information