Dolly Sods Wilderness Area
Introduction
Dolly Sods Wilderness is a 17,776 acre area that lies in the Alleghany Highlands of Tucker and Randolph Counties. The sods, being at an elevation of over 4,000 feet above sea level, have the same climate, and flora of the artic. The plateau that hosts the sods is the largest east of the Mississippi River. At Dolly Sods you find a campground, picnic area, trout streams, and miles of hiking trails. Hikers beware, as the Sods are home for Black bears, as well as coyotes, bobcats, and other wild animals, also, be careful of unexploded mortar and artillery shells.
Images
View from Bear Rocks looking at Blackbird Knob. (Photo by Steven Hart)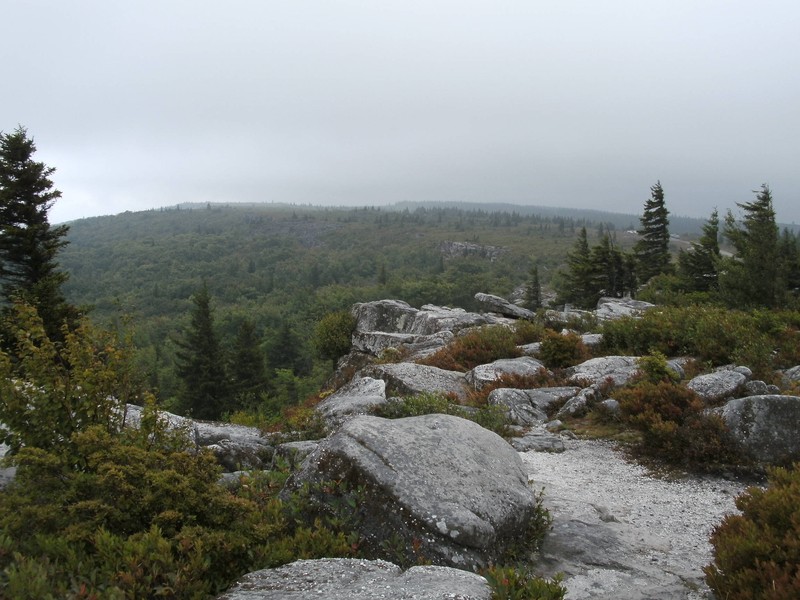 Dolly Sods. (Photo by Steven Hart)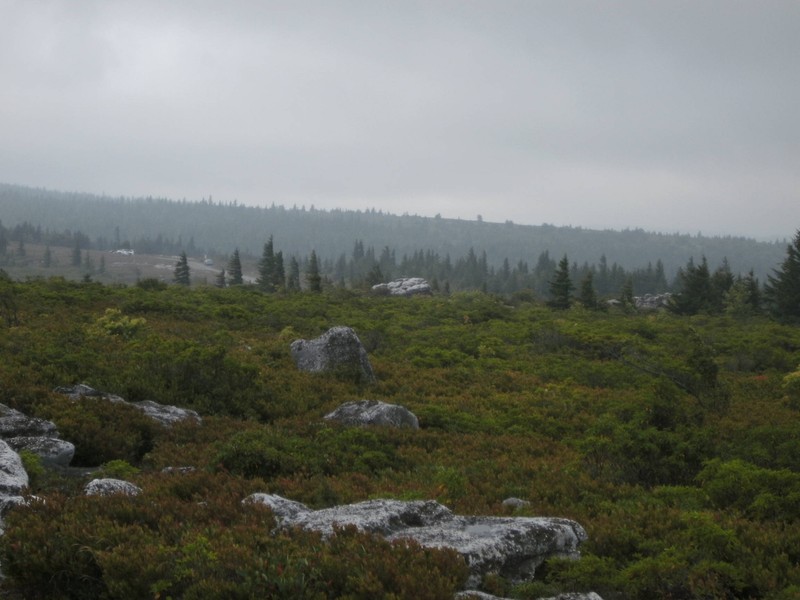 Backstory and Context
The area now known as Dolly Sods was first surveyed in 1774 by Peter Jefferson and Thomas Lewis, who were trying to establish the boundaries of Lord Fairfax's land grant. However the land was too rugged to be navigated and was not further settled until the late 1780's. Johann Dahle was born in Germany in 1749 and came to America as a Hessian soldier, fighting for the British in the Revolutionary War. In 1781, he was captured at the Battle of Yorktown, but was released when the war ended. Dahle decided to stay in America and settled in what is now Pendleton County. Here he bought land, married, and had nine children. Dahle became a successful farmer, acquiring more land, which included the Sods. The plateau land would be used for grazing livestock, mainly sheep. The area would soon be known as Dahle's Sods; later the English spelling would be used, Dolly Sods. Johann died in 1847 at the age of 98; his family would eventually move out of the area.
In the late 1800's and into the mid 1900's, the timber industry was in full swing with increasing demands for lumber products. Much of the country side was covered with virgin timber; some trees were said to be over 12 feet in diameter. Lumber mills and towns sprung up all around the area and populations grew, making this area a once densely populated region of West Virginia. Clear cutting timber practices left the sods bare and several times wildfires scorched the land destroying the natural peat beds and cranberry bogs. Some of the towns died out or saw their residents move out in search of work, leaving the Sods to revert back to its former wilderness state.
In 1943 and '44, Dolly Sods would find a new use considered important to national defense. During those two years, the West Virginia Maneuver Area would be established at Dolly Sods. The US Army used the area to train soldiers to fight in high mountain battlefields, similar to those they would be sent to in Europe during WWII. Climbing schools were conducted on the many rock formations, including Bear Rocks. The steep mountain terrain made good training grounds for the infantry. The most noted action at the sods was its use as an artillery and mortar range. Cabin Mountain and Blackbird Knob were the favorite targets in the area. As late as 1997, 14 unexploded shells were found along hiking trails; all were destroyed on site. Ironically, one of the Army Engineers working the site in '97 had been injured in 1951 when he encountered a live, unexploded shell while hiking. The blast sent him flying into the top of a tree, and he suffered shrapnel injuries to his legs. While hiking in the sods, if you come across anything that looks like a mortar round or shell do not touch it, and notify the Forestry Department.
Dolly Sods is one of the most beautiful spots in the state, with spectacular views from every high point. The sods offer great hunting and fishing opportunities, as well as hiking, mountain biking, and camping. Located in Tucker and Randolph Counties the Sods can be accessed from Route 32 at Laneville, or from Route 28, in Pendleton County.1
Sources
1. "Dolly Sods Wilderness." Monongahela National Forest -. Accessed October 05, 2016. http://www.fs.usda.gov/recarea/mnf/recreation/recarea/?recid=12366. 2. "Wilderness.net - Dolly Sods Wilderness - General Information." Wilderness.net. Accessed October 05, 2016. http://www.wilderness.net/NWPS/wildView?WID=160. 3. "The Nature Conservancy." Canaan Valley-Dolly Sods. Accessed October 05, 2016. http://www.nature.org/ourinitiatives/regions/northamerica/unitedstates/westVirginia/placesweprotect/canaan-valley-dolly-sods.xml.
Additional Information