Old Main "The College Building"
Introduction
On the campus of Utah State University stands one building that is the most well known of any building on the campus. Old Main, the most recognized symbol of Utah State University, and a historical landmark of Cache Valley, was at one point the College itself before expansion occurred. There is a tower on the west side of the building with the letter "A" on top of the tower lit up at night for the whole valley to see. One thing locals have come to love is seeing the "A" lit up changing from the usual white lights to blue, signifying an Aggie Victory. The building is considered an excellent example of "campus gothic" architecture from the 19th century.
Images
Original Caption. "The Agricultural College of Utah" Old Main building, Utah State University, architectural drawing, 1889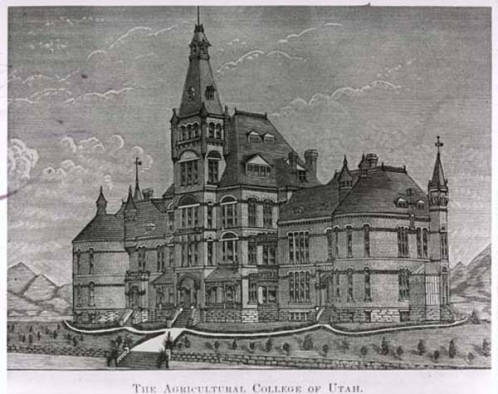 Room in the Original Agricultural College of Utah. (https://www.usu.edu/facilities/docs/planning/Historical_significance_document.pdf)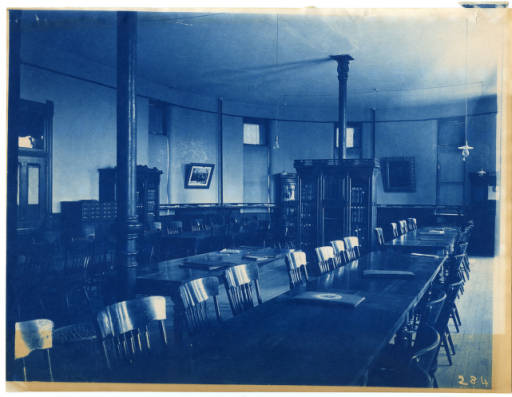 Backstory and Context
The "A" is the defining feature of Old Main, and has been an emblem of Utah State since 1909 when it was a senior gift, the very first senior gift presented to the University. It was built in Salt Lake City and cost the University $215, which would be equivalent to $5,435.48 today. It measured 12 feet by 14 feet and was installed by Charles Batt. It initially was lit using candles, and the very first model contained one hundred and forty-six candles to shape the "A". The "A" faced the west overlooking the entire valley for everybody to see. An "A" was later put on all fours sides of the tower. In 2010 it was updated, now using LED lights that change from white to blue during homecoming week and signifying Aggie Athletic victories. (Parson 2009)
The Agricultural College of Utah is what Utah State University was originally called. On its campus is the oldest buildings, the College Building, as it was originally known as which is now called Old Main. The original plans for the building were only estimated at $20,000 and the final completion of the building cost $20,305. When taking into account inflation, that would be considered $513,337.06 dollars today. Old Main is the oldest, still in use, higher education building in Utah. The building has experienced some renovations, but resembles a lot of the original design of the building, and is still considered a "Campus Gothic" style of a building. The building was dedicated on September 4 and was then opened to the public September 5, 1890. (Forbush 1972)
It is not used for the same purposes today. Originally it contained "recitation rooms…workshops, cooking, sewing, householding, dairying, laundering, engineering, agricultural and business departments…laboratory, museum, library, gymnasium rooms and a military drill hall." (Forbush 1972) It would eventually have large bathrooms where bathing for both sexes, separately, could be used. Today it is used mostly for classrooms and Professor's offices. It also has computer labs, restrooms, and other supply and miscellaneous offices. As the oldest building on campus, it would make sense that it would be the primary house to the history department, but it also is home to other social study departments. The classrooms though can be used by any of the departments and their associated colleges for scheduled use. (Forbush 1972)
Not all of the original plans were finished in 1890. The way that it was designed was to that each section of the building could be built independently of each other. The south wing was finished first in February of 1890 which was later dedicated in September, and would be the only part of the building that was completed. Then the northern and eastern portion got started with their construction in 1892. The plans were for the central location though were then redrawn and put on hold due to the economic depression panic in 1893 and was completed in 1894. The tower for the building would not be added until 1902. (Forbush 1972)
Sources
Bibliography Forbush, Gary D. 1972. National Register of Historic Places Inventory - Nomination Form. February 23. Accessed October 25, 2016. http://focus.nps.gov/GetAsset?assetID=eb81ba2e-89c0-4701-b8b5-910f5c869422.
Junction Printing and Publishing Co. (1879-1882); Utah Journal Co. (1882-1889); Logan Journal Co. (1890-1891); Journal Publishing Co. (1892-1898). 1890. "The Logan Journal." Agricultural College of Utah. June 21. Accessed October 25, 2016. http://digital.lib.usu.edu/cdm/compoundobject/collection/utahj2/id/66153/rec/79 . —. 1890.
"The Logan Journal." August 20. Accessed October 25, 2016. http://digital.lib.usu.edu/cdm/compoundobject/collection/utahj2/id/2964/rec/34 . —. 1889.

"The Utah Journal." Agricultural College of Utah. March 27. Accessed October 25, 2016. http://digital.lib.usu.edu/cdm/compoundobject/collection/utahj2/id/4010/rec/3 .
Parson, Robert. 2009. Encyclopedic History of Utah State University. Accessed October 25, 2016. http://digitalcommons.usu.edu/cgi/viewcontent.cgi?article=1120&context=lib_pubs.
Sahr, Robert. 1913. Inflation Calculator. Accessed October 25, 2016. http://www.in2013dollars.com/1890-dollars-in-2016?amount=20305.
Thompson, C.L. 1889. "Utah State University Libraries Digital Collections." Old Main building, Utah State University, architectural drawing, 1889. Accessed October 25, 2016. http://digital.lib.usu.edu/cdm/singleitem/collection/USU_Photos/id/22/rec/1
Additional Information