Wrightsboro
Introduction
Wrightsboro, also spelled Wrightsborough, was the southernmost Quaker settlement in the colonies and the only one in Georgia. It was founded in 1768, a few years after the Creek Indians ceded lands to the Colony of Georgia in the Treaty of Augusta (1773). At its peak, 60 families lived in the town and 200 in the surrounding township. Not much remains from this early period but the overall landscape and town plan remain mostly intact. The structures (and cemetery) that can be seen today date from the 19th century. One of them, the church, was built between 1810-1812 and is significant in that it is one of the oldest churches in the state. The cemetery is interesting as it is not only old but some ancestors of notable people are buried there, such as those of Coca-Cola founder Asa G. Candler. Visiting Wrightsboro is easy as it is directly adjacent to the the road. There are interpretive signs which provide information about the structures and site's history. It is maintained by the Wrightsboro Foundation.
Images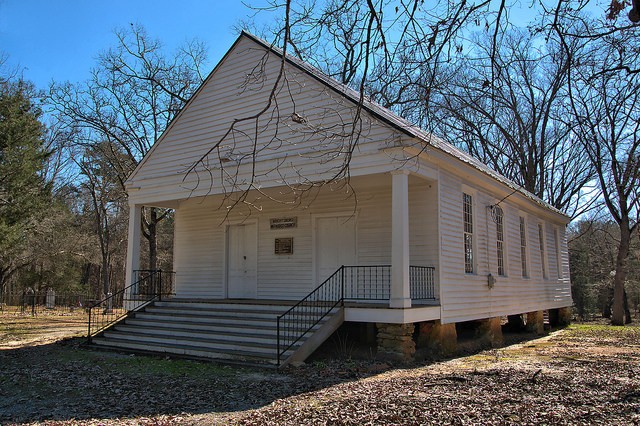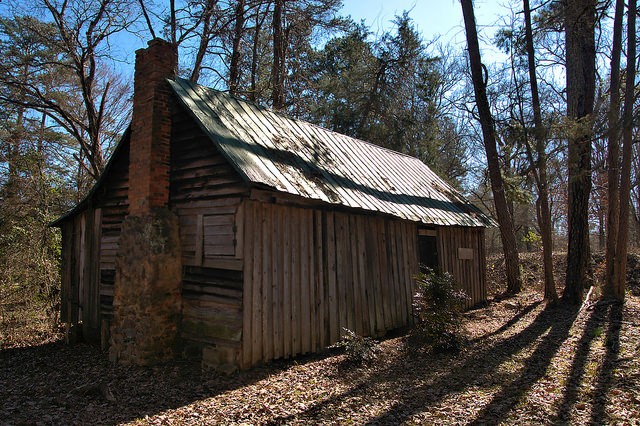 Backstory and Context
The Georgia colonial government encouraged settlement in the northern part of the state and Wrightsboro is the only known site associated with this policy to exist. The church continued to be a Quaker congregation until 1877 when it was acquired by the Methodists. The town and surrounding area became a thriving community in the first third of the 19th century, featuring a general store (this survives today), school and other buildings.

However, during the 1830s and afterwards Wrightsboro began to decline. The railroad that was built between Augusta and Atlanta bypassed it and instead had a stop in Thomson. As a result, people from Wrightsboro started to move there. The post-Civil War period was also a difficult time. Slavery was finally abolished and with it the free labor on which the local economy depended. The boll weevil epidemic was also devastating during this period. By the late 1800s the town no longer had a local government. Despite these issues, the school did not close until 1920 and the store not until the 1930s. The Methodist congregation in the church finally disbanded in 1964.
Sources
Cloues, Richard et. al. "Wrightsboro Historic District." National Park Service, National Register of Historic Places. July 6, 1998. http://focus.nps.gov/GetAsset?assetID=2b1a7c36-b968-4814-8acc-63cee4da5b5a. Davis, Robert S. and NGE Staff. "Wrightsborough." New Georgia Encyclopedia. December 9, 2003 (updated March 4, 2013). http://www.georgiaencyclopedia.org/articles/history-archaeology/wrightsborough. "The Wrightsborough Quaker Historical Site." Wrightsboro Foundation. [text taken directly from interpretive signs at site] Accessed October 3, 2016. http://freepages.genealogy.rootsweb.ancestry.com/~gentutor/Wrights.pdf. Photo credits: Brian Brown https://vanishingnorthgeorgia.com/category/wrightsboro-ga
Additional Information