Anclote Key Lighthouse
Introduction
Originally built in 1887, the Anclote Key Lighthouse was part of a chain of lighthouses constructed in the 1880s on the Gulf Coast to facilitate navigation. Reaching a total height of 110 feet, it played an integral role in helping the nearby city of Tarpon develop into a tourist resort town and become the country's sponge diving capital. It is no longer an active navigational aid but remains an interesting historical site to visit. The whole island is a state park. The lighthouse was added to the National Register of Historic Places in 1999. The only way to reach the island is by a personal boat; no public or commercial transportation is available.
Images
Anclote Key Lighthouse was first built in 1887 as part of a chain of lighthouses built in the 1880s to provide safe passage on the shores of the Gulf Coast.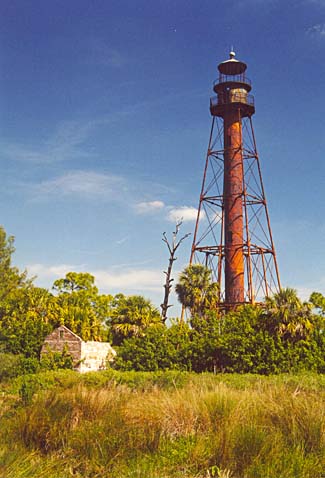 Backstory and Context
The lighthouse provided an immediate boost to Tarpon, which grew from a population of 200 in 1887 to around 2,000 in 1920. From the outset, people sailed to the island to picnic and relax. A number of notable visitors made the trip, including a Greek prime minister, former President Calvin Coolidge, and former Vice President Spiro Agnew. Interestingly, during the Spanish-American War in 1898, the keeper had a small cannon to defend the island in case of attack (it never was).

In 1939, the Coast Guard assumed control of the lighthouse and manned it until 1985. The light was automated in 1952. It was rendered obsolete thanks to a light installed atop a smokestack in Tarpon. After the Coast Guard left, the lighthouse fell into disrepair and was vandalized with graffiti. It was restored in the 1990s.
Sources
"Anclote Key Lighthouse." Retrieved October 04, 2016, from http://www.lighthousefriends.com/light.asp?ID=596.
"Welcome to Anclote Key Preserve State Park." Retrieved October 04, 2016, from https://www.floridastateparks.org/park-history/anclote-key.
Additional Information