Frank Phillips Home
Introduction
Built in 1909, this 26-room mansion was built for the family of Frank Phillips. Frank helped establish the Phillips Petroleum Company with his brother L. E. Phillips in 1917. Frank and Jane Phillips lived in this home along with their children from its completion in 1909 until 1973. Their granddaughter, Betty Irwin, would donate the property and its contents to the Oklahoma Historical Society.
Images
The museum is open for daily guided tours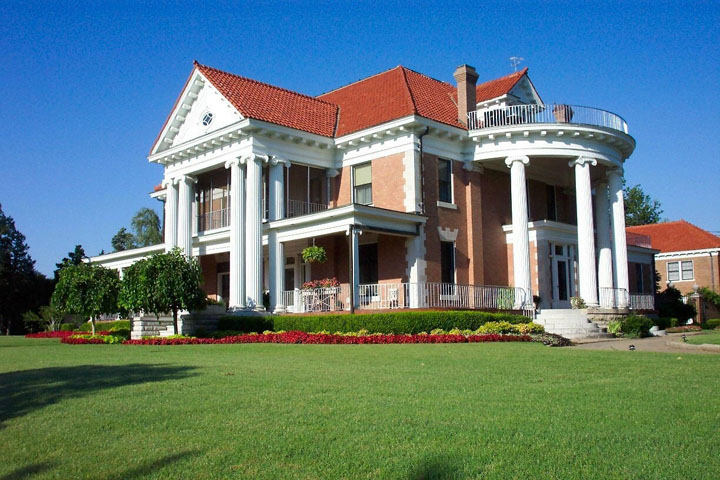 Fran and Jane Phillips entertained many of the region's most influential business leaders in this dining room.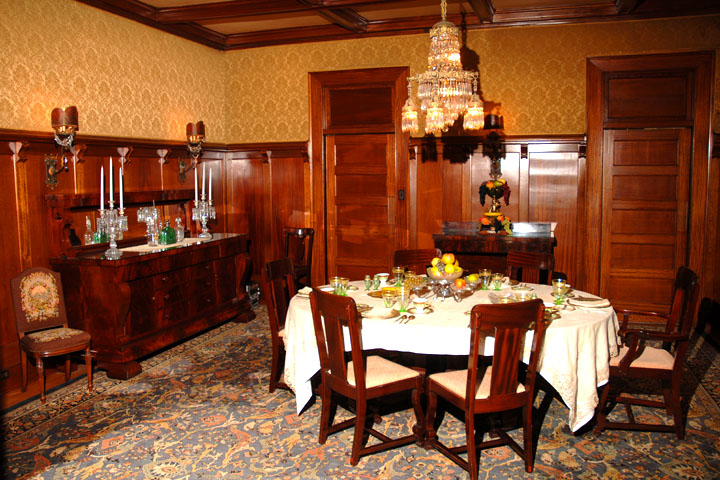 Jane Phillips bedroom features furniture from the early 20th century and a marble-lined tub. Frank's bathroom includes his own barber's chair.
Backstory and Context
Bartlesville became the first of many frontier towns with an oil well in 1897-ten years prior to Oklahoma becomong an official U.S. State. By that time, the new state was the leading producer of oil in the United States and the Phillips brothers had completed an unrivaled streak of drilling over eighty successful oil wells in the surrounding area. Frank and his brother established their own petroleum company soon after the house was finished. This very house was constructed and built in the year of 1909. Frank and his family would live in the house for many years before it was sold off to the state of Oklahoma in 1973.
This home, expanded and redecorated in the 1920s and 1930s, reflects the great wealth of the oil barons of Oklahoma during the first half of the 20th century. Famous Oklahoma residents such as Will Rogers were guests at the home. There was also many of the leading politicians of the early and mid-20th century coming inside this home as guests. The house was designed and built in the Neo Classical architectural style and fitted with 26 rooms inside. After many years of Phillips family members living inside, Elizabeth Irwin, Frank's granddaughter, donated the house to the state after preserving the memories and history of her former home for over 25 years.
The house and museum is owned and operated by the Frank Phillips Foundation. This group also owns the Woolaroc Museum and Wildlife Preserve. They assumed ownership of the museum in 2018 in order to keep it running and and opened to the public. Inside the museum are displays that tell of the history of Frank Phillips's career and the history of Bartlesville's early days. People can even rent the venue for weddings and special gatherings.
Sources
"About The Frank Phillips Home," Frank Phillips Historic Home. Accessed June 17th 2021. https://www.frankphillipshome.org/about-the-mansion
"Tour The Home," Frank Phillips Home. Accessed June 17th 2021. https://www.frankphillipshome.org/tour-the-home
Additional Information