Claymont Court
Introduction
Claymont Court was built by Bushrod Corbin Washington, the nephew of George Washington. The home was built in 1820 on what was once Washington's land. The original home was damaged by a fire, and was rebuilt and thought to be finished in 1840. Claymont Court has been the home of author Frank Stockton, and also philanthropist R.J. Funkhouser. Today the home is Claymont Home for Continuous Education and provides a location for seminars and retreats.
Images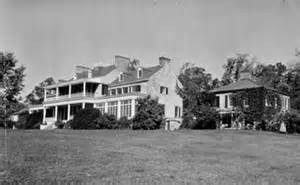 This is a photo of the Blakeley Plantation, Claymont's sister manor located directly south on the opposite hill just across Huyett Rd.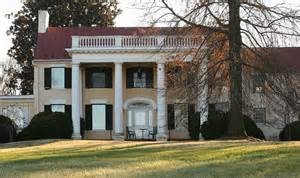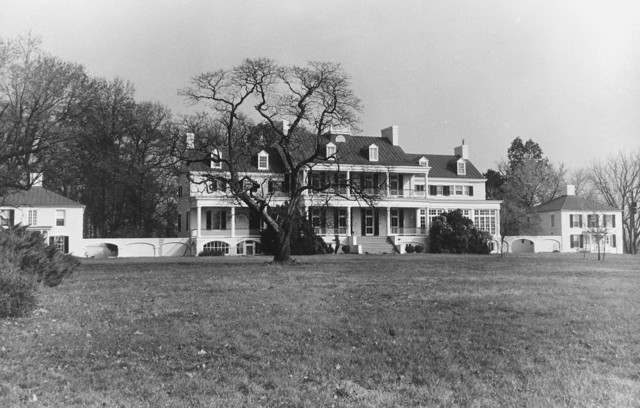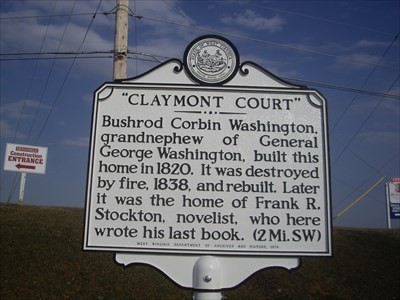 Backstory and Context
The original owner of Claymont Court, Bushrod Corbin Washington, was a local justice of the peace, a representative in the Virginia House of Delegates, and representative in the General Assembly. He also was also a Virginia State Legislator. Bushrod was also the great nephew of George Washington, who used to own the land that Claymont Court was built upon. Bushrod built this birck home in 1820, and it became the most pretentious of the Washington homes in Jefferson County, WV. While Bushrod was attending his first week in the General Assembly in 1838, his home was destroyed by a fire that only left the brick. When Bushrod returned home, he used the brick remains and rebuilt his mansion which still stands today. The entire Washington family live in the area of Claymont during the Civil War when hostilities were high. The home was sold in 1870 by Bushrod's grandson.
This Claymont Mansion is the largest home in Jefferson County West Virginia today. The mansion itself is over 250 feet long with nearly 60 rooms and 25 fireplaces. The property itself is over 300 acres which includes a very large cattle barn.
Frank Stockton, who is best remembered for his classic short story "The Lady or the Tiger?" bought the property in 1899 and remained here until his death in April 1902. In 1943, philanthropist R.J. Funkhouser bought Claymont Court. Funkhouser was responsible for establishing the Blakely Bank and Trust Company, and donated generously for the construction of a local hospital. Since the the home has been expanded by its many owners, it is the now the largest home in Claymont, WV. In 1973 this Claymont Court was added to the National Register of Historic Places. The home is now in possession of the Claymont Society, who purchased the home in 1974. The Claymont Society is a nature based society that looks to leave behind the modern rush of life. The society operates mainly in the historic cattle barn which has been converted into a conference center.
Sources
1. DuBose, Georgia Caldwell "Claymont Court." e-WV: The West Virginia Encyclopedia. 28 January 2013. Web. 24 October 2015.
Image Sources
"Claymont Court." Waymarking.com. Accessed October 13, 2020. https://www.waymarking.com/waymarks/WMKD91_Claymont_Court.

Additional Information