Ebenezer Townsite and Jerusalem Lutheran Church
Introduction
Situated northeast of Rincon, the Ebenezer Townsite was established by a group of Lutherans, called Salzburgers—they were from present-day Salzburg, Austria—in 1733; the site was the first permanent settlement of the second group of colonists in Georgia. To be exact, the first location of the settlement was six miles south along the Savannah River. Due to a number of factors, the colonists decided to move to the mouth of the Ebeneezer Creek in 1736. For a time the Salzburgers were successful at farming silk, cotton and indigo. Today the site features a living history museum that displays numerous artifacts and other items. Also at the site is the Jerusalem Lutheran Church, the oldest continuous worshipping church in the country. It was built in 1769 and still retains some original window panes. The settlement was added to the National Register of Historic Places in 1974.
Images
The Jerusalem Lutheran Church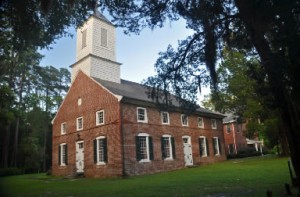 Backstory and Context
The original location proved to be unsuitable: it was difficult to cultivate and transport goods, and the hardships of daily life increased the mortality rate (this forced the community in 1738 to build the first Protestant orphanage in the colonies; it operated until 1750). The land of "New" Ebenezer, as it became known, was much better. The Salzburgers, who were helped by settlers already in the area, were able to grow crops, particularly silk. In fact, the settlement's silk production was the most successful in the all of the colonies.

In 1779, the British confiscated everything from those who did not pledge allegiance to the Crown. The settlement was effectively shut down and many fled. The British remained there until 1783. After the war, attempts were made to revive the settlement and restart silk production, but this did not come to fruition. By the mid-19th century, New Ebenezer was virtually abandoned, though the church, it appears, was still used. During the Civil War, troops led by General Sherman briefly occupied the church in 1864 after the infamous "March to the Sea" campaign.
Sources
"Jerusalem Lutheran Church." The Georgia Salzburg Society. Accessed September 30, 2016. http://visitebenezer.com/sites/jerusalem-lutheran-church.
Prescott, Janice. "Ebenezer Townsite and Jerusalem Lutheran Church." National Park Service, National Register of Historic Places. December 4, 1974. http://focus.nps.gov/GetAsset?assetID=6f5f8597-9bf4-481d-b7dd-e5c148789328.
Additional Information