Savannah–Ogeechee Canal
Introduction
The Savannah–Ogeechee Canal is Georgia's best preserved and longest (16.5 miles) of the canals built in the 19th century. Completed in 1831, it extends from the Savannah River to the Ogeechee River at Fort Stewart. It was five feet deep and 48 feet wide at the waterline and featured six locks constructed in brick. It functioned relatively well until 1890. Visitors to the site can learn about the canal's history at the Savannah–Ogeechee Canal Museum & Nature Center (operated by the Savannah-Ogeechee Canal Society), which houses artifacts and other items on display. There are also two miles of hiking trails. The Society and county parks department are developing a plan to create a multipurpose park.
Images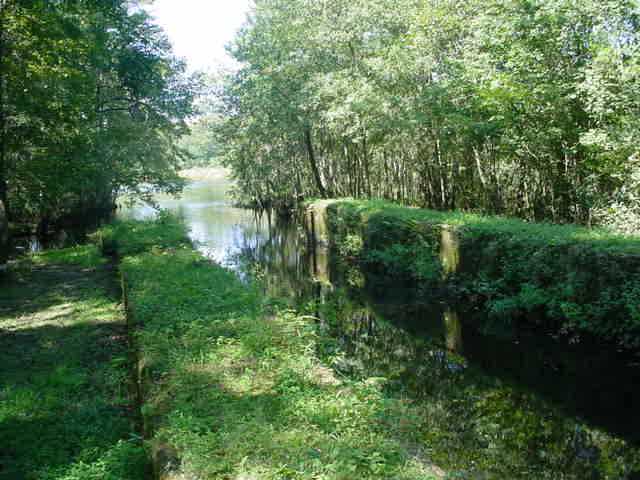 Backstory and Context
The canal was devised to enhance Savannah's role as a key seaport, a goal that was achieved. The canal ran through an important industrial and agricultural corridor, linking farmers and those working in other industries further inland to the port at Savannah. All kinds of goods were transported on barges, keels and other river craft, including lumber (the country's largest sawmill was located along the canal), cotton, rice, bricks, cedar shingles, and fruit.

In its early years, the canal suffered from erosion and the decay of the wooden locks. Improvements to the canal were made in the 1840s, including the brick locks, and as a result the economy around it prospered. It began to decline in the 1870s. Railroads were being built all over the country and were far more efficient than canals. Other factors were bad rains in 1876 that damaged the canal and a yellow fever outbreak that killed 1,000 people. By 1890 the canal was essentially no longer used.
Sources
"Canals." New Georgia Encyclopedia. January 20, 2004 (Updated August 1, 2016).
http://www.georgiaencyclopedia.org/articles/business-economy/canals
.
Cloues, Richard. "Savannah and Ogeechee Canal." National Park Service, National Register of Historic Places. August 11, 1997. http://focus.nps.gov/GetAsset?assetID=06c7a3bc-9675-431c-a20f-cc63dc8a4583.
Gates, Frederick B.; NGE Staff. "Old Savannah Ogeechee Canal". Chatham County Parks and Recreation. Accessed September 29, 2016. http://parks.chathamcounty.org/Parks/Multipurpose-Trails/Old-Savannah-Ogeechee-Canal.
Additional Information