South Mountain Park/Preserve
Introduction
At over 16,000 acres, South Mountain Park/Preserve is the largest municipal park in the country, and also the largest desert mountain preserve in the world. Enter through the park's main entrance on Central and Dobbins Road to explore the South Mountain Environmental Education Center, or follow the road to the top of the mountain for spectacular views of the entire valley. The park also boasts more than 51 miles of primary trails for horseback riding, hiking and mountain biking for all ability levels.
Images
View driving down South Mountain.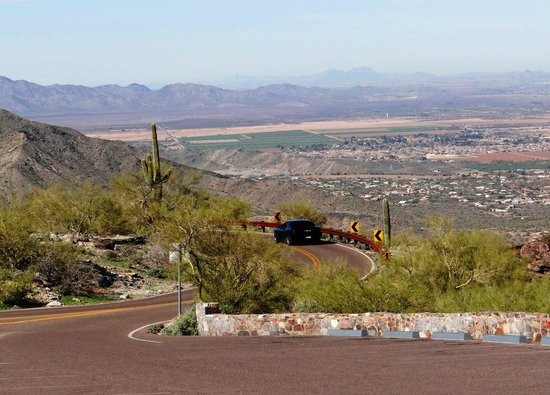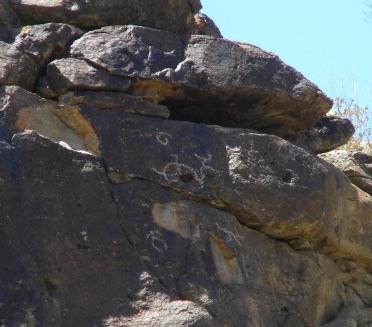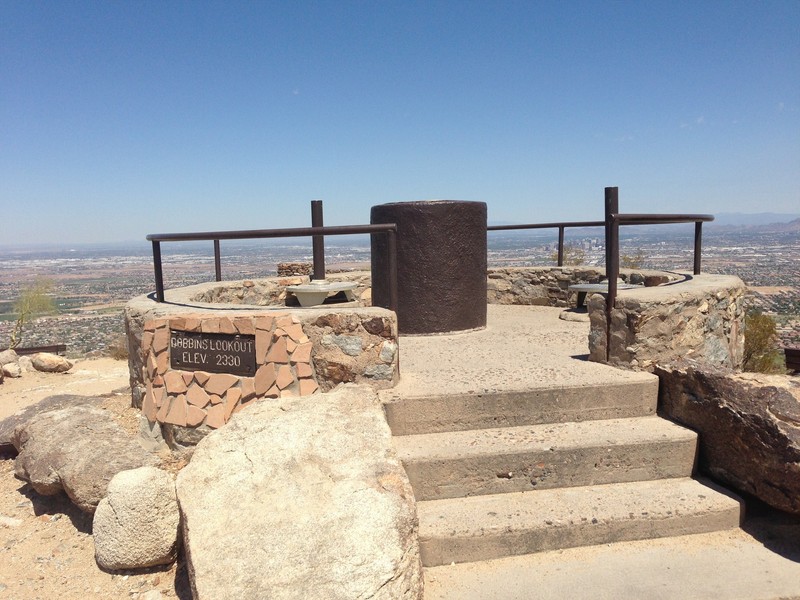 Statue dedicated to the CCC is located at the entrance to the visitors' center.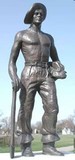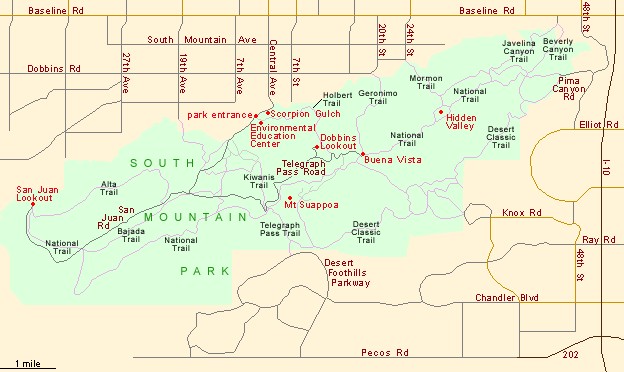 Backstory and Context
With over 51 miles of primary trails, the Park is perfect for getting in touch with nature through hiking, mountain biking, climbing, and horseback riding. There are numerous hiking trails, including one that's wheelchair accessible. And Holbert Trail passes right by Mystery Castle, a very interesting and historic Phoenix attraction.
Take a scenic drive on Summit Road and enjoy spectacular views from one of its many lookouts, all made of local granite to blend in with South Mountain's natural peaks. Have a leisurely picnic at one of the Park's shaded ramadas. And learn about the Sonoran Desert at the South Mountain Environmental Education Center.
Visitors can quickly and see why more than 3 million people from all over the world visit South Mountain Park annually. Bring plenty of water, sunglasses, a hat, and sunscreen. You might also want to bring snacks, your leashed dog, and some binoculars if you plan on bird watching.
Remnants of the CCC Camps' stone buildings remain today. Between 1933 and 1940, four thousand (4000) young men worked out of two camps at South Mountain Park. During this time the men constructed over 40 miles of hiking and equestrian trails, 18 buildings, 15 ramadas, 134 fire pits, 30 water faucets, water dams, and other features within the park. The architectural style for the buildings built at South Mountain Park between 1933 and 1937 was a cooperative effort between the National Park Service and the City Parks Supervisor. The slab stone masonry buildings were consistent with the Park Service's use of regionally traditional themes utilizing environmentally compatible materials.
* The Civilian Conservation Corps was one of the work programs during the Great Depression. Operating under a dual mission of putting Americans back to work and protecting the nation's natural resources, the program began in 1933. Enrollment was open to young men who were unemployed, unmarried, and between the ages of 18 and 23 years of age. Conditions required performing intense physical labor, but the enrollees did not mind, they were eating three hearty meals each day, learning valuable trade skills, and earning money. The men would enroll for a six-month term, with the option of re-enrolling for additional six-months, up to two years. Enrollees would receive a monthly salary of $30, of which $25 must be sent home to desperate family members.

Sources
1. "South Mountain Park/Preserve," Official Website, accessed September 28, 2016. https://www.phoenix.gov/parks/trails/locations/south-mountain 2. "South Mountain Park," Wikipedia entry, accessed September 28, 2016. https://en.m.wikipedia.org/wiki/South_Mountain_Park 3. "South Mountain Park," Arizona Vacation Guide at Arizona Leisure.com has a great overview of park activities, accessed September 28, 2016. http://www.arizona-leisure.com/south-mountain-park.html 4. "South Mountain Park," Phoenix ASAP.com has a short overview of park offerings, accessed September 28, 2016. http://www.phoenixasap.com/south-mountain-park.html 5. "South Mountain Trail Map and Descriptions," Official website, accessed September 28, 2016. https://www.phoenix.gov/parks/trails/locations/south-mountain/trail-descriptions-and-map 6. "Ask a Biologist: Hiking South Mountain Park," ASU School of Life Sciences website, accessed September 28, 2016. http://askabiologist.asu.edu/explore/hiking-adventure?show=transcript 7. "South Mountain Silent Sundays," Official website, info re 4th Sunday of each month, accessed September 28, 2016. https://www.phoenix.gov/parks/trails/locations/south-mountain/silent-sundays 8. "Family Hikes," South Mountain Park official website, accessed September 28, 2016. https://www.phoenix.gov/parks/trails/things-to-do/family-hikes 9. "South Mountain Environmental Education Center," Official website, accessed September 28, 2016. https://www.phoenix.gov/parks/trails/locations/south-mountain/education-center 10. "South Mountain Horseback Riding," Official website, accessed September 28, 2016. https://www.phoenix.gov/parks/trails/locations/south-mountain/horseback-riding 11. "Wildlife of Phoenix Mountain Preserves," Official website, accessed September 28, 2016. https://www.phoenix.gov/parks/trails/things-to-do/wildlife 12. "Hohokam Rock Art at South Mountain Park," Official website, accessed September 28, 2016. https://www.phoenix.gov/parkssite/Documents/109323.pdf 13. "An Official Phoenix Point of Pride," Phoenix Point of Pride website, South Mountain Park and Preserve, accessed September 28, 2016. http://www.discoverphoenixarizona.com/south-mountain-park.html 14. "Roosevelt's Soil Soldiers, 1933-1942: Civilian Conservation Corps," Phoenix.gov website explains the many park amenities built by the CCC, accessed September 28, 2016. https://www.phoenix.gov/parks/trails/locations/south-mountain/civilian-conservation-corps 15. "South Mountain, Phoenix Arizona," YouTube video, 3:31 minutes, accessed September 28, 2016. http://www.youtube.com/watch?v=b5QqF5iLi50
Additional Information