Battle of Hanover
Introduction
The Battle of Hanover was part of the Gettysburg campaign and took place on June 30, 1863, in Hanover, Pennsylvania. General Robert E. Lee made an effort to divert Union attention from Virginia, disrupt Union supplies, and draw Brigadier General Ulysses S. Grant's army away from Vicksburg in Mississippi. General Lee sent a portion of his cavalry with Major General Jeb Stuart north parallel to his own path. Jeb Stuart headed for Littlestown, Pennsylvania to regroup with Lee, but diverted to Hanover, Pensylvania when he received word of Union troops near his intended destination. Along the way, Jeb Stuart removed sections of train tracks, cut telegraph lines, and captured a Union wagon train. While attempting to detour around Union troops, Stuart was met by the Union Brigadier General Judson Kilpatrick in the town of Hanover.
Images
Battle of Hanover Monument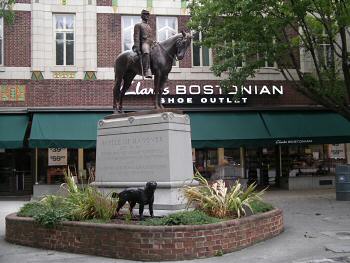 1863 view of Kilpatrick's Headquarters.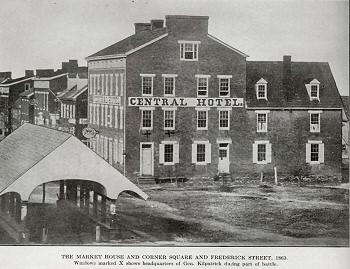 Kilpatrick's Headquarters (photo taken in 2006)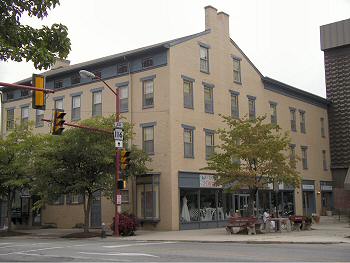 Backstory and Context
J.E.B. Stuart made his way toward Hanover, Pennsylvania with approximately six thousand men in an attempt to avoid Union troops. Ironically, he met with Brigadier General Judson Kilpatrick's Union forces who had arrived in Hanover just before he did. Kilpatrick was in search of Confederate Lieutenant General Richard Ewell's troops which he had heard were in the area. Kilpatrick and a large majority of his men were just outside of the town when the Confederates charged into the Union rearguard, pushing it into the streets of Hanover. The Confederate forces were able to keep the town under their control briefly, but were soon pushed out by Union troops who charged back into Hanover after hearing the assault.
Confederate Colonel William H.F. Payne was captured during the conflict by Union soldiers after his horse was killed and he was thrown off. Jeb Stuart seemed to have the advantage of approximately 6,000 men to Kilpatrick's 5,000, but he was forced forfeit his position and give up the town. While attempting to flee the town, Stuart himself was almost captured, but was able to escape on his horse named "Virginia"; jumping an
approximately fifteen foot-wide ditch
filled with water. He and his men set up a defensive position outside of town while three Union regiments were placed in an arc at the south edge of Hanover and barricades were formed across the streets leading to the town square.

Kilpatrick set up his headquarters at the Central Hotel while Stuart deployed men and artillery to cover the east and northeast around Hanover. Confederate artillery destroyed buildings in Hanover as citizens attempted to hide away in their cellars from the destruction. Union forces returned artillery fire throughout the day. Brigadier General George Armstrong Custer, who had been present since near the start of the conflict, attempted to break through Stuart's left flank. Stuart repelled Union troops successfully until he ran low on ammunition. He chose to retreat the battle altogether and marched toward Carlisle, Pennsylvania as he did not wish for the Hanover conflict in the first place. Total casualties amounted to approximately 330 to 350 men; Kilpatrick suffered around 213 while Stuart suffered at least 117 casualties.
Sources
@HistoryNet. "Battle of Hanover | HistoryNet." HistoryNet. N.p., 12 June 2006. Web. 28 Sept. 2016. "Beyond the Marker." N.p., n.d. Web. 28 Sept. 2016.
Additional Information