Rose Hill Cemetery
Introduction
The Rose Hill Cemetery was founded in 1840, and it serves as the final resting place for thousands of people, including well-known Macon residents such as Duane Allman, Alfred Holt Colquitt, James Jackson, and many others. Rose Hill Cemetery is also the resting place for over a thousand Confederate soldiers, three GA governors, 31 mayors, and several senators/congressmen. The Cemetery is renowned for its historical significance and its role as the gathering place for Macon residents since the founding of the town. It was hailed as one of the most beautiful spots in Georgia. Today, the Rose Hill Cemetery is open for self-guided tours. The Rose Hill Cemetery is listed on the National Register of Historic Places.
Images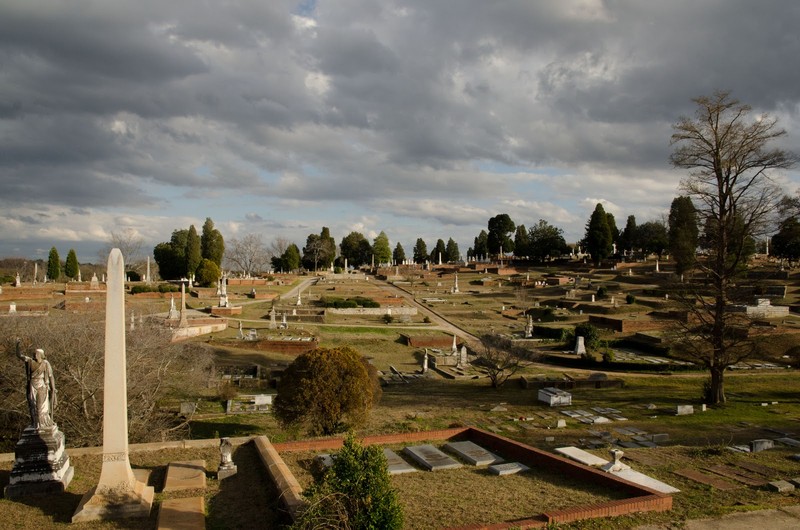 Another view of Rose Hill Cemetery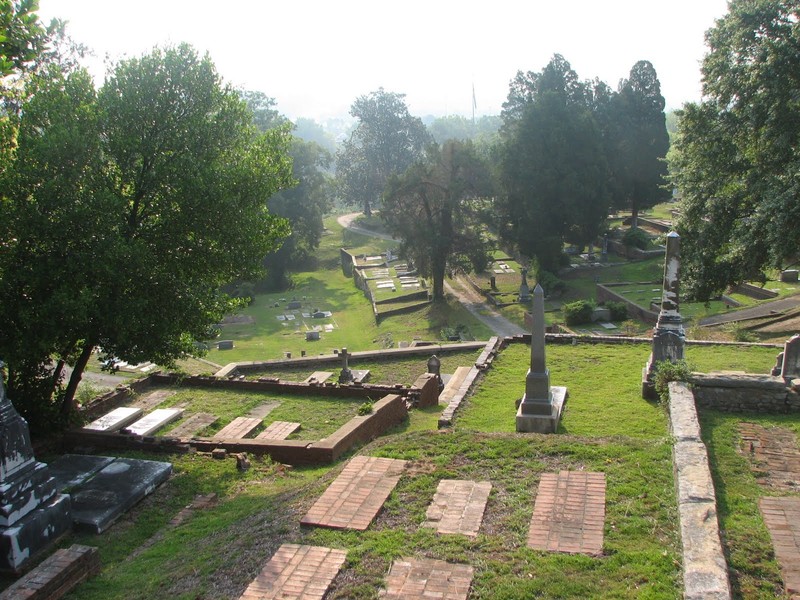 Spring visitors to the Rose Hill Cemetery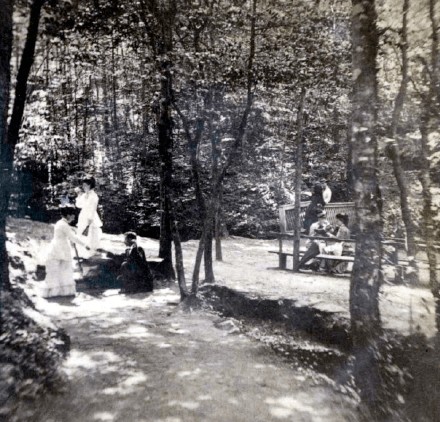 Backstory and Context
History of the Rose Hill Cemetery
The Rose Hill Cemetery was founded in 1840 on 65 acres of land nestled next to the Ocmulgee River on the north side of Macon. A year earlier, in 1839, prominent Macon businessman Simri Rose submitted a location and design for the city's cemetery. The land for the cemetery was originally designated as a "commons," which were community owned common green spaces, quite atypical of the day.
By 1849, the cemetery included five miles of roads and paths, and it turned out to be the most popular place in Macon to visit.
At the cemetery's peak in 1881, the Macon Telegraph & Messenger wrote the following account:
"Probably the most naturally beautiful of all spots in Georgia, is Rose Hill Cemetery, situated on the west bank of the Ocmulgee River, in the city of Macon. This celebrated burial place was laid out in 1840, … The land hilly, rolling and densely wooded, broken up into beautiful valleys and slopes, and covered in many places by a heavy carpeting of ivy. Art has assisted nature greatly in beautifying the place, the numerous springs have been walled in, and the little branches ornamented with rustic bridges. Costly monuments and the well kept yards are prolific of flowers and choice shrubbery. No stranger has ever visited this spot without receiving impressions of its loveliness, that lingers long after the solemnity of the surroundings have faded from his mind."
In the late 1960s, the cemetery was a hangout and artistic inspiration for the Allman Brothers Band during their early years. The Allman Brothers' guitarist Duane Allman and bassist Berry Oakley are interred at the cemetery. Rose Hill Cemetery was named to the National Register of Historic Places in 1973.1
Sources
History. Historic Rose Hill, rosehillcemetery.org. N.d. Web. Accessed September 24, 2016. http://www.rosehillcemetery.org/directory/index.php?action=page_display&PageID=5
Additional Information