Grayson Stadium
Introduction
Grayson Stadium opened in 1926 and has a seating capacity of 4,000. It is currently the home field of the Savannah Bananas baseball team, which belongs to the Coastal Plain League collegiate summer baseball league. It was named after Spanish-American War veteran and Savannah native, William L. Grayson, who led the effort to repair the stadium after a hurricane damaged it in 1940. The stadium was home to the minor league MLB Savannah Sand Gnats until 2015 when the team moved to Columbia, South Carolina. The Gnats are a minor league affiliate of the MLB New York Mets.
Images
Grayson Stadium is the home field of the Savanah Bananas baseball team.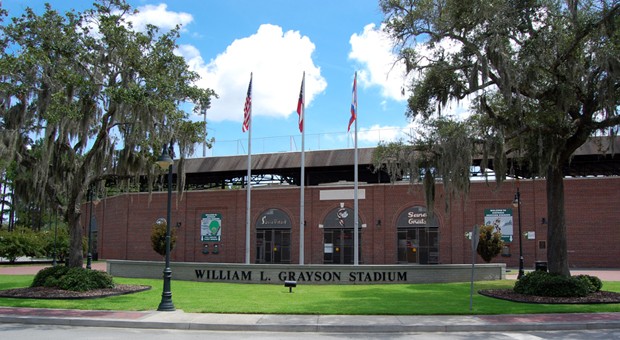 Backstory and Context
Grayson Stadium has seen the likes of MLB greats such as Hank Aaron, Babe Ruth, Mickey Mantle, and Jackie Robinson. Current MLB stars such as third baseman Hank Blalock of the Texas Rangers got his MLB career started at Bryson Stadium. Another notable is Cleveland Indians Travis Hafner also got his career started at Grayson. President Franklin D. Roosevelt also spoke at the stadium in 1933.
The stadium witnessed some notable achievements. For example, the old Savannah Indians (now the Gnats) became the first South Atlantic League to break the color barrier when Al (Izzy) Israel and Junior Reedy walked onto the field on opening day April 14, 1953, when the Savannah Indians played the Jacksonville Braves. Then a month later over 15,363 fans filled the stadium during Merchants Appreciation Night to break the all-time single-game crowd in Savannah history. In 2013 the Gnats won their first South Atlantic League Championship beating the Hagerstown Suns 3-1.
The stadium has also withstood a hurricane, gas explosion. and steel shortage during World War II. The stadium was rebuilt in 1940 after the hurricane to repair the bleachers that were destroyed. This renovation cost 150,000, however, half of that amount was provided by the federal government's Works Progress Administration. Another renovation in 1995 added a new sound system, press box, restrooms, and new clubhouses.
Sources
Curl, Eric. "Sand Gnats' owner announces plans to move team to Columbia." Savannah Morning News. May 21, 2015. 
"Grayson Stadium." Ballparkreviews.com. Accessed September 23, 2016. http://ballparkreviews.com/template2.php?in_name=Grayson%20Stadium&in_city=Savannah&in_state=Georgia.
Pathak, Sapna. History oozes from Savannah's Grayson Stadium, MILB. May 4th 2006. Accessed November 12th 2019. http://www.milb.com/gen/articles/printer_friendly/milb/y2006/m05/d04/c67175.jsp.
Grayson Stadium , Savannah Bananas. Accessed November 12th 2019. https://thesavannahbananas.com/grayson-stadium/.
Grayson Stadium, Baseball Pilgrimages. Accessed November 12th 2019. https://www.baseballpilgrimages.com/minors/savannah.html.
Image Sources
http://www.littleballparks.com/Stadium/2002/Savannah/Savannah.htm

Additional Information