The Waving Girl Statue
Introduction
A walk along River Street in Savannah can challenge your resolve as beckoning smells tempt you into River Street's famous eateries. Family-friendly during the day, a jaunt along the Savannah River will often afford views of seemingly larger-than-life ships as they enter the city, much to the delight of many children. If you find yourself waving as the ships pass, you are carrying on a tradition from one of the many legendary inhabitants of Savannah. As one of the South's oldest cities, Savannah has no shortage of legends. This statue by sculptor Felix De Weldon commemorates Florence Martus, who as a young woman began waving her handkerchief to all the ships that entered the port of Savannah from 1887 and 1931.
Images
Florence was the daughter of a soldier stationed at Fort Pulaski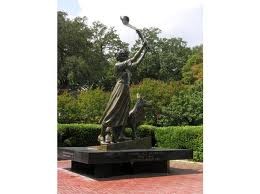 Martus was later honored by having a World War II Liberty Ship that was built in Savannah named in her honor in 1943.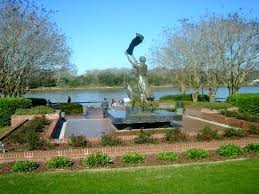 Backstory and Context
Florence Martus, aka "The Waving Girl", took upon herself to be the unofficial greeter of all ships that entered and left the Port of Savannah, Georgia, between 1887 and 1931. She was the daughter of a sergeant stationed at Fort Pulaski. A few years after she began waving at passing sailors, she moved in with her brother, a light keeper, at his small white cottage about 5 miles up the river from Fort Pulaski. From her rustic home on Elba Island, a tiny piece of land in the Savannah River new the Atlantic Ocean, Martus would wave a handkerchief by day and a lantern by night. Legends said not a ship was ever missed in her forty-four years on watch. Sailors began returning her greeting by waving back or with a blast of the ship's horn.
Florence Martus continued her waving tradition for 44 years and it is estimated that she welcomed more than 50,000 ships during her lifetime. There is a lot of unsubstantiated speculation about Florence having fallen in love with a sailor who never returned to Savannah at a young age. Another legend endures about this woman is that sailors would bring her gifts after they parked their ships. While these old tales may be accurate, there is no strong supporting evidence for any of them. On September 27, 1943, Liberty ship SS Florence Martus was named in her honor.
The waving girl represents the welcoming spirit of Savannah by telling the story of a girl who would wave at every ship that passed by on the river for over 40 years. The statue is in a little riverside square with a few benches. These benches are there for you to sit and wave to the ships as they go by when you're standing by the statue. Sometimes you can even get the ships to blast their horns at you also.
Sources
Alexander, Sheridan. "Savannah's Legendary Waving Girl on River Street." Accessed October 26, 2015. http://gosoutheast.about.com/od/savannahgaattractions/a/waving_girl.htm.



Additional Information