Old Capitol Building and Museum, Iowa City
Introduction
Constructed in stages beginning in 1840, this former state capitol now stands as the most prominent landmark at the center of the University of Iowa's campus. The governor and state assembly met at this location from 1840, when the building was partially completed, to 1857 when the legislature voted to move the state capitol further west to the growing city of Des Moines. The building was almost complete when the legislature voted to move the state capital to Des Moines. From 1857 to 1863, the former state capitol served as the first and only building of the University of Iowa. From 1868 to 1910, this building held the university's law school. Following many years of renovation, the former capitol opened as a museum and a National Historic Landmark in 1976.
Images
The former state capitol serves as the first home of the University of Iowa and is now a National Historic Landmark.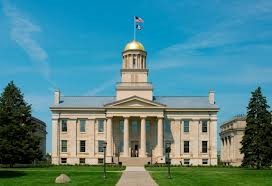 Backstory and Context
As the University of Iowa grew, the Old Capitol served as a library, chapel, and classroom and office space. The building also held the law school and continued to function as a classroom and office building until the 1970s. University presidents had their offices in the building as well. In the early 1970s, the state and the university decided to completely restore the historic building as a museum that preserves and shares the history of the state and the university. The structure is one of the most significant historic buildings in the state and one of only a few National Historic Landmarks in the area.
Sources
History and Timeline. The Old Capitol Museum. . Accessed August 05, 2018. https://oldcap.uiowa.edu/.


Additional Information