Deitz Farm
Introduction
Deitz Farm, also known as General Robert E. Lee Headquarters is located at the Old James River And Kanawha Turnpike in Meadow Bluff, Greenbrier County, West Virginia. The two-story red brick Greek Revival style home sits on 96 acres, it was built in 1841. The Deitz Farm is significant for its historical importance during the Civil War.
Images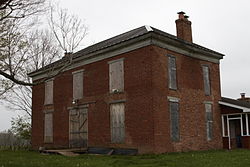 Backstory and Context
 The Deitz Farm was used by both the Union and Confederacy between 1861 and 1865. In August of 1861, the Deitz Farm was taken over by Confederate General John B, Floyd following his retreat from the Battle of Carnifex Ferry in Nicholas County, West Virginia. This was the first time the Deitz house was used as a hospital for soldiers. 
  On September 21, 1861, following the Confederacy's loss at the Battle of Cheat Mountain also known as Battle of Cheat Summit Fort in Pocahontas and Randolph counties in West Virginia Confederate General Robert E. Lee arrived at the Deitz Farm. General Lee took command over Confederate forces in the area. General Lee and Floyd occupied the Deitz Farm for two days before General Lee pushed his camp onward to Big Sewell Mountain located in Fayette County, West Virgina. General Lee and his troops stayed on Big Sewell Mountain for a little over three weeks. This is where General Lee saw his horse Traveler for the first time. Due to bad weather and low on supplies, a battle never erupted.
   General Robert E. Lee returned to the Deitz Farm on October 21,1861 and remained there until October 29, 1861, he was called back to Richmond Virginia, the Confederate capital.
   During the Civil War, the Deitz Farm was used as a camp for both Confederate and Union armies. The house was used as a command center and a military hospital. On two knolls adjacent to the Deitz house, there are several extant trenches. Soldiers would dig trenches to protect themselves from enemy fire. In between the two knolls are fifteen unmarked graves believed to be Confederate soldiers who died on the Deitz Farm. Approximately two dozen soldiers names and regimental inscriptions can be found on several walls inside the Deitz house. The inscriptions are by members of both the Union and Confederate regiments spanning from 1861-1865.
Sources
www.wikipedia.com Cohen, Stan B. The Civil War in West Virginia 1975 Stutler, Boyd B The Civil War in West Virginia 1963
Additional Information