Knik Museum and Mushers Hall of Fame
Introduction
As the name indicates, the Knik Museum and Mushers Hall of Fame helps preserve the heritage of the old Knik community (late 1800s-1918), which was located south of present-day Wasilla. It is housed in the Fulton and Hirshey Pool Hall, the last surviving structure from Knik. It features artifacts on display depicting the life of the miners, tradesman, homesteaders, trappers, and others who lived in Knik. The hall of fame commemorates Alaskan mushers, those who ride dog sleds.
Images
The Knik Museum and Mushers Hall of Fame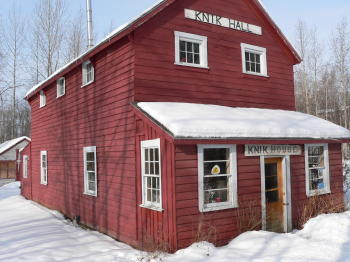 Sources
"Knik Museum." Wasilla Knik Historical Society. Accessed September 20, 2016. http://www.wkhsociety.org/museums.html.
Additional Information