Old Hemlock Foundation
Introduction
The Old Hemlock Foundation maintains 232 acres of real estate situation on the Brandonville Pike in Preston County, West Virginia, which is known as "Old Hemlock." Old Hemlock was the home of George Bird and Kathryn Harris Evans. George was a noted artist, author, outdoors-man, and dog breeder and Kay co-authored and edited books. The property contains virgin hemlock trees and is to be maintained in its natural state as a nature and wildlife preserve. The house located on Old Hemlock was built in about 1812 and is the oldest resident in its state of preservation in Preston County.
Images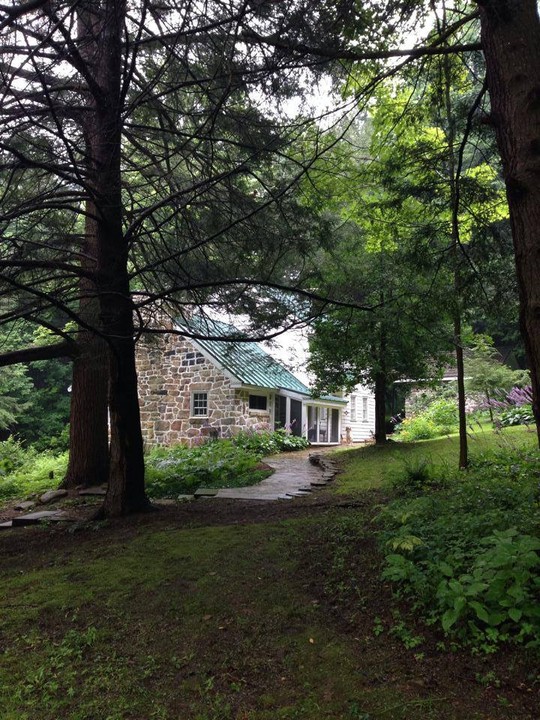 George and Kay Evans (ca. 1940s)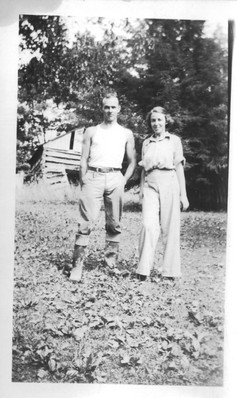 One of Evans' Old Hemlock Setters

George and Kay with their Old Hemlock Setters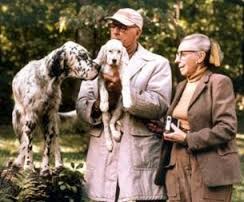 Backstory and Context
George Bird Evans was a Pennsylvania native, born in 1906, and was raised by parents who encouraged his artistic talents. George grew up with his English Setter, Ted, and together they fished, hunted, and explored his hometown of Uniontown. George pursued his love of the arts and attended the Carnegie Technical Art Institute from 1924 until he transferred to the Art Institute of Chicago in the fall of 1925. George's relationship with Kay Harris began when he was attending the Carnegie Technical Art Institute and they maintained a long distance relationship through his moves to Chicago and New York City. George landed his first professional illustrating job in New York city in 1930, and by 1931 he saved up enough money to marry Kay.
The Great Depression affected the freelance illustration industry, and George and Kay were forced to move in with George's parents in Uniontown where George once again found his love for hunting and fishing with Irish Setters. After the depression ended George and Kay moved back to the city, but George still had no luck in work. The couple toured the Old Hemlock Farm in 1937 in hopes of moving out of the city. In 1938, George contracted his illustrations with Cosmopolitan Magazine, and bought the vacant Old Hemlock Farm after convincing his editors that the mountain air would spark his creativity.
George and Kay moved to Bruceton Mills, WV in 1939, and George mailed his illustrations to Cosmopolitan twice a month and spent his free time renovating the farmhouse while hunting and fishing on the side. In 1942, in the midst of World War II, George took his drawings to Fairchild Aircraft Company in Hagerstown, Maryland, not far from Old Hemlock, after learning how to design blueprints. The engineers saw the potential in them, but were more interested in his ability to do professional drafting; he was offered a job in the engineering department that same day. George realized that this job was not what he wanted, so he took his drawings to the Pentagon, and pleased the Chief of Engineering in the Bureau of Aeronautics who was looking for a way to make blueprints easier to read. George went to the naval air station at Quonset Point, Rhode Island, on June 28, 1943, for eight weeks of officer training. From there, the couple moved to Washington, D.C., but kept Old Hemlock as their permanent home.
After the war ended George went back to illustrating for Cosmopolitan, however times were changing and illustrations were beginning to fade away. In 1947 George quit illustrating and focused on his life at home. It was during this time that George produced the first litter of Old Hemlock setters from his idea for a dual setter that would have the hunting ability of the field dogs with some of the aesthetics of the bench dog. George and Kay wrote mystery novels together, and also authored their own separate novels and articles.
"George lovingly buried his pets around the property over the years. Also, per the couple's wishes, George was buried in 1998 in the dooryard and when Kay passed in 2007, his ashes were exhumed. Their ashes were mixed together, replaced in the dooryard, along with the wing of the last grouse that George shot and Kay's wedding ring."1
The Kathryn H. Evans Trust Agreement created the Old Hemlock Foundation on March 25, 1999 with a purpose of preserving and promoting the legacy of George Bird and Kathryn Harris Evans. The Old Hemlock Foundation mission is to maintain the home of George Bird and Kay Evans, also to promote his writings and philosophy of hunting.
Sources
1. "National Register of Historic Places Nomination Form." Accessed September 20, 2016. http://www.wvculture.org/shpo/nr/pdf/preston/14001061.pdf. 2. "Old Hemlock." 2008. Accessed September 20, 2016. http://www.oldhemlock.org/pages/mission.html#.
Additional Information