Lady Lake Historical Society Museum
Introduction
This museum explores and displays the history of the town of Lady Lake. Established in 1883, the town owes its success to the railroad built there. The museum is comprised of a log cabin, which was the original town hall, and the town's former train depot. The museum features exhibits and displays depicting the history of Lady Lake chronologically, from the Seminole Wars to today. Exhibits include a recreated general store, the Teague Room, which displays furniture and artifacts owned by Andrew Teague who arrived in Lady Lake in 1887, and a model train display, which depicts the town in the 1940s and 1950s. The museum also features a research library and offers events including lectures.
Images
Several photographs are on the display at the museum, which is housed in the former train depot.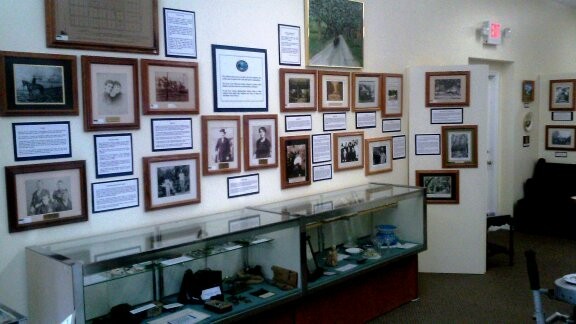 Sources
"Museum." Lady Lake Historical Society. N.p., n.d. Web. 3 Oct. 2016. APA: Museum. (n.d.). Retrieved October 3, 2016, from http://www.ladylakemuseum.org/promotions/museum.htm.
Mims, Sherry. "Catching Up With The Past." Ocala Style. Ocala Publications Inc, 23 Oct. 2011. Retrieved October 3, 2016. http://www.ocalastyle.com/styleadmin/newsadmin/templates/Lake-template.asp?articleid=969&zoneid=39.
Additional Information