Downtown DeLand Historic District
Introduction
Downtown DeLand Historic District is the heart of a bustling college town with lots of small businesses, eateries, art galleries, and music venues. With little visibility of retail chain influence, the area has retained much of its beautiful architecture. As such, it gives visitors and residents a sense of the city's history. The district is comprised of 68 contributing historical properties.
Images
Intersection of New York Ave and Woodland Blvd in Dowtown DeLand Historic District.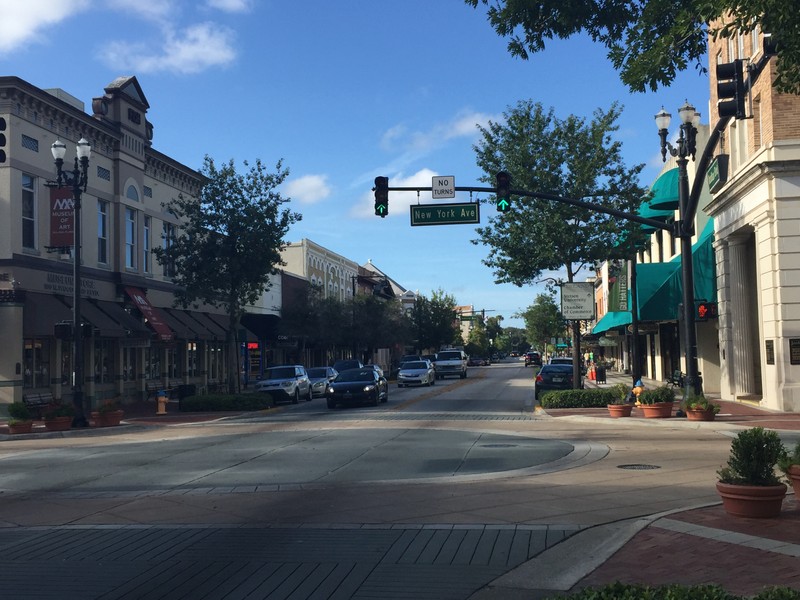 Vintage postcard depicting early DeLand, FL.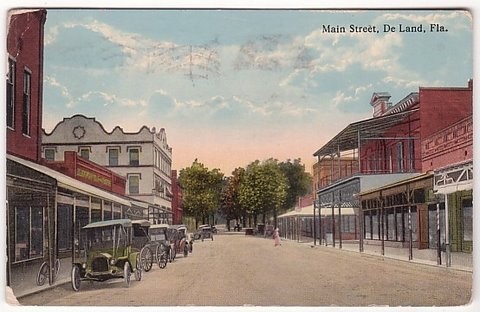 Another vintage postcard depicting early DeLand, FL.
Backstory and Context
The city was founded by a New York baking soda manufacturer, Henry A. DeLand, in 1876. The town quickly grew in popularity when news spread of Henry A. DeLand offering to purchase back the land of anyone who was unhappy living there. In 1883, a college named the DeLand Academy was established which would later be named Stetson University in 1889, after hat manufacturer John B. Stetson. Stricken by a fire that consumed both sides of the 100 block of Woodland Blvd. in 1886, an ordinance was passed that any further construction in the commercial district would be done in brick. As a result, the town's main architectural style became masonry vernacular. The town quickly recovered from the devastating fires but was then hit with the Big Freeze of 1894-1895 that twice dropped temperatures below eleven degrees, killing most of the area's citrus crops. True to his word, however, DeLand bought back any property that he sold. As a consequence, he lost his fortune by the time of his death in 1908.
Sources
Brotemarkle, D. B. (2014, October 30). Florida frontiers - central Florida Pioneer Henry A. Deland. Retrieved October 3, 2016, from The Florida Historical Society, https://myfloridahistory.org/frontiers/article/11.
City of DeLand, FL - national register of historic places. Retrieved October 3, 2016, from http://www.deland.org/pages/DeLandFL_Heritage/register.
History of Stetson University. (n.d.). Retrieved November 04, 2016, from http://www.stetson.edu/other/about/history.php.
Henry Addison DeLand obituary - founder of DeLand, FL. (2016, January 31). Retrieved November 4, 2016, from https://www.newspapers.com/clip/4180474/henry_addison_deland_obituary_founder.
Miller, M. (n.d.). DeLand Florida: Home Of The Cowboy Hat University. Retrieved November 04, 2016, from http://www.florida-backroads-travel.com/deland-florida.html.
Additional Information