Sanford Grammar School
Introduction
Constructed in 1902, Sanford Grammar School operated for decade as a public school. It was originally established as Sanford High School and operated as such until 1911 when it became a grammar school. In 1984 the school was placed on the National Register of Historic Places for its architectural and educational significance. For a time, the building housed the Margaret K. Reynolds Student Museum. In 2012, the University of Central Florida operated the building as the Public History Center, where students could hone their history skills. UCF also continued to run the museum. Unfortunately, the building was forced to close in 2015 when UCF terminated its lease. Without the university, the city could no longer afford to keep the building open. As of April 2017, it is not clear what the status of the building is today.
Images
The Sanford Grammar School as it appears today. It closed indefinitely in 2015. Photo: Ebyabe, via Wikimedia Commons.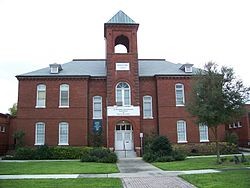 Children playing outside the school in 1945.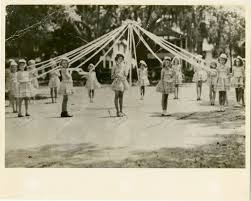 Backstory and Context
The Sanford Grammar School's original location was the Sanford High School in 1902. W. G. Talley had designed this school in 1902, and it was in the Romanesque revival style. In 1911 the high demand for schooling and high supply of students led to a new building, the Westside Grammar Elementary School, which is now known as the Sanford Grammar School. It was not an easy task to get the city's approval for the new school, but when they did, they were granted $75,000 to construct it. Soon after, the Women's Club hosted a fundraiser in 1921 to raise money to build a lunchroom in the school, which was highly successful and the lunchroom was built on October 10 of that year. The school operated until at least the 1980s. Unfortunately, the lunchroom was torn down despite many objections from the town in 2008.

Sources
Jeff Allen. "After 113 years, historic Sanford Grammar School closes its doors." News 13. August 01, 2015. http://www.mynews13.com//content/news/cfnews13/news/article.html/content/news/articles/cfn/2015/8/1/...

Kruckemyer, Gene. "UCF to Establish Center for Public History at Museum." UCF Today. January 30, 2012. http://today.ucf.edu/ucf-to-establish-center-for-public-history-at-museum.

William R. Adams & Michael F. Zimny. "Sanford Grammar School." National Park Service - National Register of Historic Places Nomination Form. November 23, 1984. https://npgallery.nps.gov/GetAsset/a1e5bdfb-145e-4a08-95e7-721f6cacb916.