Titus House & Indian River Hotel
Introduction
Located on the Indian River, the hotel was built (circa 1869) and operated by Henry T. Titus, founder of Titus- ville. The building, constructed of wood, was U-shaped with each room opening on a veranda facing a tropical garden. In the days of steam boat travel, the hotel, with its elaborate salon, was considered one of the best in Florida. After the death of Titus, the property became part of the Dixie Hotel.
Images
A recolored photo of the Dixie Hotel which was what eventually became of the Titus House & Indian River Hotel.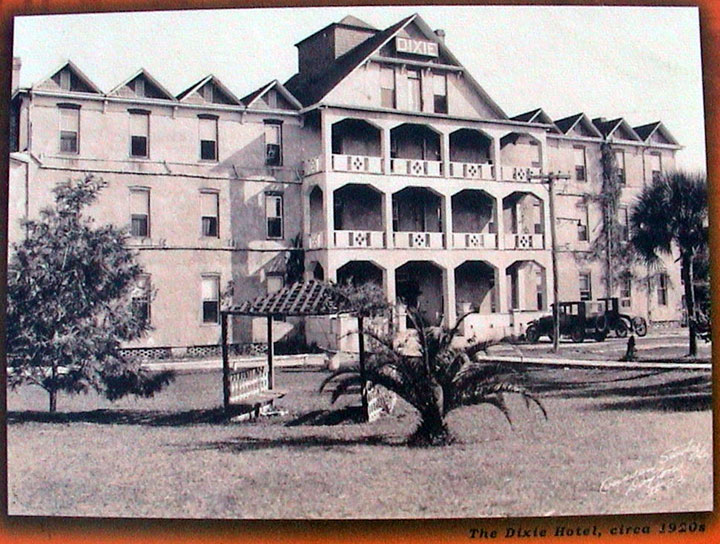 A recolored photo of what appears to be the courtyard of the Dixie Hotel, the successor of the Titus House.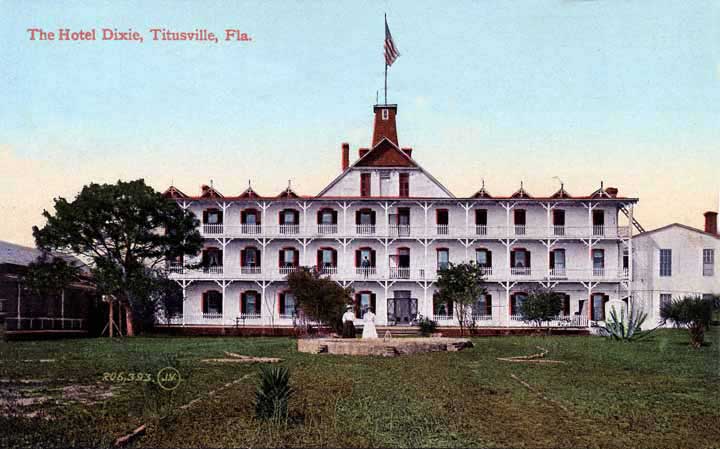 The prominent placard that was been placed near to the original location of the Titus House & Indian River Hotel.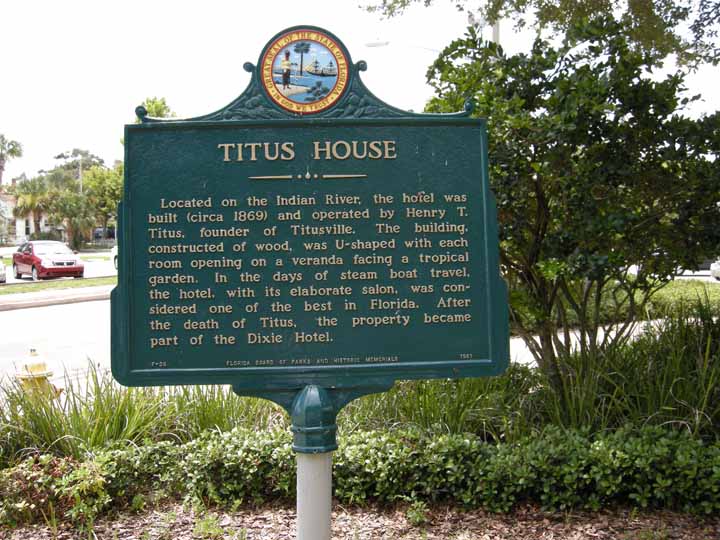 One of the few remaining photos of Colonel Henry T. Titus.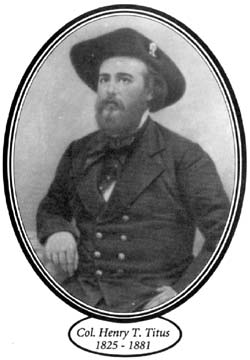 Backstory and Context
In the fledgling area then known as Sand point (a name that is still used for many private and municipal institutions today), Colonel Henry T. Titus set about establishing a city on the sandy shores of the Indian River. Amongst other endeavors, Colonel Titus founded the Titus House and Indian River Hotel, a u-shaped, wood-framed hotel that was to become considered one of the grandest hotels in the state. The Titus House was often patronized by fishermen, haulers, and other workers of the area, as well as some of the more well-to-do tenets of the time. Known for its extravagant amenities, such as verandas for each room and the finest liquors of that could be acquired, the Titus House soon became a central feature of the growing town that would come to be known as Titusville.
After Titus's death, the hotel would pass on to his wife and others, eventually becoming The Dixie Hotel that added several additions to the structure, further increasing its appeal to travelers passing through the area. Situated between the west shore of the Indian River and what is today Washington Avenue, the Titus House and Indian River (and later, The Dixie Hotel), would eventually be demolished to make way for other structures. Today, however, the City of Titusville maintains a prominent marker where the hotel once stood, which is open to the public year-round.
Sources
Historical Brevard Landmark Guide. Brevard County Historical Commission. 2012.

"Col. Henry T. Titus" North Brevard Business Directory. http://www.nbbd.com/godo/history/ColTitus.html.

"Titusville City." Living Places. The Gombach Group. http://www.livingplaces.com/FL/Brevard_County/Titusville_City.html

"Titus House." Waymarking. Groundspeak. http://www.waymarking.com/waymarks/WMFV6_Titus_House

Eriksen, John. Brevard County, Florida: A Short History to 1955. Eriksen, 2008

Additional Information