Woodford Reserve Distillery
Introduction
The Woodford Reserve Distillery is the smallest and oldest distillery in Kentucky. Dating back to 1812, it is located approximately 8 miles away from the town of Versailles off U.S. Route 60. This distillery produces Woodford Reserve Distiller's Select, the Official Bourbon of the Kentucky Derby, as well as the newer Double Oaked. It features the only copper pot still and triple distillation process used to handcraft Bourbon.
Images
The Woodford Reserve Distillery still room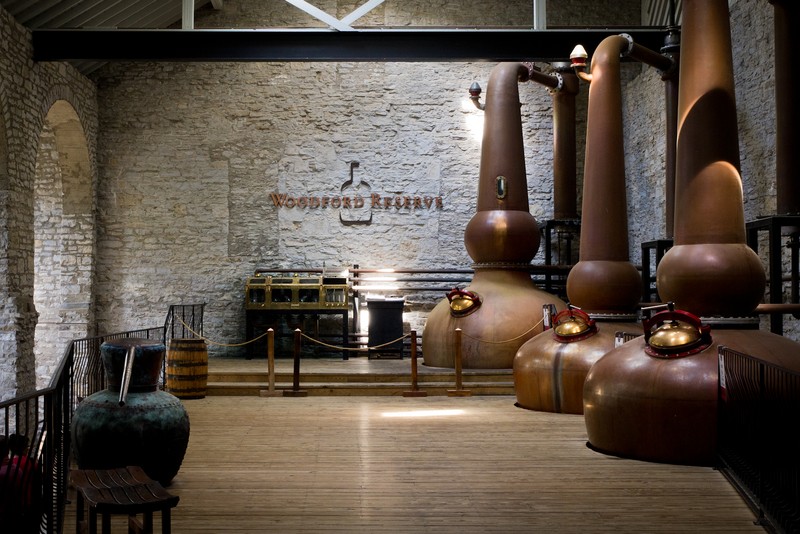 Backstory and Context
Originally known as the Old Oscar Pepper Distillery and later the Labrot & Graham Distillery, the Woodford Distillery is located on one of the oldest distilling sites in the state of Kentucky. It located about 8 miles away from the city of Versailles. The distillery building dates back to 1890, although the site has been used for distilling since 1780. It is the oldest Kentucky distillery currently in operation, is listed on the National Register of Historic Places (added 1995), and is designated as a National Historic Landmark (2000).

The Oscar Pepper Distillery was established by Elijah Pepper, who began crafting whiskey in 1812. In the mid-19th Century, Master Distiller Dr. James Christopher Crow worked on key improvements to bourbon production, such as sour-mash fermentation, pot still distillation, and barrel maturation.

In 1878, the Pepper family sold the property to Leopold Labrot and James Graham. Labrot and Graham operated the distillery until 1941, though it was not open for production during Prohibition. The distillery and its products are now owned by the Brown-Forman Corporation, who operated it until 1968, sold the property in 1971, and re-purchased it in 1993. Three years later, the Woodford Reserve brand entered the market.

Woodford Reserve is the official bourbon of the Kentucky Derby and a multiple award winner. The distillery also produces Woodford Reserve Double Oaked Bourbon (introduced 2012), the "Masters Collection" (limited bottlings produced from the pot still distillation method), "Distillery Series" whiskeys, and Woodford Reserve Kentucky Straight Rye Whiskey (introduced 2015).

The Woodford Distillery houses a 500-foot-long gravity-fed barrel run, iconic copper pot stills, and 100-year-old cypress wood fermenters. Additionally, it also features one of the few heat cycled barrelhouses in the world. Visitors are invited to view the only copper pot still and triple distillation process used to handcraft Bourbon. Educational distillery tours are available on most days.

Sources
"Our Distillery." Woodford Reserve. Accessed September 17, 2016. http://www.woodfordreserve.com/distillery/our-distillery/. "Woodford Reserve." Kentucky Bourbon Trail. Accessed September 17, 2016. http://kybourbontrail.com/bourbon-trail-passport-start-here/woodford_reserve/. "Woodford Reserve." Wikipedia, the Free Encyclopedia. Accessed September 17, 2016. https://en.wikipedia.org/wiki/Woodford_Reserve.
Additional Information