1916 Monroe Hall
Introduction
Monroe Hall was the first dormitory built at the Normal school. It was dedicated February 4, 1916, and housed about 90 women. At this time, the majority of students were women, as teaching was one of the few professions open to single women.
Images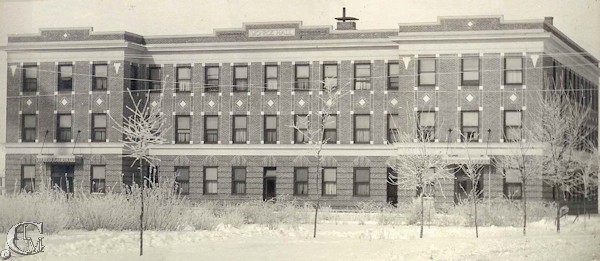 1947 Monroe hall and view west of the campus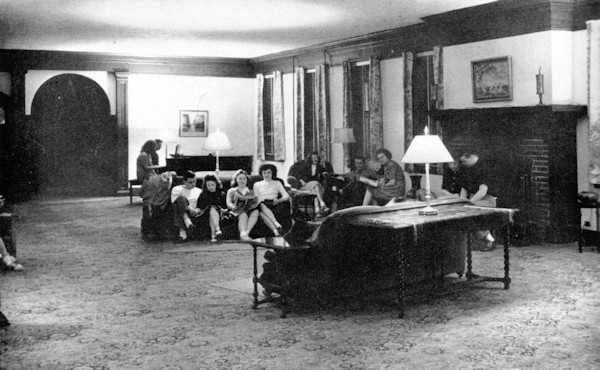 1916 Monroe Hall layout from Sanborn fire insurance map.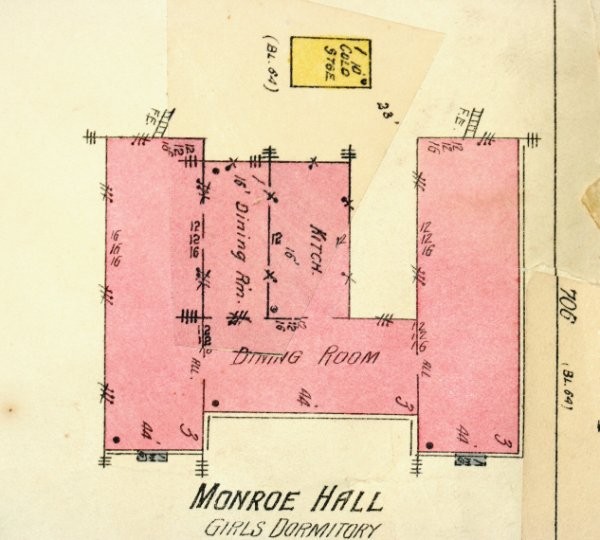 Backstory and Context
Monroe Hall featured a dining room and laundry facilities for its residents. Prior to this all students boarded in private homes, boarding houses, clubs, and "light housekeeping" rooms around Cheney. Those people who made a living from providing room and board to students saw this new dormitory as the of killing private enterprise by the state. It began the "town & gown" schism within Cheney as students had more of their needs met within the school campus and there is less of an interdependency between the town and school.

The hall was named for Mrs. Mary Monroe, Chair of the Normal School Board of Trustees. She was an educated, independent woman for her time. Born in Ohio, with a normal school and university education, Mary Simpson Monroe and her husband came to Spokane in 1889. She is considered the "grand old lady" of the Spokane school system, starting her teaching career in 1889. She became principal of Lincoln school in 1891, continuing in that role until she retired in 1928. She was appointed to the Cheney Normal School Board of Trustees by Governor Lister in 1913, and she oversaw the construction of much of the historic district.

Monroe Hall is three stories, originally a U-shaped building, 130 feet across with two 110 foot wings. In the beginning it also had a one-story middle wing off the back that contained a smaller dining room and the kitchen with a large three-story chimney.

There were two front entrance doors at either end of the building. During the renovation of the hall in 2000, the U was filled in with the new front entrance now facing Patterson Hall. The historical front is now the rear of the building, with windows that appear to be doors located in the original entrances.

The large dining room/lounge was used for many events including the elaborate 1947 charter night dinner and program for the new Cheney Lions Club with about 250 guests.

In the summer of 1951, Monroe Hall closed for repairs, reopening that September as a men's dormitory. In 1968, it was converted to office space. Its major renovation of 1999-2000, converted the hall to classroom and office space, erasing almost all of its original interior features.

Sources
J. Orin Oliphant; History of the State Norma School
1924. Cecil Dryden; Light for an Empire — The history of Eastern Washington State College; 1964
Historic Preservation Commission; Guide to the Eastern Washington University Campus Historic District; 2003
Sanborn Fire Insurance Map of Cheney Washington 1916, 1916-1940
The Southwest Spokane County Historical Society photograph collection.
Additional Information