Palmer Community Center (Palmer Depot)
Introduction
The Palmer Depot was built in 1935 by the Alaska Railroad to serve the needs of farmers and their families of the Matanuska Valley Colony (and those already living in the area), which was established by the federal government at the height of the Great Depression. In total, 204 families from Wisconsin, Michigan and Minnesota moved to Palmer, attracted by the prospect of a new life. The depot stands as a reminder of this period. Today it serves as community center that can be rented.
Images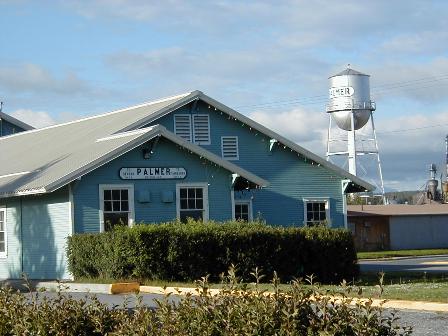 Backstory and Context
The valley had been open to settlement since 1914 by its remoteness made life their difficult; it was not easy for famers to transport goods to markets. When the colony was established this situation improved. It improved even more during WWII, when Fort Richardson and other bases created a demand for agricultural goods. These developments fostered the growth of Anchorage and other communities and therefore a place where a permanent market was located. The importance of the railroad eventually decreased as highway construction and truck shipping proved to be more efficient in transporting goods. However, the railroad played a crucial role in this area's development and the depot is reminder of this as well.
Sources
Mongin, Alfred. "Palmer Depot." National Park Service, National Register of Historic Places. January 9, 1978. http://focus.nps.gov/pdfhost/docs/NRHP/Text/78000530.pdf.
Additional Information