Nicholas County Bank
Introduction
The Nicholas County Bank is located in downtown Summersville, West Virginia, and was built in 1923 out of locally acquired sandstone. This historic bank is located on the southeast corner of Main and Church Streets, fronting Main Street. It is believed to be the first bank and is the oldest surviving business in Nicholas County. The creation of this bank was vital for the economic development of Nicholas County, as it allowed local farmers and merchants to bank locally instead of banking in Charleston, Lewisburg, and Clarksburg.
Images
Photo taken by Stephen Jones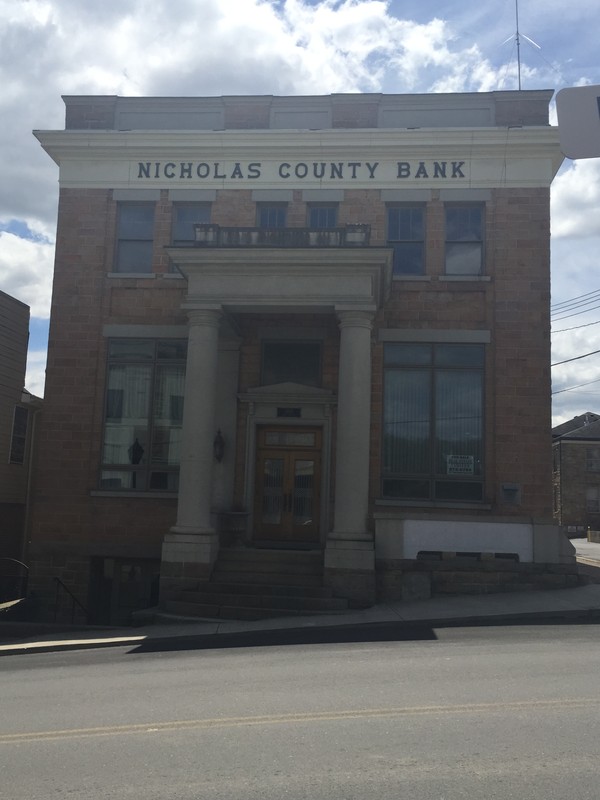 Photo taken by Stephen Jones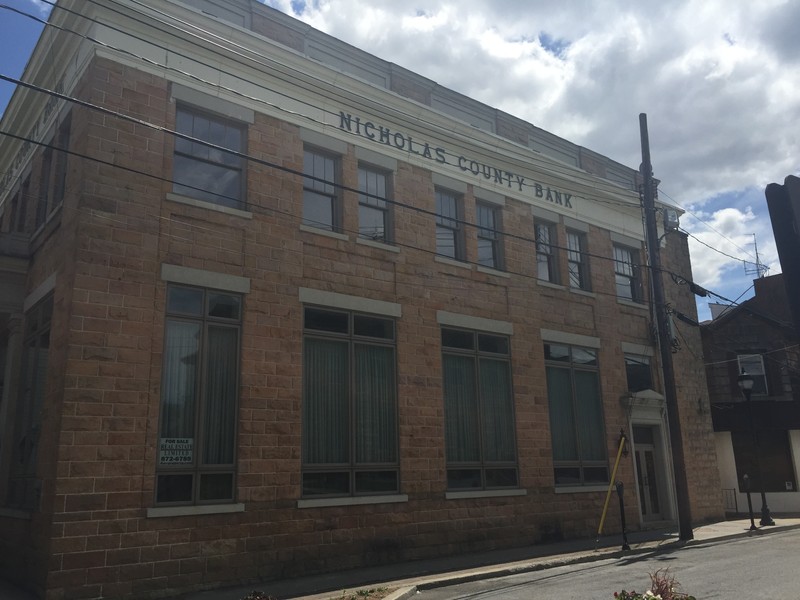 Backstory and Context
The Nicholas County bank symbolized the start of development in downtown Summersville. The building, along with the Farmers and Merchants Bank, Nicholas County Courthouse, and "Old Main," the former Nicholas County High School, were all made from local sandstone quaried from the Guyandot River along Mingo County. Builder, C. G. Janutolo of Fayetteville, and a New York architect constructed this Neo-Classical styled building.
Summersville held two crucial Civil War battles in 1861: the battle of Cross Lanes in August, followed by the battle of Carnefix Ferry in September. The final battle in Summersville, the battle of Carnefix Ferry, secured the Union controlled territory and made way for the birth of West Virginia. However, there was a suspicious fire in December of 1864, and Summersville was burned to the ground. Reconstruction was a slow process for Summersville, as they were economically dependent on agriculture.
The Nicholas County Bank became important as the population grew and the lumber industry developed in Nicholas County.
"The population of Summersville, in some instances, grew as roads were developed and coal and timber operations opened in the area. As the population grew and the lumber Industry developed, the need for a local bank to service businesses and residents became essential. Until this time, wealthy farmers and stock growers were banking in Charleston, Clarksburg, Lewisburg, Sutton and Weston, a journey that could take two or three days from this isolated community. In 1900, a group of progressive businessmen from Summersville and vicinity began organizing a local bank. On January 19, 1900, a meeting was held In the courthouse in Summersville to discuss preliminary action for an application for a Certificate of lncorporation for a bank in Summersville to be known as the Nicholas County Bank ."1
Application for charter was made on February 8, 1900, and on August 20, 1900 the Nicholas County Bank opened for business in the front two rooms of the John A. Huff Building on Main Street. The stockholders held a meeting in January of 1904 to discuss among the committee a plan for building the Nicholas County Bank. Plans were made, builders were chosen, and the Nicholas County Bank opened in this building in 1907. In 1976, the Nicholas County Bank moved to a different building and this building was sold to Peerless Eagle Coal Company for office space. The Peerless Eagle Coal Company occupied this building until 1999, and the current owners are Harold and Jan Sigler.
Sources
1. "National Register of Historic Places Nomination Form." Accessed September 15, 2016. http://www.wvculture.org/shpo/nr/pdf/nicholas/00001314.pdf.
Additional Information