Allegany Area Historical Association
Introduction
Not to confused with Allegany County, the Allegany Area Historical Association is located in the town of Allegany in Cattaraugus County, New York. Founded in 1981, during the town's Sesquicentennial, it is headquartered in the former United Methodist Church with the mission, as expressed by its president, "…to collect the history of the Allegany area, preserve it and to disseminate that historical information to the public." The headquarters does not have regular operating hours and is open to the public on special occasions, so please call ahead.
Images
The former United Methodist Church is now home to the Association.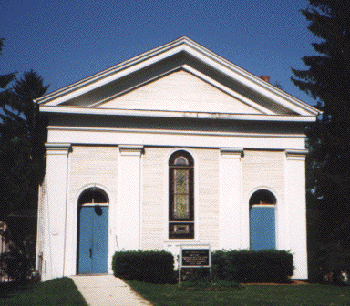 Association volunteers stand in front of a historical map.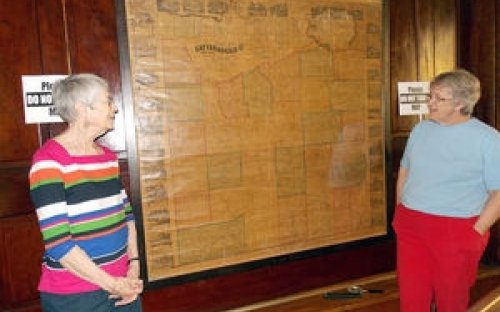 Backstory and Context
The former church that houses the association, was built in 1855 by the Methodist Episcopal Congregation, one of the earliest religious organizations in the area. The association, which now owns the building, has preserved much of this local landmark, to include the original pews and pulpit.
The association creates and displays various interpretive exhibits from its holdings, to include Civil War, antique instruments and local educational exhibits. It also curates extensive genealogical records and maintains microfilmed copies of the Allegany Citizen, a local newspaper which was published from 1896 through 1976.
Finally, the association sponsors various historical lectures and fundraisers throughout the year, to include its annual Christmas cookie sale and special events, such as its Allegany Central School Alumni Dinner and Dance. It also offers books, family histories and other research materials for sale.
Sources
Chapman, Chris. "Allegany Area Historical Association to Get Fundraising Aid." The Buffalo News. December 10, 2013. Accessed September 13, 2016. http://www.buffalonews.com/city-region/cattaraugus-county/allegany-area-historical-association-to-ge....
Allegany Area Historical Association. Welcome to Allegany, New York. Accessed September 13, 2016. http://www.allegany.org/index.php?Allegany%20Area%20Historical%20Association.
Additional Information