Alfred Beckley Statue
Introduction
This statue honors Alfred Beckley, a brigadier general and founder of the town of Beckley, West Virginia. He was born in Washington D.C. on May 26, 1802. Alfred Beckley served in the U.S. Army from 1823-1836. He resigned his Army commission in 1836 after inheriting a 56,000-acre estate in western Virginia in present day Raleigh County. Beckley settled on this estate and officially founded what was originally known as "Beckleyville" on April 4, 1838. He briefly commanded a Confederate brigade in the early days of the Civil War before resigning in 1862. Alfred Beckley died on May 26, 1888, his 86th birthday, and was interred at Wildwood Cemetery. He remains an important figure in the town of Beckley's history; his home is preserved as a museum, and the community holds an annual Founder's Day celebration in his honor.
Images
Gen. Alfred Beckley grave marker in Wildwood Cemetery Beckley, WV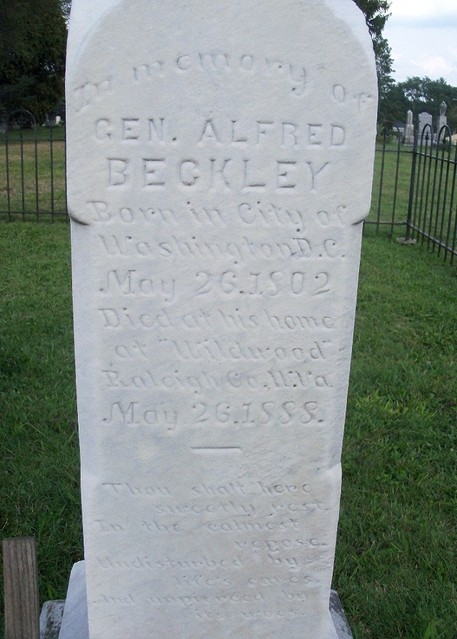 Gen. Alfred Beckley statue in Word Park Beckley, WV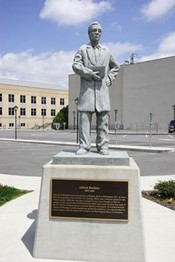 Former home of Gen. Alfred Beckley "Wildwood House" built 1835-36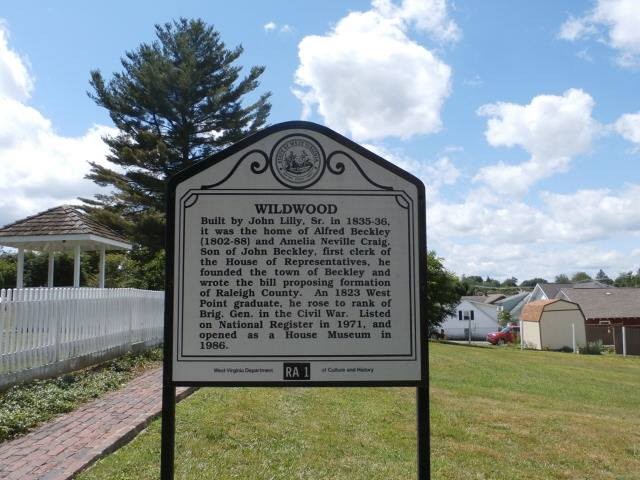 Alfred Beckley later in life. Image obtained from Wikipedia.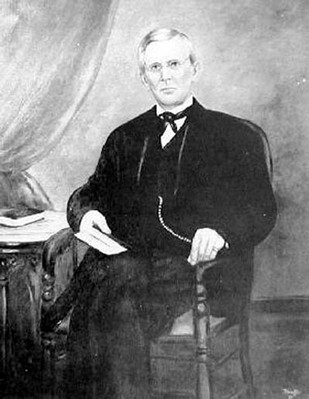 Backstory and Context
Alfred Beckley was born in Washington D.C. on May 26, 1802. His father, John James Beckley, was the first Clerk of the U.S. House of Representatives and served as the first Librarian of Congress; he was also a friend of Thomas Jefferson. Because of the family's connections, Alfred Beckley was able to obtain an appointment to West Point in 1819. He graduate in 1823 and spent the next thirteen years as an officer in the U.S. Army. He resigned his commission in 1836 after inheriting 56,679 acres of land from his father in western Virginia. John Beckley had died in 1807, but the ownership of the lands he had acquired remained in limbo until 1835 when Alfred secured them after a lengthy legal battle.
In 1836 Beckley and his family settled on their land in what was then Fayette County, (West) Virginia. He set to work developing the land and set aside a 30-acre tract to be a new community. The Virginia General Assembly formally established the town of Beckleyville there in 1838; Beckley reportedly named it after his father. In later years the town would be referred to as Raleigh Court House, and eventually became known simply as Beckley. Alfred Beckley played many roles in the community; he was the first postmaster, first superintendent of schools, first toll collector on the Giles, Fayette and Kanawha Turnpike, a farmer, a storekeeper, and a minister. He later petitioned the state legislature to establish a new county from a portion of Fayette County, which it did so in 1850. Beckley named it Raleigh County after the English politician and colonist Sir Walter Raleigh.
When the Civil War began in 1861 Beckley was serving as Brigadier General of the local Virginia militia, a post he had held since 1849. Reportedly he opposed secession, but answered the call when the Virginia government appointed him to lead the state militia's 12th Brigade. Beckley's service in the Confederate military was very brief. His brigade, stationed around the Cotton Hill community in Fayette County, had low morale, while the area was largely opposed to secession. Beckley complained that he was not able to recruit enough soldiers, and by early 1862 the militia had been disbanded. Beckley himself resigned his post on February 8th and returned home in March. The town of Beckley was occupied by Union forces at the time, so Alfred Beckley surrendered to the commanding officer, future President Rutherford B. Hayes. He was later imprisoned at Camp Chase in Columbus, Ohio but was discharged and returned to Beckley by June 1862. He remained on the sidelines for the rest of the war, while five of his six sons served in the Confederate military.
After the war Beckley spent the remainder of his life in various public roles. He served as a delegate to the National Democratic Convention in 1876, and the following years was elected to the West Virginia House of Delegates. He also became active in the temperance movement, and was a member of the Sons of Temperance. Alfred Beckley died on May 26, 1888, after correctly guessing that he would die on his birthday. In 1938 a statue of Beckley was erected at Word Park in honor of the 100th anniversary of the town's founding. His home on South Kanawha Street, Wildwood House, has been preserved and turned into a historic home museum. Starting in 2008, the town also began an annual Founder's Day celebration to honor Alfred Beckley.
Sources
Gawalt, Gerard W. "Alfred Beckley." e-WV: The West Virginia Encyclopedia. September 25, 2012. Accessed October 22, 2018. https://www.wvencyclopedia.org/articles/416
"Gen. Alfred Beckley (1802-1888)." History of Beckley and Raleigh County. Accessed October 22, 2018. http://jeff560.tripod.com/beckley3.html
Holdren, Wendy. "Beckley to celebrate Founder's Day." The Beckley Register-Herald. May 22, 2013. Accessed October 22, 2018. https://www.register-herald.com/news/local_news/beckley-to-celebrate-founder-s-day/article_07d1038a-97d3-5600-b4ea-ec483c328edb.html
"History." Beckley – Raleigh County Chamber of Commerce. Accessed October 18, 2018. http://www.brccc.com/history.aspx
"May 26, 1888: City Founder Alfred Beckley Dies at 86." WV Public Broadcasting. May 26, 2017. Accessed October 22, 2018. http://www.wvpublic.org/post/may-26-1888-city-founder-alfred-beckley-dies-86#stream/0
Additional Information