Alekoko Menehune Fishpond
Introduction
This Alekoko Menehune Fishpond was built over 1,000 years ago and is located just a few minutes from Lihue, where the main airport is. It has been on the National Register of Historic Places since 1973. Ingenious ponds like this were built to mainly catch fish, and the Menehune Fishpond is the best example of this type of ancient Hawaiian aquaculture in the state. It holds great importance for Native Hawaiians and researchers alike.
Images
Alekoko Menehune Fishpond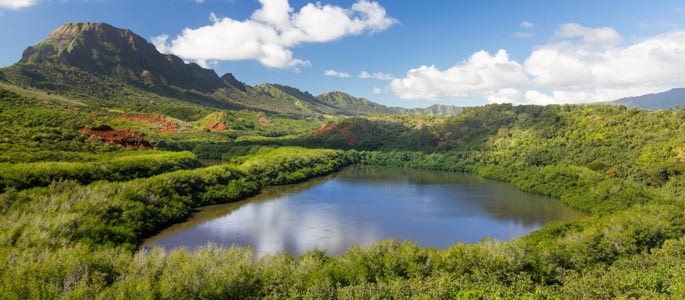 Backstory and Context
It is located near the Huleia National Wildlife Refuge, and can be viewed from an overlook on Hulemalu Road. The wall surrounding the pond was built to cut off a bend in the river to catch fish. It is about 2,700 feet long and flawlessly assembled with lava rock.
The interesting part is the legend that surrounds it. It based on the mythical Menehune, which are Hawaii's "mischievous little people" who performed legendary engineering creations. These people spent their lives in a forest and hid from humans. Even though the phrase "little people" suggests their size, some say the word may have derived from the Tahitian word manahune meaning commoner, or small in social standing. According to the Hawaiian legends, the Menehune built this entire fishpond in just one night by lining up from the village of Makaweli for 25 miles, passing stones hand-to-hand to build the pond.
Today, some people on Kauai identify themselves as descendants of the Menehune, but no one can actually prove these people existed. They were always just said to have an incredible ability to build large, detailed structures in just one night, and then disappear without a trace.
Sources
"Alekoko, Menehune Fishpond, Kauai." Hawaii Tourism Authority. Accessed January 23, 2015. http://www.gohawaii.com/kauai/regions-neighborhoods/lihue/alekoko-menehune-fishpond#ajx-se. "Menehune (Alekoko) Fishpond." Frommers. Accessed January 23, 2015. http://www.frommers.com/destinations/kauai/attractions/214424.
Additional Information