John Hacker Settlement, Hacker's Creek, WV
Introduction
Around 1769, John Hacker became the first permanent European settler of present-day Lewis County, WV. The area would come to be known as Hacker's Creek. Some controversy exists about details relating to this area.
Images
West Virginia Historical Road Marker for the John Hacker Settlement.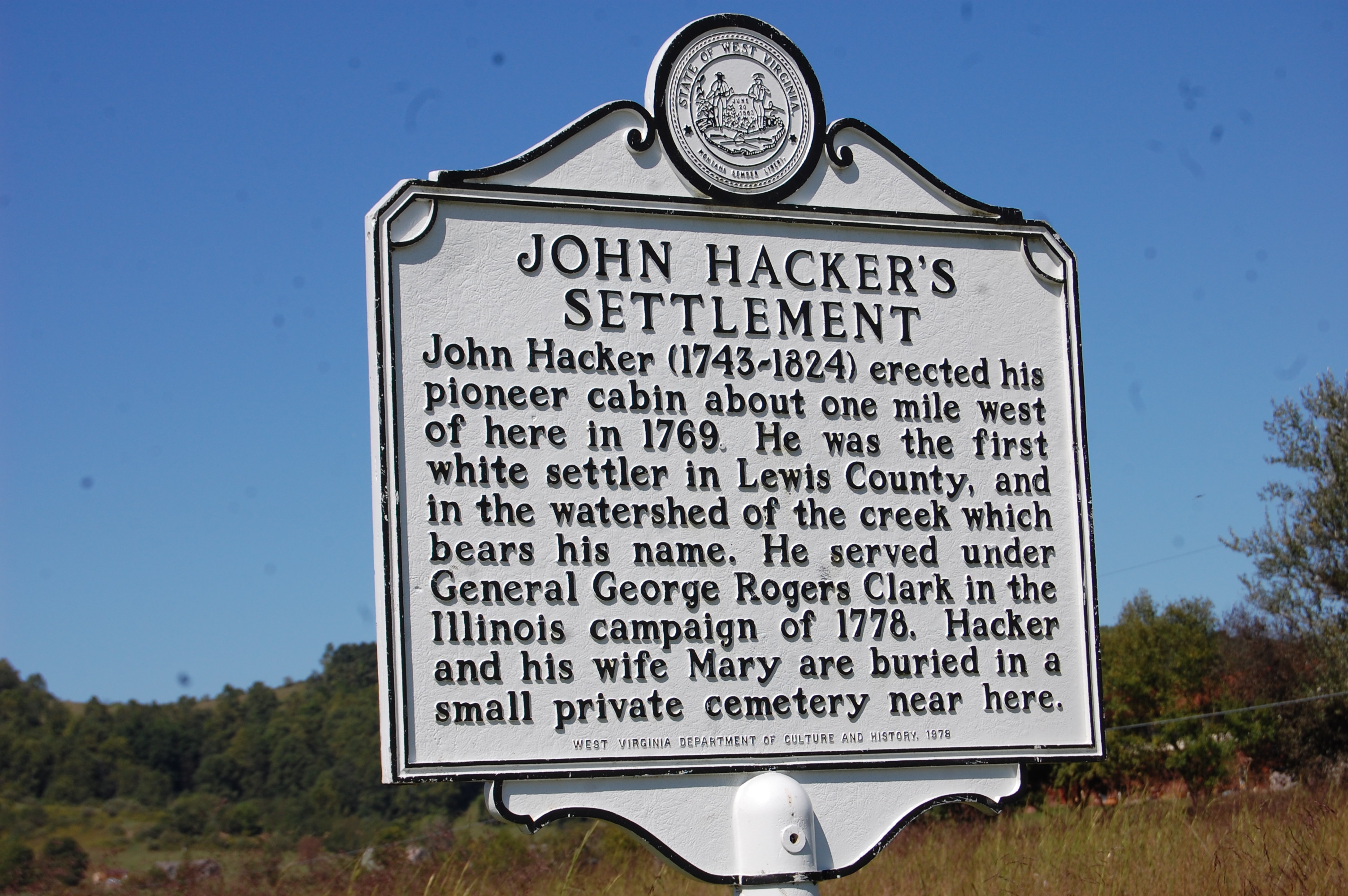 Backstory and Context
Around 1769, John Hacker had begun improving a section of land on the Buckhannon River, unaware that Samuel Pringle had chosen that spot for himself. To prevent unpleasantness between them, John Hacker agreed that he would switch land, if Samuel Pringle would clear an equal amount of land along a newly discovered creek. After Hacker settled there, the newly discovered creek became known as Hacker's Creek. He would be the first permanent European settler of present-day Lewis County. John and William Radcliff also settled nearby.
According to the WV Historical Marker, John Hacker would later serve under Gen. George Rogers Clark in the Illinois campaign of 1778. There is speculation that this may not be correct, and that this John Hacker instead served with Captain James Booth "in 1777 in a company of Militia in defense of the western frontier of West Augusta." 1

The Indian Chief Tecumseh is said to have been born in an Indian camp at the mouth of Jesse's Run, located on Hacker's Creek, near present-day Jane Lew. 2, 3 This is also contested, with some evidence pointing to Chillecothe, OH being his birthplace. 4

In May of 1792, Tecumseh made his first raid on John Waggoner's family, white settlers on Hacker's Creek. Tecumseh was lying in wait for John Waggoner, but his shot missed. John ran home to find it being attacked by the raiding party. A small boy was killed in the yard, and Mrs. Waggoner and children were taken captive. She and a couple of the children were killed further down the trail. Two girls and a boy arrived in Ohio with the Indians. The two girls were later returned, but the boy, Peter Waggoner, stayed for 20 years with the Indians. 3, 5

The Hackers Creek Pioneer Descendants purchased the old Horner in 1998 to start the Central West Virginia Genealogy and History Library and Museum.
6
Sources
1. http://freepages.genealogy.rootsweb.ancestry.com/~mytexasroots/johnhackerofvamilitia.htm 2. http://archiver.rootsweb.ancestry.com/th/read/HCPD/2001-08/0998944682 3. http://www.wvculture.org/history/notewv/tecumse1.html 4. https://theclio.com/web/entry?id=24854 5. http://www.wvhistoryonview.org/catalog/wvulibraries:33244 6. http://www.hackerscreek.com/about.php