USS Stewart, Seawolf Park
Introduction
USS STEWART (DD-238) is an Edsall class destroyer escort. This ship was named for Rear Admiral Charles Stewart (28 July 1778 - 6 November 1869), who commanded USS Constitution during the War of 1812. The Stewart is one of only two preserved U.S. destroyer escorts and is one of only two surviving examples of her class, the other being ARM Manuel Azueta (D-111), which remains active in the Mexican Navy.
Images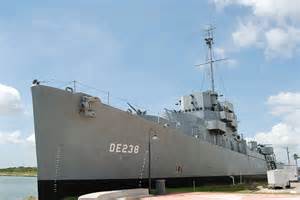 Backstory and Context
The USS Stewart (DD-238) was laid down at Houston, Texas, by Brown Shipbuilding on 15 July 1942; put to sea on 22 November and commissioned on 31 May 1943, under Lieutenant Commander B. C. Turner's command. She got underway for New Orleans, Louisiana, where she reported for duty to the Commandant of the 8th Naval District and to the Commander, Operational Training Command, Atlantic Fleet (COTCLANT) on June 16th. The Stewart escort departed New Orleans to conduct shakedown training in the area of Bermuda; and after stopping in various ports, she headed out to sea toward Norfolk, Virginia.
Later on, Stewart commanded a group of prospective destroyer-escort crews out of Norfolk. That assignment lasted for three and one-half months with two temporary assignments in the mix. Afterwards, she set out to sea with a convoy headed for Guantanamo Bay, Cuba. There she left the escort crews and headed straight for Bermuda. The destroyer escort arrived at Port Royal on 10 May and, for approximately seven days, made experimental attacks on the captured submarine Rea. From the 18th to the 23rd, Stewart participated in a search off Bermuda for an unidentified radio direction finder contact. She made one depth charge attack on the 18th, but the results were inconclusive.
Stewart returned to Port Royal and having being in port for four days departed in a hunter-killer group composed of USS Rhind and USS Wainwright. The three warships met with convoy US 24, and the group sailed north to Maine. There she conducted antisubmarine warfare exercises with the captured Italian submarine Vortice. Stewart made various convoys from New York to Boston and back to Casco Bay, Cuba throughout October and multiple training exercises through July of 1945. She relocated herself to the Pacific and remained there until mid September.
Stewart returned to the canal in September where she reported for duty to the Atlantic Reserve Fleet at Philadelphia. Stewart was placed out of commission, in reserve, in January 1947 at Green Cove Springs, Florida. She changed berthing areas three times from 1947-1969. In 1972, the destroyer escort was inspected and was found to be unfit for further naval service. Consequently, her name was removed from the Navy active list on 1 October 1972.
On 25 June 1974, USS Stewart and the Gato-class submarine Cavalla were donated by the U.S. Navy to the city of Galveston. They were used as part of the American Undersea Warfare Center at Seawolf Park. This park is a memorial to the Texans who lost their lives in World War II located on Pelican Island. Both vessels were placed in their entirety overlooking the city. Lack of maintenance and vandalism prompted the U.S. Navy to reevaluate the Stewart but found it to be unsuitable for re-entry to service.
On 11 November 2007, the USS Stewart was officially inducted into the National Register of Historic Places
in a formal ceremony held in conjunction with regular Veterans Day activities.
Sources
6 Staff (2010-07-09). "National Register Information System". National Register of Historic Places. National Park Service. Retrieved 13 March 2009.
Additional Information