Mesa Woman's Club
Introduction
The Mesa Women's Club is significant for the role it played in the social history of Mesa and its continued use as the Women's Club of Mesa. The clubhouse was a center for social and civic activity for many women whose influence was felt throughout the community. The building is an excellent example of the Spanish Eclectic style.
Images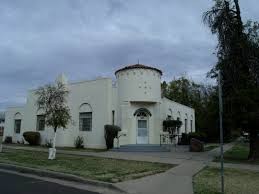 Backstory and Context
The Woman's Club of Mesa organized with 53 members in 1917 to promote literacy, good fellowship, social and educational interests, and municipal improvements. The club joined the Arizona Federation of Women's Clubs in 1918. In the early years, the club rented the Guild Hall in Mesa for its meetings, but members desired a club building and started raising funds for this goal in 1918. In 1931, they had the necessary monies to construct the Mesa Woman's Club building, in the Spanish Revival style. Located in central Mesa, the building features a corner turret and a clay tile roof.
Women's club members focused on cultural development and the welfare of their families. They invited speakers to discuss health concerns and current issues. They also supported those in need by donating services to the Red Cross and raising funds for the local hospital and parks in Mesa. They sewed regularly for the hospital and raised money for hungry school children.
By the 1950s, there were over 150 members in the Woman's Club of Mesa. The club allowed organizations to rent their building for events and also provided space for church groups while their permanent buildings were being constructed.
In 1990, the Mesa Woman's Club gave their building to the General Federation of Women's Clubs—Arizona. The federation continues to meet there regularly and maintains the building which is on the National Register of Historic Sites.
Sources
1. "Woman's Club of Mesa," Chamber of Commerce listing, accessed September 3, 2016. https://www.chamberofcommerce.com/mesa-az/879842-womans-club-of-mesa 2. "Mesa Woman's Club," Women's Heritage Trail, accessed September 3, 2016. http://womensheritagetrail.org/women/ClubsMesa.php 3. Mrs. J. C. Croly, THE HISTORY OF THE WOMAN'S CLUB MOVEMENT IN AMERICA (Volume 2) (United States: Windham Press, 2013).
Additional Information