First Ward School
Introduction
First Ward School served the Elkins community by educating students from 1909 to 1976. After a brief period of being a storage unit for the Randolph County Board of Education, the building was left to decay. C-Hope, Citizens for Historical Opportunity, Preservation, and Education, bought the abandoned building from the Randolph County Board of Education in 2009 for $1. The First Ward School building was then placed on the Preservation Alliance of West Virginia's Endangered Properties List with intent for renovation. Today, the building has been re-purposed as an affordable 55 or older apartment complex and is also on the National Register of Historic Places.
Images
First Ward School in 1945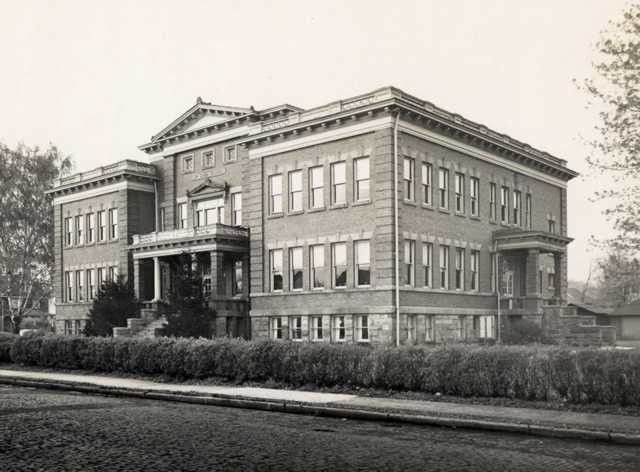 First Ward School prior to renovation.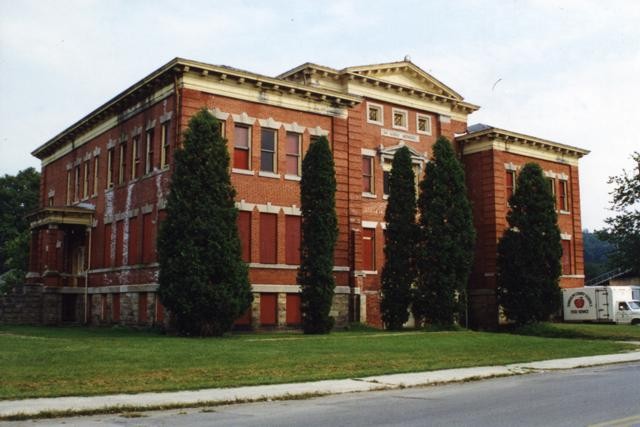 Before and After of interior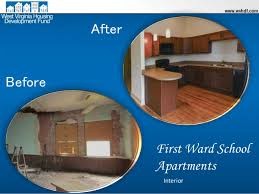 Backstory and Context
Elkins, WV became a railroad boom town in the 1890s when U.S. Senator Henry Gassaway Davis and his son-in-law, Stephen B. Elkins decided to extend the the West Virginia Central and Pittsburgh Railroad from Tucker County to Elkins for more feasible access to timber and other resources. The extension of the railroad and new availability of jobs rapidly increased Elkins' population from 349 in 1890 to 2,023 in 1900. Growth of the Elkins community continued as more railroads provided their services, and eventually the population was sustainable enough to start construction on the First Ward School in 1907. The building was designed by the West Virginian architect Andrew C. Lyons, and was built using local materials. The placement of First Ward School in underdeveloped South Elkins resulted in the addition of sewer lines to this part of the town in 1908. 
Lyons designed the school in an "H" formation to enhance the benefits on natural light and the effects it had on the students ability to learn. Lyons also wanted the building to be placed on the corner lot so that students had room to play outside, and incorporated windows into his plans so that every classroom had access to natural light.


"First Ward's classrooms were designed with student comfort in mind. Originally, each classroom was fitted with long rows of ornate Black wrought iron desks with wood bench seats. The bench-style seats were hinged and featured curved backs and seats to allow correct posture control. Each row was separated by a wide aisle. Seating of this type was used throughout the most of school's history. Walls were finished in plaster for easy cleaning and painted in a restful color using a dull finish to ease eye strain and reflection. Cloakrooms were open and well ventilated featuring upper and lower rows of hooks. The tip of the each cast iron hook was embellished with a tiny acorn design. This acorn motif was representative and associative of the metaphor surrounding the acorn and the tree of knowledge. This subtle design feature served as a psychological reinforcement for students of the value and importance of knowledge and education."1
First Ward School was developed with the ultimate goal of student success, and also aided in the reduction of overcrowding in the school system. The school initially opened as both an elementary school and high school. In 1915, the high school students were moved to the newly built Central School Building where they remained until 1926 when the Elkins High School building opened adjacent to First Ward School. First Ward School educated the elementary students of the Elkins community from 1909 to 1976. The Randolph County Board of Education created a plan in 1974 to build four new schools, Midland, North, Third Ward and First Ward, to replace the existing buildings due to rising energy costs. After First Ward School closed it's doors the building then served as a warehouse for the Randolph Board of Education until it was eventually abandoned.
C-Hope bought First Ward School from the Randolph County Board of Education in 2009 after creating a partnership with Elkins Historic Landmarks Commission to state that the building was salvageable. C-Hope, along with AFHA AmeriCorps members, developed and distributed a reuse plan for the school building. The Randolph County Board of Education sold First Ward School to C-Hope for a single dollar with the promise that they restore and repurpose the building. After First Ward School was placed on the Preservation Alliance of West Virginia Endangered Property List, a Development Grant from the WV SHPO Division of Culture and History was awarded, and the building was placed on the National Register of Historic Places, allowing the renovation process to unfold. Today First Ward School has been completely renovated thanks to partnerships with the Randolph County Housing Authority and AU Associates who repurposed the building into apartments.
Sources
1. "National Register of Historic Places Nomination Form." Accessed September 2, 2016. http://www.wvculture.org/shpo/nr/pdf/randolph/09001193.pdf. 2. "PAWV: West Virginia Preservation Success Stories." Accessed September 2, 2016. http://www.pawv.org/success.htm. 3. "C-Hope: First Ward School." Accessed September 2, 2016. http://www.c-hopewv.org/firstward.htm.
Additional Information