Olvera Street/Calle Olvera
Introduction
Olvera Street in Los Angeles has become a representative symbol of "Old Town" Los Angeles. Sometimes called "the birthplace of Los Angeles," it is a Mexican Marketplace that recreates a romanticized "Old Los Angeles" with a narrow, tree-shaded, brick-lined market with old structures, street vendors, painted stalls, cafes, restaurants and gift shops. Olvera Street was created in 1930.
Images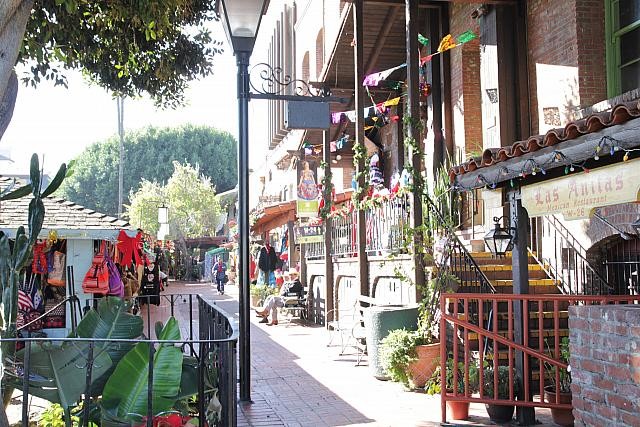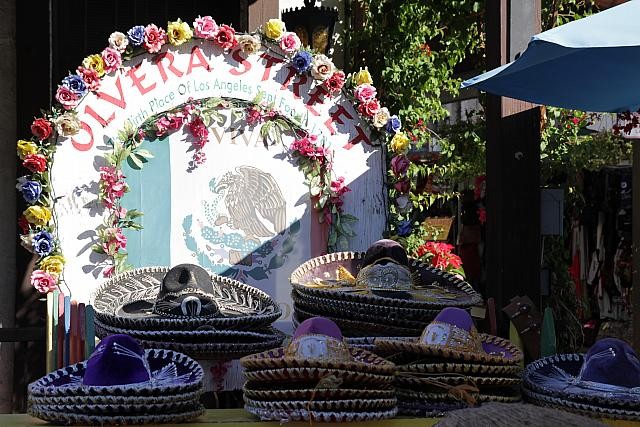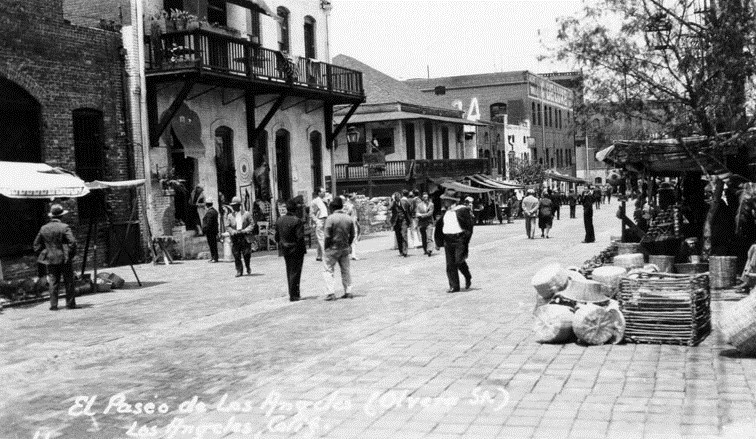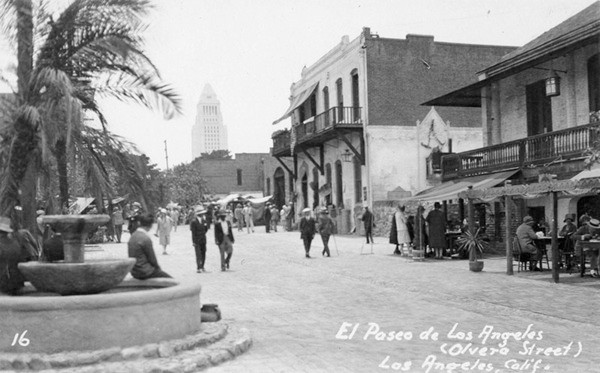 Backstory and Context
Though references to Los Angeles' Spanish Fantasy Past were abundant, there were few visible examples of it in 1920s Los Angeles. The city was modernizing at a rapid rate, and there were few vestiges of the Mexican/Spanish past that Anglos had supplanted. The city devoted much of its energies to advertising its modernity, and very little to bringing up its ethnic past.

According to historian Phoebe Kropp, Christine Sterling, a newcomer to Los Angeles in the 1920s, was disappointed by what she didn't see. The Plaza was the previous center of the Mexican pueblo of Los Angeles, but it did not display its past in a pretty, touristy package. Instead, the center of the Mexican town had fallen into disrepair, and had become a synonymous with vice, urban blight, and immigration.

Sterling appealed to the Los Angeles Chamber of Commerce and asked them to endorse her plan to transform the Plaza into a tourist attraction. Civic Boosters--many of whom had supported mission revival and boosterism of El Camino Real--saw an opportunity to turn the "slum" into a profit-generating tourist spot where they could capitalize off of the romanticized vision of Los Angeles' Spanish and Mexican influence.

With help from the Chamber, Sterling transformed the street into a pedestrian promenade and restored a number of buildings. The Depression seemed to have little influence on Sterling's project. She was able to construct fountains and small wooden booths on the street. According to Kropp, Sterling's foray into preserving (and creating) the Plaza involved "a well-rehearsed preservation script, effectively combining narratives of Anglos' patriotic duty, imminent doom, female historical housekeeping, and civic altruism in order to amplify her cause."1

A major hurdle for Sterling and other boosters/backers of the Plaza project involved divorcing the Plaza from its actual Mexican/ethnic past in favor of a romanticized, fictional one. Sterling had to justify her project as one that worked to improve that area. Under her care and supervision, she could transform a dirty, ethnic, vice-ridden place into a picturesque site of leisure for Anglo tourists.

Sources
1. Phoebe S. Kropp, California Vieja: Culture and Memory in a Modern American Place (Berkeley: University of California Press, 2006), 215.
Additional Information