Turtle Mound at Canaveral National Seashore
Introduction
Turtle Mound is a prehistoric Native American area located within the Canaveral National Seashore Park in New Smyrna Beach, Florida. Now open as a national historic landmark to the public, Turtle Mound offers both a fascinating window into an ancient culture from tribes that contributed a great deal to the development of Florida, as well as various other activities that allow a closer insight of the area such as nature trails created by the tribes themselves, kayaking along the coast Mosquito Lagoon, and more.
Images
Signs guided to the trails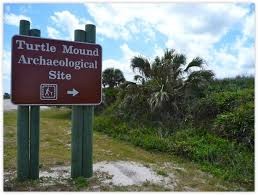 Far sideview of an Oyster mounds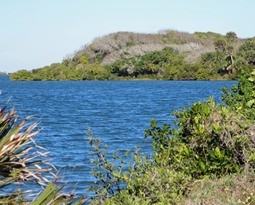 The first image of the mounds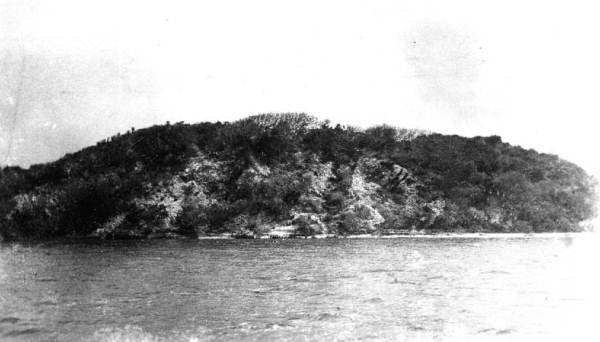 Beachfront, where tribes first arrived at the seashore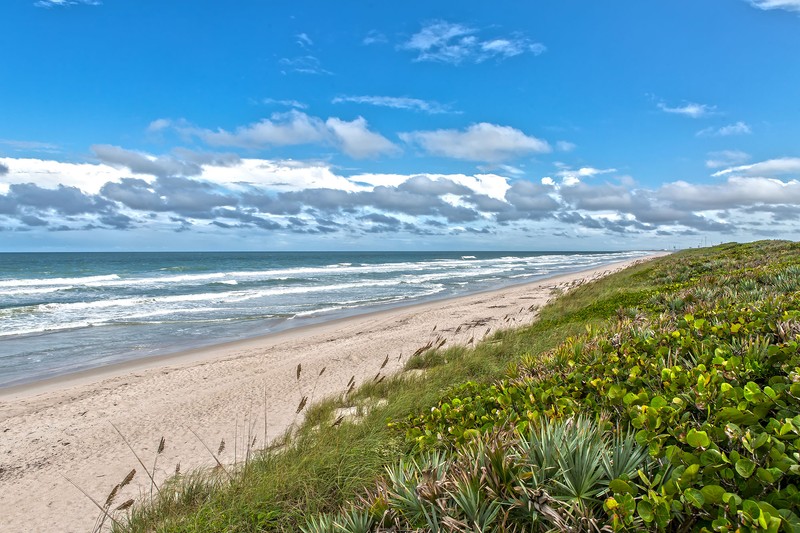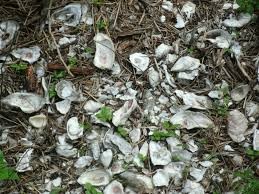 Point of lookout from near by mounds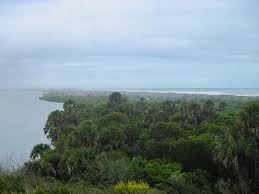 Trails that guide around the area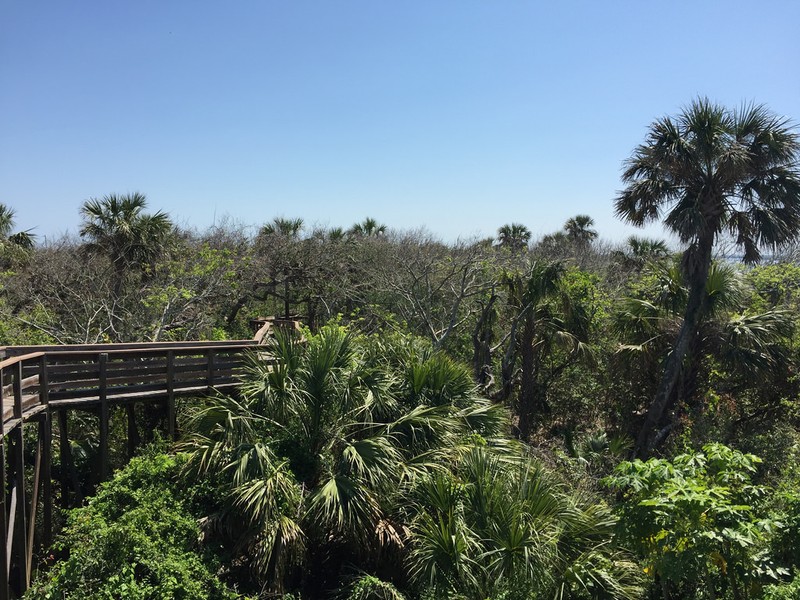 Overview of Mosquito Lagoon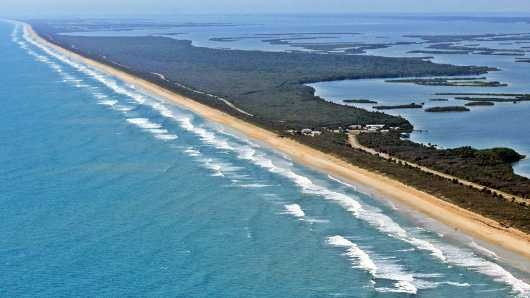 Backstory and Context
The Turtle Mound at Canaveral National Seashore is located down south of New Smyrna Beach, Florida in boarder with Titusville, Florida which runs along the Atlantic Ocean and the Indian River. This location is one of the most well-known prehistoric archaeological sites, it is the largest mound in Florida dating back to the prehistoric times of Indian tribes, which stands over 50 feet tall. A mound/midden is essentially a large trash heap in which individuals would dispose of things such as food, including shell and bones, and other human waste.
The park became first accessible on January 3, 1975 and features many points off interest for visitors. Visitors can walk the many trails left behind by the tribe which now consists of boardwalks through Turtle Mound, and also include entrances too much of the beachfront where tourists can swim, relax and enjoy the contribution of the Timucuans, with access to boat and kayak ramps, a visitor center with historic information about the site, and many other outdoors activities. When visiting the park, you are more than likely to see Florida wildlife, like tortoises, armadillos, or rabbits. The park stretches across 58,000 acres of land, beaches, barrier islands, and lagoons. Since the park is a protected, historic landmark, guests are strongly encouraged to be respectful of the site, as well as the animals who hon habit the area and to keep the land and beach waters clean of litter.
Native American History and Contributions
Turtle Mound was originally founded and occupied by the Timucua people, a large group of Native American chiefdoms. The Timucua reached the coast of Florida between 800 AD-1400 AD in search for new land where they could find the basic necessities to survive and to expand their chiefdoms. The first mapping of this site was in 1605 by Spanish explorer Alvaro Mexia, who was also the first person to give the people a name, "Surruque," which is said to have emerged from the French definition of a large Florida lake that they knew as Sorrochos. Considering that the Timucua are known for being a sedentary tribe and also mainly relaying on marine life as their food source, the explored Florida's coast and found this area to be an appropriate location to progress their life. The tribe survived by hunting small reptiles, mammals and also took much pride in their fishing and oyster diving. During their quest for a food sources, the tribe used their natural resources to full extend and began creating hand-made tools such as, fishing hooks, knives and arrows from bones and oyster shells and making fishing nets out of reed- a long, string-like type of grass and palm trunk fiber, this helped the tribe become much more effective when it came to hunting. As the site they habit is coastal, they had an option of transporting by sea or by what came to be known as the Indian River, because of this big transporting opportunity the Timucua hollowed out many pine and cypress trees to make canoes.
The initial use and creation of the mound was a way of disposing trash like clam or oyster shells, bones and other human waste. With time, most mounds would eventually reach a level where it was no longer was safe to continue to use as a way of disposing trash and ultimately would become a lookout post for the tribe and also as a high ground refugee for the tribe during Florida's hurricane weather.
The Timucua no longer occupied Florida after 1763. The remaining Timucua left with the Spanish evacuation. After this, Seminole tribes began to spread throughout Florida. After the site and left over mounds were worn out from the 18th century Native Americans and explorers, the mound began developing into a new form. In 1877 the land was being converted for agriculture, shipping, and used as pit stop for the steamboats that were passing by the Mosquito Lagoon. After many decades, in 1970 this land was added to the United States National Register of Historic Places and became very well protected to the remembrance and preservation of the Timucuan Indian Tribe. Learning from the many mounds and middens in the area has helped uncover prehistoric information about Florida before any European contact or Spanish troops who would eventually settle inland, it also helps give us information on events that may have occurred since then, some events which may have altered or added to the growing society in Florida.
Through archaeological excavation, the mound has been used as a way of learning and obtaining the most accurate information to date about the lives of the Timucua people. We are able to examine things such as the foods they ate and the exposure of different items, such as tools or clothing that they utilized. The largest, most used mound formerly reached up to 75 feet high and was estimated to be made up of approximately 1.5 million bushels of oyster shells, bones and other wastes but due to the fast pacing shell rock mining in the 19th and 20th century the mound decreased in size but also because of the fast progression of roads and railroads for transporting goods.
Sources
Caffery, Suzie and Escue, Diahn, "We Will Remember Turtle Mound: Uncovering the Past and Saving the Future of Florida's First People". CEELAB Children's Books. 2013. https://stars.library.ucf.edu/ceelabbooks/4. Accessed October 22, 2019.
Rome, Adam. Conservation, Preservation, and Environmental Activism: A Survey of the Historical Literature. National Park Service. n d. Accessed November 01, 2018. https://www.nps.gov/parkhistory/hisnps/NPSThinking/nps-oah.htm.
Roberts, Lisa. Turtle Mound: Built on a heap of history. Sun Sentinel. n d. Accessed November 01, 2018. https://www.sun-sentinel.com/travel/sfl-getaways-turtlemound-photo.html.
Runjik. "Turtle Mound at Canaveral national Seashore".Trail of Florida's Indian Heritage, Inc. 2019. Trailoffloridasindianheritage.org. Accessed October 22, 2019.
Caffery, Suzie and Escue, Diahn, "We Will Remember Turtle Mound: Uncovering the Past and Saving the Future of Florida's First People". CEELAB Children's Books. 2013. https://stars.library.ucf.edu/ceelabbooks/4. Accessed October 22, 2019.
Additional Information