The Battle of Rich Mountain
Introduction
The Battle of Rich Mountain occurred near the town of Beverly in Randolph County, West Virginia on July 11, 1861. This battle was between Major General George B. McClellan and Brigadier General William Rosecrans' troops of the union and Brigadier General Robert S. Garnett and Lieutenant Colonel John Pegram's troops of the Confederacy. The battle was part of the western Virginia theatre of the Civil War and was instrumental in McClellan later being put in command of the Army of the Potomac. The Beverly Heritage Center dedicates a section of their museum to the Battle of Rich Mountain.
Images
Historical Marker for the Battle of Rich Mountain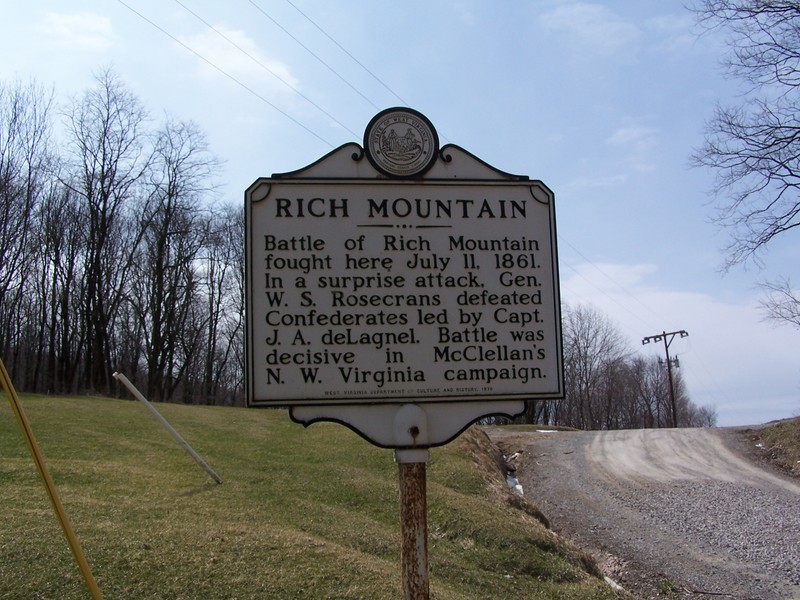 The summit of Rich Mountain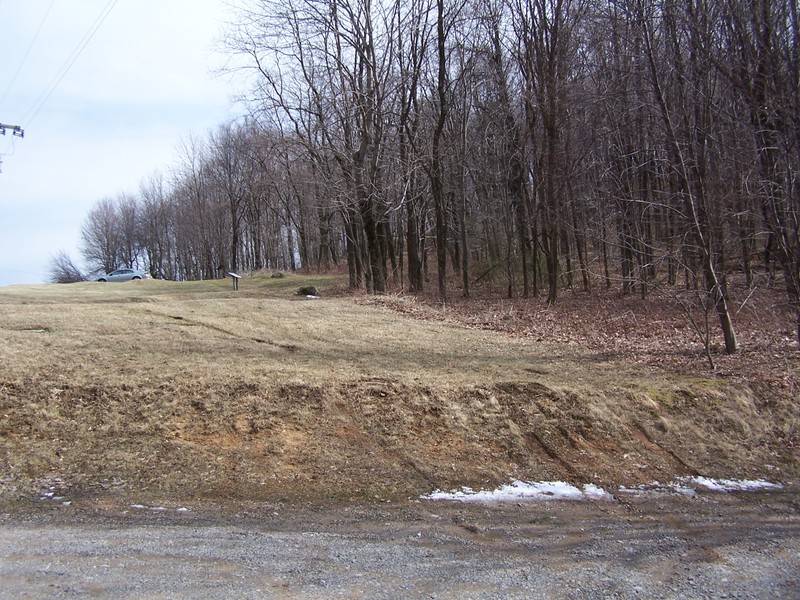 A sketch of the battle and the operations that took place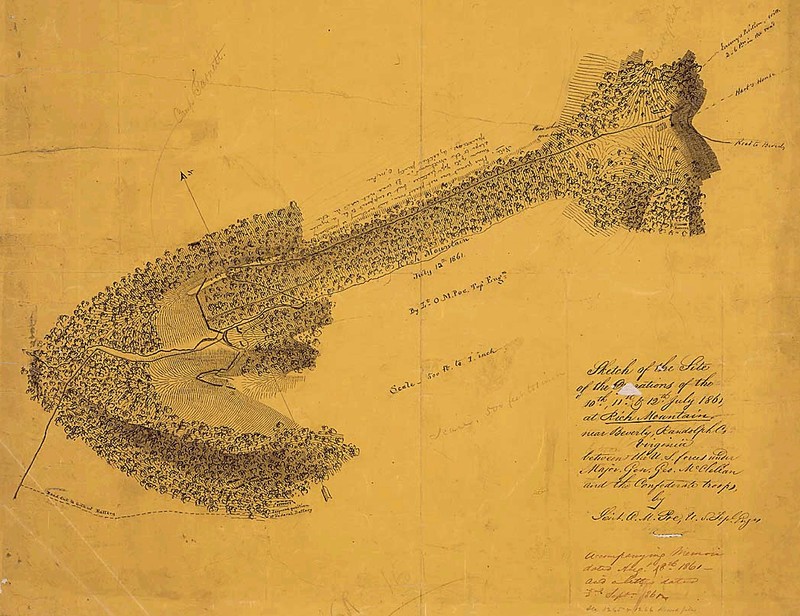 Publication Title Harper's Weekly (July 1861) Ownership WV State Archives (WVSA)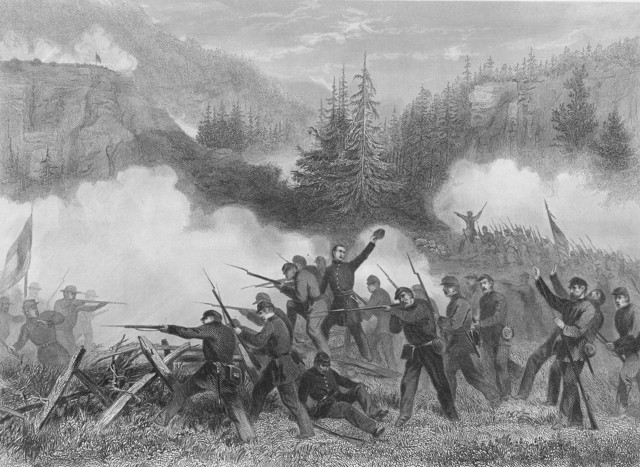 Map courtesy of WV Humanities Council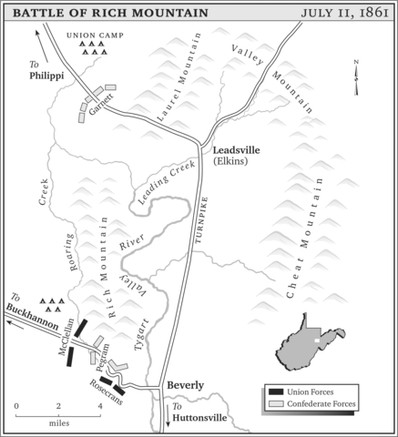 Backstory and Context
The battle was set when McClellan moved his forces from Clarksburg to meet John Pegram's Confederate troops, reaching Rich Mountain on July 9th. Meanwhile, Thomas Morris's union brigade marched from the town of Philipi to confront Garnett's Confederate brigade on Laurel Hill leaving two key roads blocked, which hampered McClellan's attempts to travel east. while Rosecrans led his newly reinforced Brigade down a rather dangerous mountain path in order to seize the Staunton-Parkersburg Turnpike on July 10th.
This battle finally began on July 11th, with McClellan's forces fighting against both Pegrams and Garnett's while he made the risky move of sending Rosecran's soldiers on the mountain path in hopes of attacking the rebel soldiers at their flank, marching in the pouring rain, Rosecran was finally successful in attacking the Confederate's wing. This caused the southern forces to begin falling back, and McClellan began shelling their forces, though the expected assault by McClellan's forces never came to fruition. 
Rather short, the battle only lasted two hours, but it was still a large victory for the Union. The fighting split Confederate forces in two, with half succeeding in retreating to the town of Beverly. But some were not so lucky.  With his own retreating path blocked off, Pegram and his remaining force of over 500 soldiers had no other choice than to surrender to northern troops on July 13th, while Garnett perished while fighting at Corrick's Ford on the same day. Casualties of the battle differ from source to source. With some saying both sides lost around 70 soldiers, others say that Confederate losses were up to 300, while the Union only lost 46 troops. 
On July 11, 1861,  General George B. McClellan's successful surprise attack on Rich Mountain and his army's ability to control the turnpike led to the withdrawal of Confederate troops from the area. Union troops dug trenches around Butcher Hill (Mt. Isner) and built numerous fortifications around the town. Troops also utilized homes and public buildings throughout the town, especially during the winter months of occupation. The Lemuel Chenoweth House was one of many used to house officers and care for the sick and wounded. This home is located next to the Beverly covered bridge and is open for tours. Despite the Southern sympathies of many residents throughout the area, Beverly and the surrounding area would be controlled by the Union for most of the war. However, Confederate raiders were able to persist throughout the area, making the Civil War in this section of West Virginia a local affair that divided residents during and after West Virginia secured statehood on June 20, 1863. 
Sources
1. Swain, Craig. "Battle of Rich Mountain Historical Marker." Battle of Rich Mountain Historical Marker. October 22, 2009. Accessed August 01, 2016. http://www.hmdb.org/marker.asp?marker=23539. 2. Wills, Jack "Battle of Rich Mountain." e-WV: The West Virginia Encyclopedia. 28 March 2013. Web. 01 August 2016. http://www.wvencyclopedia.org/articles/78 3. TGossett. "Battle Summary: Rich Mountain, WV." Accessed August 30, 2016. https://www.nps.gov/abpp/battles/wv003.htm.
Additional Information