Peter Shaver's Grave Site
Introduction
In Randolph County and the wilderness of Monongahela National Forest, there is an unexpected historical find. Peter Shaver was a Revolutionary War patriot, Western Virginia settler, and victim of Indian attack. This is his final resting place. On the eastern slope of Shaver Mountain near the town of Alpena is the supposed grave site of namesake of the mountain and also Shaver's Fork River.
Images
Shaver's grave. (photo by Steven Hart)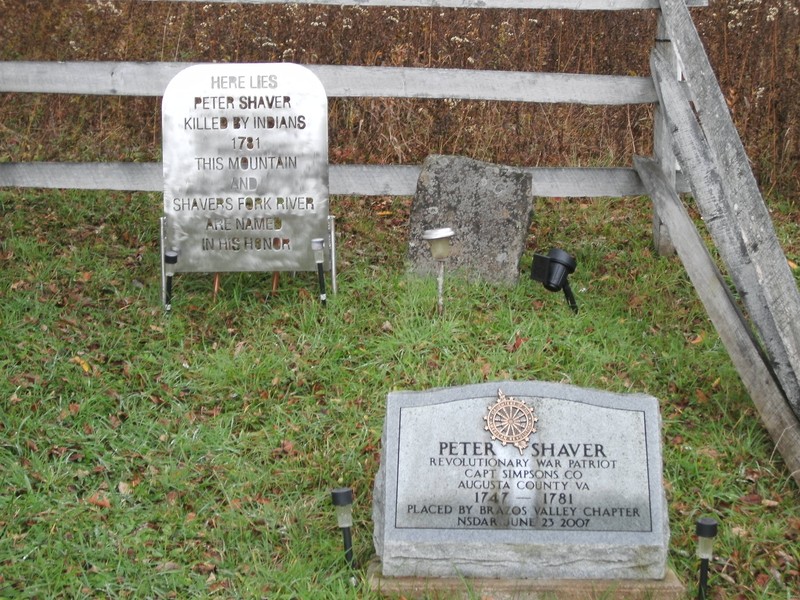 Backstory and Context
Peter Shaver was born in Germany, in the year of 1747, and was the second of four sons. Paulus and Elizabeth Shaver migrated to America and first settled in Pennsylvania. In 1758, Paulus served in the French and Indian War and was given a 200 acre land grant for his service. The Shaver family then relocated to what is now Pendleton County. In 1772 Peter married Sarah Riffle, with whom he fathered four sons. That same year Peter and Sarah moved into the Tygart Valley region of western Virginia. They were the first settlers in this area of what is now Valley Bend, in Randolph County, West Virginia. Peter also had a hunting/ hideout cabin near Gandy where he frequently stayed.
As a soldier in the Revolutionary War, Shaver served in Capt. Simpson's company from Augusta County, Virginia. Peter was a spy and an Indian scout for the Virginia Militia. In 1781, Peter returned home to his wife and children. His youngest brother, Paul, was living with Peter's family having a bad leg injury from early in the war.
The Shawnee Indians had carried out many raids throughout western Virginia trying to run settlers off of what the Indians considered their land. In April of 1781 the Shawnee attacked settlements between Elkins and Huttonsville, killing everyone in their path. The only survivors of what is known as the Tygart Valley Massacre were those who fled in fear. The Shaver family was not home in Valley Bend at the time of the attack; they had been visiting family in the east. Returning home, shortly after the massacre, Peter rode ahead of his wife, brother and three children. He was attacked and brutally murdered by Shawnee Indians. 1
Peter was traveling with his father in law Francis Riffle who was also killed. Both men's bodies were found in the middle of the road scalped and mutilated, by Sarah and Paul. Shaver's body was buried at his outpost cabin near Gandy. It is said that when Sarah saw the body of her dead husband she clasped her hand over her face to hide from the site before her. Shortly after Peter's death, Sarah gave birth to their fourth son Francis, who was born with a distinctive large red birthmark: the birthmark was in the shape of a hand. 2
Peter Shaver's grave site is located 4.5 mile on county route 27, Gandy Road; off of US route 33 in Alpena. The grave is on the right hand side of the road and is marked with several markers and a big American flag in honor of his service to the country. Gandy Road also will take you to the historical towns of Gandy and Bemis. Along the way, you will find access to some very good trout fishing spots as well.
Sources
1. "Peter Shaver Honored at Glady Dedication." 2007. Accessed August 31, 2016. http://www.wvhcgs.com/shaverstory.htm. 2. "Peter Shaver (1747 - 1791) - Find A Grave Memorial." Accessed August 31, 2016. http://www.findagrave.com/cgi-bin/fg.cgi?page=gr&GRid=27491170.
Additional Information