The Stirrup Gallery of Davis & Elkins College
Introduction
The Stirrup Gallery, located on the historic Davis & Elkins College campus, includes hands-on exhibits as well as one of the most extensive collections of powder horns in the United States; domestic life pieces and firearms from the historic Darby Collection; Ancient Roman coins, Native American artifacts and much more! Originated in 2013, The Stirrup Gallery has 14,000 years of history that has been donated to Davis & Elkins College. The Stirrup Gallery is dedicated to student success as they provide materials for them to promote thoughtful and meaningful involvement in their communities and the world.
Images
This Four Barrel Holster Pistol is one of the many guns in the H.M. Darby Collection. It was made by Thomas Lloyd of London and is a Percussion .55 caliber.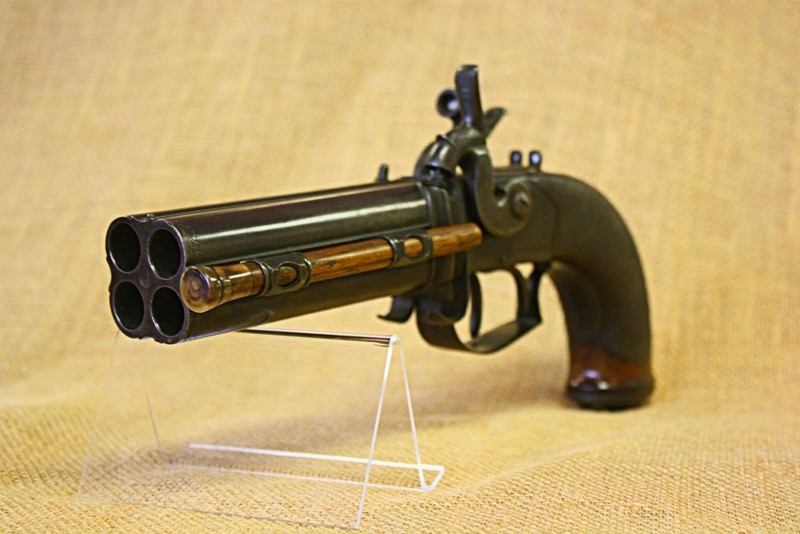 Pictured is a replica of a Smilodon's skull, also known as a Saber Toothed Tiger. Smilodon's were found worldwide from the Eocene to the end of the Pleistocene Epoch (a period of 42 million years.)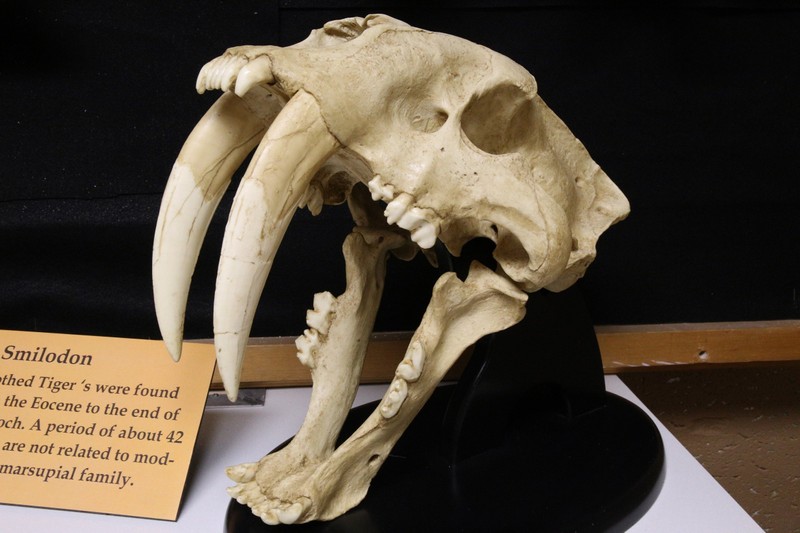 Pictured is a double headed copper bird effigy. Avian themed copper plates were thought to depict aspects of The Birdman, a major figure in Mississippian iconography closely associated with warfare and ritual dancing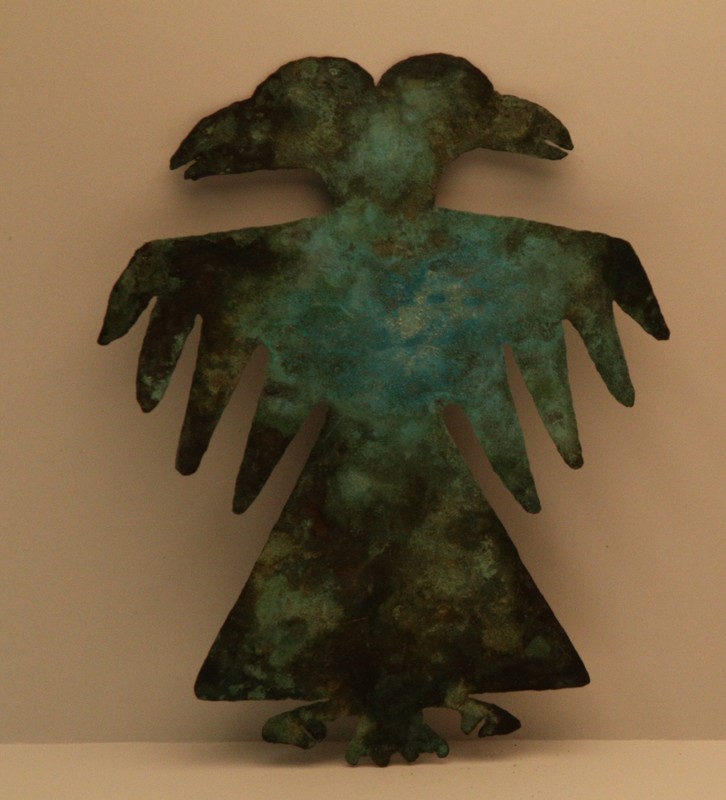 Pictured is part of the Roman Coin collection that is one of the top Twenty collections in the U.S. and is housed at the Stirrup Gallery.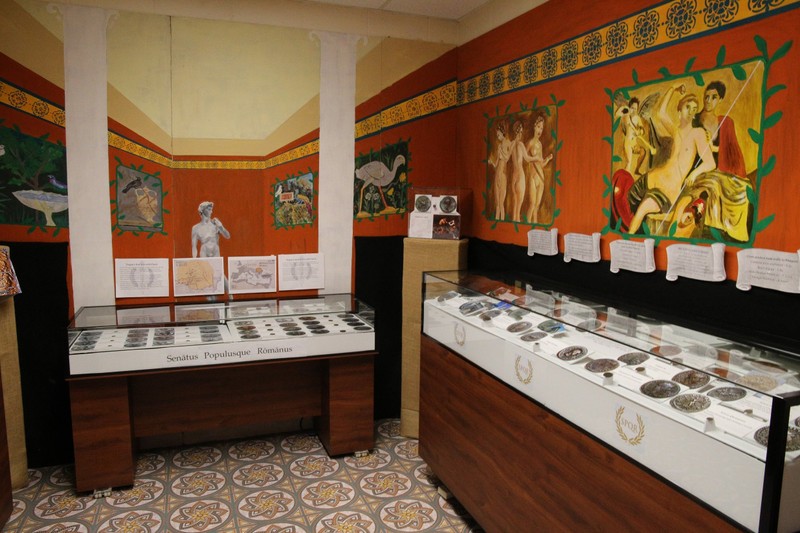 Backstory and Context
The Stirrup Gallery is home to an array of over 10,000 donated artifacts ranging anywhere from the Roman Empire, a collection of brilliantly colored butterflies from Peru, an up-close look Native American tools, clothing, and art, to even fossils! A few of the many notable exhibits include The Darby Collection, The Reckling Collection, The Howard-Sudbrink Collection, and many more.
The most popular exhibit at the Stirrup Gallery is the Darby Collection, donated by Hosea M. Darby, who was a West Virginian builder and architect. The Smithsonian Institution and Colonial Williamsburg have both inspected all 100 firearms in the Darby Collection. These guns range from the period of 1600 to the Civil War era and are accompanied in the collection by other weaponry such as knives and swords. This collection is also home to one of the top five powder horn collections according to The Smithsonian Institute and Colonial Williamsburg curators, with some of the horns having detailed carvings. Other notable pieces in this collection include Native American pottery and baskets, Americana pieces (such as spinning wheels, looms, and furniture), glassware, metalware, and Mississippian artifacts. Without a doubt, the Darby Collection is sure to educate everyone who encounters it.
The Reckling Collection, donated by Jerry Reckling in 2017, is home to Miocene and Pleistocene epoch fossils. The fossils in this collection date back 2.6 million years and include parts of a mastodon, a platybelodon, a wooly rhinoceros, and many more. This collection also contains replicas of a cave bear and smilodon skull. Perhaps most notably, is the mammoth exhibit that is made up of vertebrae, jaw parts, and even a tooth that can be held by guests!
The Howard-Sudbrink Collection was donated by Board of Trustee member and alumni Bill Sudbrink in 2014. This collection is home to over 400 Roman coins and is one of the top twenty private collections in the United States. These coins are a variety of gold, silver, and bronze. These coins show Trajan's major accomplishments, war campaigns, and gladiator games. Guests of The Stirrup Gallery, are able to hold one of the coins in this collection.
Other collections in The Stirrup Gallery hold gems such as an 18 karat gold Tiffany and Co. pocket watch from the mid-1800s and a unique Sicilian wedding cart which is covered entirely with paintings, an Egyptian bronze Osiris statue (circa 760 B.C.), paintings by E.A. Burbank of Abraham Lincoln, and even a Picasso piece! These artifacts were unavailable to the public for several decades, but thankfully, are now a part of the exhibits at Davis and Elkins College.

There are a number of interactive exhibits for people of all ages.

Sources
1. Davis, Elkins CollegeWebsite Design, and Third Wave Digital. "The Stirrup Gallery." 2012. Accessed August 30, 2016. http://www.dewv.edu/arts-entertainment/stirrup-gallery.

2. Executive, West Virginia. "The Darby Collection Added to the Stirrup Gallery at the Myles Center for the Arts." July 22, 2013. Accessed August 30, 2016. http://www.wvexecutive.com/the-darby-collection-added-to-the-stirrup-gallery-at-the-myles-center-for....


Additional Information