Piʻilanihale Heiau
Introduction
Piʻilanihale Heiau, a large stone temple, is believed to be the oldest structure in Hawaii. Archaeologists estimate that the earliest part was built towards the end of the 13th century and reached its current size by the early 15th century. It is located on the grounds of the Kahanu Garden, which was founded in 1972. The mission of the garden is to preserve, conduct research, and educate the public about native plants and their connections to native peoples in Hawaii and also in Polynesia, Micronesia, and Melanesia (many plants were brought over by the Polynesians who arrived in Hawaii). The garden is one of five operated by the non-profit National Tropical Botanical Garden. The temple and garden are located in the last old-growth hala (a type of tree) forest in Hawaii.
Images
Aerial view of Piʻilanihale Heiau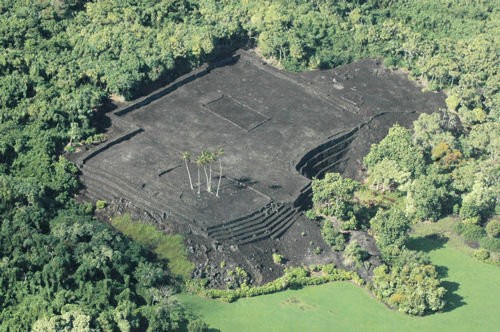 Backstory and Context
Hana remained a center of power until it was conquered by an army from Hawaii in 1794. In 1848 the monarchy granted the 990 acres to a local chief. In the 1860s the land became a sugar cane plantation and remained as such until 1946, after which it was used for cattle grazing. In 1974, some of the land was deeded to the National Tropical Botanical Garden, which took on the arduous task of clearing the overgrowth on the temple and restoring it.
Sources
Dunbar, Helene. "Piʻilanihale Heiau National Historic Landmark." National Park Service, National Register of Historic Places. http://focus.nps.gov/GetAsset?assetID=ce4646ae-b8b6-43f0-80d9-8a3c16969eef. "History." Kahanu Garden. Accessed August 30, 2016. http://ntbg.org/gardens/kahanu-history.php.
Additional Information