U.S. Medium Tank Marker 4A3E8
Introduction
Located on the Tropic Lighting Museum grounds on Wheeler Army Airfield, this marker commemorates the Korean War, which lasted from June 25,1950 to July 27, 1953, and the liberation of Seoul by the U.S. 25th infantry division. The division, which was stationed at the airfield, used Sherman tanks during the spring of 1951 to cross the Han River and liberate the city of Seoul. Operation C company of the 89th tank Battalion painted the tanks with a "devils" face to scare enemy fighters. They were named "Rice's Red Devils" after the commanding officer Captain Clifford Rice.
Images
U.S. Medium Tank Marker 4A3E8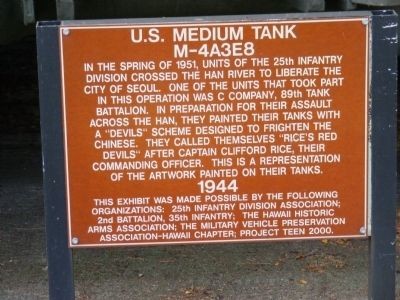 U.S. tank with "devils" scheme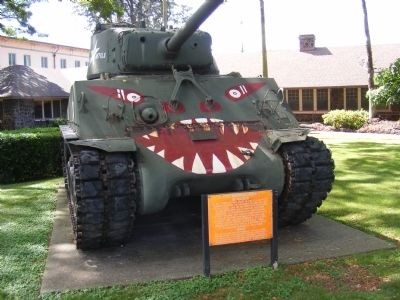 Rice's Red Devils in Korea.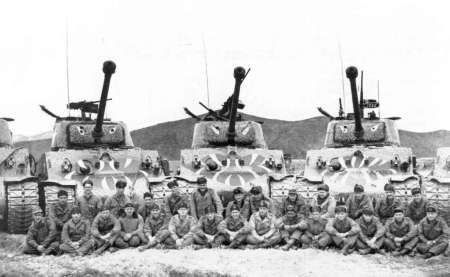 Backstory and Context
The United Nations supported South Korea, with the U.S. leading the mission (the United States emerged as a global superpower after WWII). North Korea received the support of the Soviet Union and China. After WWII, the primary objective of the United States and other Western nations was to contain the spread of Communism, which was espoused and prompted by the Soviet Union and China. In order to push back Communism on the Korean Peninsula the West decided to help South Korea. The Korean War was the first military action of the Cold War.




Sources
"Korean War." History.com. Accessed January 4, 2016. http://www.history.com/topics/korean-war. "U.S. Medium Tank M-4A3E8." The Historical Marker Database. Accessed January 4, 2016. http://www.hmdb.org/marker.asp?marker=81311.
Additional Information