Denver City Railway Company Building
Introduction
Also known as the Sheridan Heritage Building, the Denver City Railway Company Building of Lower Downtown was constructed in 1883. Located directly opposite Union Station, the building served as the headquarters and terminus of the city's first public mass transit system, operated by the Railway Company from 1883 to 1892.
Images
Denver City Railway Company Building as it appears today (amazonaws.com)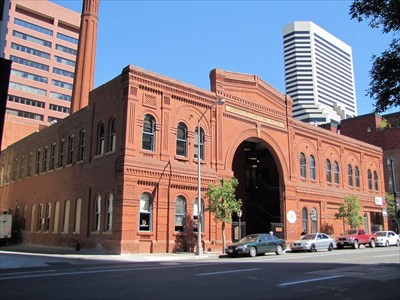 Denver City Railway Company Building in 1959 (woodhavenhistoric.com)
Backstory and Context
The Denver Horse Railroad Company was founded in January 1876. After it was purchased in 1871 by L. C. Ellsworth of Chicago, the company managed to extend many miles of railroad track around the city. This structure was built by the Denver City Railway Company in 1883. The building's first use was as a car barn and horse stable during the years when public transport was sometimes literally run on single horsepower. They originally operated six open- and closed-cars with twenty horses along a route that stretched all the way to Lawrence and Seventh Streets in West Denver. This later expanded to more than forty five cars and approximately two hundred horses. Passengers could easily travel to and from the city's various downtown districts via this line, which provided convenient access to the Union Station across the street. The cars were stored in the first floor of the building. The two floors above were used as stables, and the attic for the storage of hay and grain.
The four-story high rectangular building is made of brick and heavy timber. It has a prominent façade facing Seventeenth Street, where six large barn doors originally led into the stables within. Round-arched windows were used on the western and eastern sides of the building.
The building's façade was redesigned in 1892 by H.W. and V.E. Baerresen, two prominent Danish architects operating in Denver (they also designed the El Jebel Shrine Temple at 1770 Sherman St.), after it was purchased from the Railroad Company by a Mr. Sheridan. At this point public transport was beginning to switch to cable and electricity, so the horses were sold and the building was renovated into mixed retail and business spaces. From 1902 to 1972building was operated by the Hendrie and Bolthoff Manufacturing and Supply Company between, an extremely successful firm that developed new and more effective mining machinery for the state, nation, and overseas – they were the largest company of its kind in the world, at one point (Bretz, 2005). There are some remnants of the original building that survived the reconstructions in 1892 and 1909, most notably the stone-faced piers and cast-iron pilasters that separate the bays on the southwestern side.
Sources
Bretz, James. The Mansions of Denver: The Vintage Years. Boulder: Pruett Publishing Raffensperger, George and Norgren, Barbara. "Denver City Railway Company Building." National Register of Historic Places Inventory. November 21, 1983
Additional Information